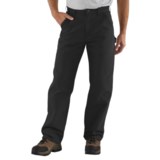 2nds. Sporting a dungaree fit, Carhartt's washed-duck tool pants are constructed with durable plied yarns and garment washed for softness. They have a hammer loop and and a handy tool pocket on both legs that keep your most used tools close at hand.
Average Rating based on
1680
reviews
4.476785
0
5
Verified Buyer

Reviewed by Former Seafood dealer now academic! from Maine on Saturday, September 9, 2017

when I worked on wharves three decades ago, we all wore Grundens. I see Carhartt in the same category. I am an academic now, and wear pants and shorts year round. My son wears them to work as a building supply administrator. My two-year-old grand daughter wears the baby hoodies. We offer full diversity!

Verified Buyer

Reviewed by Judesnaiad from Oregon on Friday, September 8, 2017

Wish they had these for women and that I looked as good in them as my husband does.
Haven't found the "2nds" reason. Excellent.

Verified Buyer

Reviewed by Lisa Lu from Nevada on Thursday, September 7, 2017

Husband loves them and we bought them for his job as an underground miner. Time will tell if they hold up.

Reviewed by matt28hew from South Florida on Saturday, August 26, 2017

I've had a few pair of the duck work pants and double knee work pants in my younger days working for the Montana Conservation Corps clearing and maintaining trails. These pants are as tough as the tools we used and withstood the ruggedness of the terrain. These are my favorite pants and it's great to find them at a great price here.

Verified Buyer

Reviewed by Ben the woodworker from Asheville, NC on Sunday, August 13, 2017

Great value for the money!

Verified Buyer

Reviewed by s from Louisiana on Friday, August 4, 2017

While the Carhartt pants are thick, durable and low cost, the sizing is wayyyy off. The waist fits but the rest of the pant is for someone much larger than normal. This is not the first time I have had this problem with Carhartt pants. I hesitate to order as it seems the manufacturer labels the pants smaller than they really are. I am not sure I will order any more because I always have to send them back and pay shipping for pants that don't fit from mislabeling.

Verified Buyer

Reviewed by Sheana from Bristol, Vt on Friday, July 28, 2017

The customer service was great, the time was great and my boyfriend loves his new pants not to mention I paid the price for two pairs that I usually pair for one!! This is the only place I'll be buying carhartt pants from, from now on! Thank you

Verified Buyer

Reviewed by Scruluse from Phoenix on Wednesday, July 19, 2017

Label says 36 waist. Barely a 34 I'd say.

Verified Buyer

Reviewed by Mountainman from Tennessee on Tuesday, June 27, 2017

The Carhartt Washed Duck Work Pants may be what some people call 2nds., but to me they are just right to work in. We have a Custom Aluminum Fabrication and Welding business, and I wear the Carhartt work pants in our shop, I really like the side pockets on my work pants, I put my needle nose pliers in my right hand side pocket the first thing when I go into our shop in the morning, that way they are easy to get to, and always there. I also put my marker in my left side pocket, they are very handy locations for all kinds of items. I would highly recommend buying these Carhartt Washed Duck Work Pants to all of my friends, why pay double the price for a pair of these pants, when you can get 2nds for so much less and they are just as good, and really wear great. I will be buying more of these pants when my are ready to be replaced or before.

Verified Buyer

Reviewed by Ted from Mississippi on Wednesday, May 24, 2017

These pants wear well and look good. I have been wearing Carhartt work pants for years and they hold up just fine. I would recommend them to anyone that wants a good looking rugged pants.