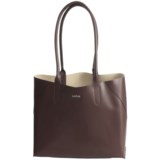 Closeouts. With a durable leather shell and plenty of room for extras, Lodis Blair's Collection Cynthia tote bag includes a removable zip-top pouch that offers multiple interior pockets to organize and protect your essentials.
Average Rating based on
5
reviews
3.000000
0
5
Reviewed by GinGin from VA on Tuesday, April 10, 2018

I need to whip out the price protection offer from my credit company, because I bought it for $49 It's now posted for $39 and change, within a week after I bought this bag. It's a nice bag but tad smaller than I've expected, but I cannot foresee that this bag is for a long-term use. Within a week of use, it has too many scratches. Someone thought the color is weird... yes, it comes in this peculiar color, but I happen to like the color - it is between purple and brown.

Verified Buyer

Reviewed by Anon from Colorado on Thursday, February 22, 2018

STP asked for this review, so here it is. I was sent the Lodis "Dara Hobo" bag twice, instead of this "Cynthia" bag. After the first wrong bag, Jay assured me it wouldn't happen again, if I just wrote "check the bag." But STP had put an incorrect label on the bag, so the guys in shipping would never know it was the wrong bag. But I sent it back. Then I get a second incorrect bag. Same problem - wrong bag. Then I send that one back. STP now assures me that they actually walked over to shipping, and they do - indeed - have the correct bag. I order a third time. By now, STP has stopped using UPS for delivery (always reliable) and has switched to the post office. My contracted postal delivery man refuses to deliver packages, so this box is stuck at the post office because I can't take off work to drive 40 minutes to pick it up. So STP reorders the entire third order, without informing me and charges me shipping! Even though I didn't place the order. But they said the bag is now sold out. However, when I checked online, the bag was still in stock.

Customer service has declined significantly, and the switch to postal delivery is the last straw. I've ordered far too many things over the years from STP, and this will finally restrain my budget. I've stopped shopping here.

Reviewed by Margot from WEST VIRGINIA on Monday, December 25, 2017

Not my favorite Lodis tote. The leather is nice but overall a bit 'slouchy'. I've another Lodis tote that is more substantial, stands on its own and with a separate compartment for computer. The zip-top pouch insert in this Cynthia tote is ok, but always seems to get in the way of my computer and files when I go to pack it up at end of work day. A key ring and phone compartment would have been welcomed additions. Perhaps I expected too much from this tote and didn't think through what I needed in a work-a-day tote. The Denim/Taupe color is beautiful, the quality/workmanship is top-notch and it's a great casual tote for shopping and other chores. Four stars for quality leather, craftsmanship and color.

Verified Buyer

Reviewed by happycamper from new mexico on Tuesday, December 5, 2017

The quality is there, but the color "lake" was an odd shade... sort of brown with a purple tone... maybe a "dirty lake"?
Sadly, I returned it.

Verified Buyer

Reviewed by Rose from Cedar Key on Tuesday, May 9, 2017

This tote is well made and the leather is just the right gauge to keep the sides upright without being too stiff. There is a very large and nice zippered pouch inside, which I assume is for a tablet or small laptop.