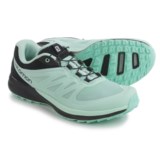 Closeouts. Your feet's sensory receptors will love the secure fit and responsive feel of Salomon's Sense Pro 2 trail running shoes. Designed with a ProFeel chassis, an EndoFit® internal sleeve and the foot-cradling SensiFit system, you'll get instant feedback from the trail with every step.
Average Rating based on
15
reviews
3.866666
0
5
Reviewed by LSR155 from Massachusetts on Monday, December 11, 2017

After only two months of use walking on a treadmill for 35 minutes each day, one of the shoes has developed a hole in the mesh fabric. I had written a very positive review when I first bought these shoes but I'm very disappointed now.

Verified Buyer

Reviewed by Klass from Australia on Friday, November 24, 2017

The colour of these shoes are perfect, my issue is with the shoe itself, when I put them on my feet pronate inwards and I do not have any foot pronation at all. The arch support is not very good. I love Salomons shoes generally and always buy their trail shoes, but these do not seem as well made as their other shoes. not as sturdy, even though they are "lightweight".. Bit disappointing as returning them from Oz is problematic and expensive. These shoes will be for superficial wearing only.... unless they cause any pain from the inward pronation.

Verified Buyer

Reviewed by Danielle from Northern Chicago on Friday, November 10, 2017

I bought these just before I went on a 6-day hiking trip to Zion National Park. They were so comfortable, never had an issue.

Verified Buyer

Reviewed by LSR155 from Massachusetts on Wednesday, October 25, 2017

The shoes are light-weight and comfortable. The laces are awkward at first but you get used to them and the catch loosens up over time.

Verified Buyer

Reviewed by Jordy, crossfit enthusiast from Michigan on Tuesday, October 17, 2017

These run a little bigger than my Reebok Nano's. I usually wear a 9 1/2 and had to get a 9 instead. I love the color, they are super comfy and love the No-tie shoe laces. I use these on days where we have a lot of Running in the WOD because my other shoes are not made to be run in for more than 400m at a time.

Verified Buyer

Reviewed by walks a lot from major metro east coast on Thursday, October 5, 2017

these are great. comfy right away, well made and thoughtfully designed.

but those laces. i appreciate how they open up quickly when you're unlacing them, but i just can't seem to get the hang of them otherwise. when i wear them they come out of their little pocket and flop around till i tuck them back in. i must be missing something!

Verified Buyer

Reviewed by Mom of Runner from Georgia on Thursday, September 28, 2017

We bought these for our Daughter who runs Varsity XC. Read reviews etc. Her coach thought they looked pretty good too. She wore them 1 time and had miserable pain in the midsole and front ball of her foot. She said the heel cushioning was excellent, but literally everything else hurt. She is going to give it another try but overall we are disappointed and feel like we wasted good money. The price from ST was half of other places, so that is good, but the shoe is not comfortable.

Verified Buyer

Reviewed by tony from OHIO on Saturday, August 26, 2017

BOUGHT THESE FOR MY GRANDDAUGHTER . SHE LOVE THE FIT ===TRUE TO SIZE== AND THE COLOR AND LOOK OF THE SHOE . THEY FEEL GREAT WALKING ON CAMPUS AND RUNNING .

Reviewed by Lover of the Outdoors from CO on Friday, July 21, 2017

I see a lot of comments regarding the laces on these shoes, so I thought I would chime in on this, as I am a huge Salomon shoe fan and have had many with this lace system over the years. This lace system is very fast and easy -- if done right. If you look on the outside of the tongue there is a small stretchy pocket that opens from bottom up. First, pull the plastic hold piece toward the end of the cord. Second, after on, grab the cords and tug gently until you reach your desired tightness. Next, grab the black hold piece and slide it up the cord to lock-in the cord at the desired tightness spot. After you have the cord at a comfortable tightness and the black hold piece is in place, tuck the cord and black piece up into the tiny pocket. Woo! Success and everything it tucked up nicely and out of your way!

Verified Buyer

Reviewed by Colleen Love from Montana on Thursday, July 20, 2017

I love the shoes and the fit is comfortable. I am having a little trouble figuring out how to work the shoe laces. Other than that they are beautiful I love Sierra Trading Post. PLEASE NOTE: My email is no longer jlove7@att.net...MY NEW EMAIL IS: colleenlove0@gmail.com.