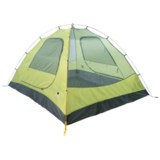 Closeouts. Known for making premium packs, Mountainsmith utilized their backcountry expertise to create the Equinox tent, a versatile 3-season performer featuring lightweight Yunnan aluminum poles that provide 25% more strength than titanium poles.
Average Rating based on
88
reviews
4.363636
0
5
Verified Buyer

Reviewed by Kevin from Tennessee on Monday, July 2, 2018

Just got it in the mail and took it out this weekend. It will fit a queen sized airmatress which is important for me and my gf. We had heavy (but short lasting) rain and the tent did not leaking at all.

Super easy to set up for a novice camper, quite roomy if you do a smaller air mattress. It can fit 2 people, a full sized air mattress and I'd say 1 maybe 2 full sized dogs.

With the queen we can fit our dufflebags in the tent easily and some random things.

My biggest concern is airflow, bit if the rainflu is on and it's not raining just unzip both doors. If you want more airflow take the rainfly off completely. I'd suggest 2 battery operated fans as well.

Reviewed by WyomingAlpine from WY on Friday, June 15, 2018

This tent is only for good weather (when you don't really need a tent). It has only 2 poles and they are flimsy. This tent collapses and twists in even light winds. This is like the kind of tent you buy at Walmart called "camp friend" or something. A 15 mph wind will lay it on the ground. This is more of a toy than a tent. Spend a little more, get a real tent. I returned mine.

Verified Buyer

Reviewed by Amanda from Colorado on Thursday, July 20, 2017

I have taken this tent out only once so far this season, but so far so good! It appears well-constructed, very simple to set up, and I really like the zip up window flaps on each door. Not sure how it will stand up in super windy conditions, but is still a great tent for the price.

Verified Buyer

Reviewed by Guilford hiker from Northeast on Monday, July 17, 2017

I recently returned from a canoeing trip of the Adirondacks and we had torrential rain one night. there were only drips from the top vents. Other major brands of tents in our group were swamped. the only drawback is that the fly doors are a bit cumbersome to get in and out of and the screen door swings opens into the tent because of the angle. But it was a good, easy to set up tent suitable for wet climates. The venting was good so it didn't rain back condensation.

Verified Buyer

Reviewed by Jenny from Colorado on Wednesday, July 12, 2017

So easy to set up, take down and pack. Plenty of room for 4!

Reviewed by ab from Indiana on Sunday, July 9, 2017

Outstanding tent for novice car camping duo! Easy to set up, although a grommet ripped out on the first time we opened. (We are contacting Mountainsmith for warranty replacement.) Tent made it through three nights with mild to medium winds on its first use. I recommend this tent to everyone!

Reviewed by jsweat from New Mexico on Wednesday, July 5, 2017

I question how this tent has so many good reviews, but perhaps it is just the type of camping that people are doing. We took this tent out for the first time in the Sangre de Cristo Mountains and it collapsed during a storm. I double check to be sure that there were no issues with the set up, but there was nothing wrong. The poles just aren't strong enough to withstand heavy winds. Thankfully we were car camping, so there was no real risk, but I would never trust this tent on a multi-day trip in the backcountry or anywhere that reliability matters.

Reviewed by inua from Massachusetts on Sunday, April 9, 2017

I bought this as a replacement for a Cabela Pine Ridge Dome 4 that I had for 15 years. I chose this as it was incredibly light, and would be packed for airplane travel for the 3 of us to use. The weight is fantastic, however the size is small. This would be tight for 3 - I can't see 4. Perfect for two, and I use this tent for solo camping most often.
It has withstood torrential rains- but be cautious of the door in the rain- it opens directly above the bathtub floor- and if you have gear by the door- it WILL get wet. My suggestion is to keep the fly as closed as possible and crawl in as low as you can go.
Be careful of the screens on the doors- they seem thin- So I have been extra cautious with zipping.
The features of the tent are great- nice and breezy- good airflow when needed, and nice and buttoned up when that is needed too.
Easy set up. Directions are on the bag, which is helpful.

Verified Buyer

Reviewed by Mitch from CO on Saturday, April 1, 2017

I got this tent for myself and my 2 children (6 y/o & 8y/o)and our little dog. I was blown away by the actual floor space. Definitely room for us all and our gear. Very simple to set up and tear down. The rainfly is great. Would definitely recommend! I am interested in purchasing another one to have down the road.

Reviewed by Antonio O. from San Francisco on Wednesday, February 22, 2017

This tent uses very good materials; check out more expensive tents. they use aluminum rods, aluminum stakes. This one does so, also. Went to Joshua Tree for a 4-night stay and it rained 2 of 4 days, on both nights the wind was also very heavy. except for soft ground in one of the 6 spots we staked the tent leading to the stake coming loose, we had no issues. Great Great tent.