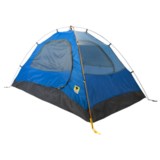 Closeouts. Mountainsmith drew on their backcountry knowledge to create the Celestial tent, a versatile, 3-season performer featuring Yunnan aluminum poles that provide 25% more strength than titanium poles.
Average Rating based on
132
reviews
4.416666
0
5
Verified Buyer

Reviewed by DE from North Carolina on Thursday, April 12, 2018

Disclaimer: I just got this tent and haven't used it outside yet.

Super easy setup right out of the bag; color-coded and perfect fit for the poles all around. The design is simple and elegant- no bells and whistles, aka less things that could go wrong/break!

I love that the tent is a perfect rectangle. Two people can fit comfortably in the tent, and there are enough pockets inside to hold valuables.

The color is somewhat dark with the rainfly, so I plan to get some reflective tape to stick somewhere on the tent for finding it at dusk.

I think this is a great value for a sturdy and smart tent. Definitely a good deal for someone who is looking to share the weight load with another backpacker for weekend hikes!


Verified Buyer

Reviewed by Kris hikes Flagstaff from Flagstaff, Az on Thursday, March 8, 2018

I purchased my first Celestial 2 tent last year for backpacking. It has worked so well we just bought a second Celestial 2 tent for our son who is also an avid backpacker. The tent sets up easily and is very stable in windy conditions. I backpack with my 50lb. dog frequently and the tent is perfect for the two of us. The netting on the tent prevents condensation problems and allows for star gazing when you don't need the rainfly. The vents on the rainfly work well to keep air circulating in the tent. The details in this tent make it a winner in our books!

Reviewed by Jead from New Jersey on Wednesday, January 17, 2018

I wanted a 1 person tent for car camping. Setup is really fast. Throw in a single or double size air mattress - inflate - and you still have room at your head or foot for an overnight bag or pack - Ideal for me. Full coverage fly, sturdy poles, good ventilation and 2 doors are a bonus. I've been in all kinds of weather from 100 degree heat to full on downpours and the tent has performed perfectly. Wind blasts from the side will try to push it in - but they will fail. Haven't had it out in the snow but I'm sure it will shed snow like a champ. Had this for 3 years now and used it probably 15 - 20 times. Still in like new condition. Replaces a Moss Starlet I paid 4X as much for in the 80's. Features on Celestial are better and durability is on par or better. Enough room for 2 - GREAT for 1. Buy good stakes and the footprint and for $150 or less you're good for a long time.

Reviewed by Air nav from Wyoming on Sunday, December 31, 2017

I set it up in the living room when I got it home. Super easy and self-intuitive. The floor is thin so I recommend a ground tarp to protect the bottom and a ground cloth of some type to protect the tent floor from shoes and dog toenails. Suitable for two people of normal size (170 lbs) and a beagle size pooch with some gear. I'll be using it for motorcycle, airplane and car camping. With rain fly on it immediately started to warm up. Appears to be a comfortable tent and a wise purchase. I'm satisfied so far.

Verified Buyer

Reviewed by Em of Ohio from Ohio on Friday, November 3, 2017

I bought this for my sister and her large dog who often go backpacking together. We set the tent up and were impressed with the ease of assembly and space. It's a quite long tent that you'd have enough room for the dog at your feet along with a pack and even another person. There was nice storage pockets. We were super excited about the fact that the tent has windows that can be zipped and unzipped from the inside. I feel like thera will be much better ventiliation and temperature control now that we can close the tent up without getting out of the tent to unzip the rain fly. Although you have the option to be completely covered by the rain fly.

Reviewed by Chris from Minneapolis on Monday, October 23, 2017

I have had this tent for about 3 years now and have used it about 40 times. It's been in cold (below freezing) weather and in down pours and I have always stayed dry. I have camped on the rocky areas of the BWCA and on sandy beaches and I don't have any tares or broken poles. I do use a footprint which helps. For the price it has to be one of the best performing tents I have purchased. I used to have a Big Agnes Fairview 2 but it only had one door, one vestibule and smaller dimensions. It was lighter but the larger space and double doors make the Celestial more comfortable for me.

Verified Buyer

Reviewed by Drake from Alaska on Monday, October 9, 2017

Good size for yourself and gear. Best sleep of my [...] life!

Reviewed by Susan from Virginia on Thursday, August 24, 2017


I bought three of these tents. We used them to camp out the night before the solar eclipse in Hopkinsville, KY. The three of us had our own tent. We all slept well. The temps were in the low/ mid 70's. There was 100% humidity. I fully had my vestibules zipped up. I had my door mesh window unzipped, and early on in the night, I zipped open a small opening in the door near my face to let in more air. Later in the night, I zipped up the door, and the window. I used a sheet when I felt cooler in the night. (Also, I had a cotton blanket; sheet was mostly used). I had no condensation in the tent. The other two tents worked equally as well. My tent had good space for all the extra things I brought. The vestibule is good, but, I also recently bought a Vaude Campo 3 from STP, and I am really impressed with the vestibules of that tent; however, inside would be cramp for three ( for me, great). Of all the tents I own, (Big Agnes, Vaude, ) I chose Mountainsmith out of them all for this camp out because of it's overall features. I was very happy with it's performance, it's ease to put up/take down, and packability.


Verified Buyer

Reviewed by Colorado 14R from Colorado on Tuesday, August 15, 2017

First set up was in the rain, easy to use, color coded poles, easy clips for the tent, fly goes on easily. We spent 3 days in the rain, really like access doors on both sides, no crawling over your mate to get out. Came home and bought another one just in case we need another tent with friends.

Reviewed by mendozai from Chicago on Friday, July 14, 2017

There was enough room for my boyfriend and I plus our packs. I love the 2 vestibules. Easy to set-up. I docked a star because the storage bag ripped at first use and tent doesn't come with footprint. Lightweight so great for travel, a little on the heavy side for backpacking I think.