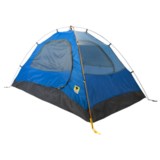 Closeouts. Mountainsmith drew on their backcountry knowledge to create the Celestial tent, a versatile, 3-season performer featuring Yunnan aluminum poles that provide 25% more strength than titanium poles.
Average Rating based on
125
reviews
4.400000
0
5
Reviewed by Susan from Virginia on Thursday, August 24, 2017


I bought three of these tents. We used them to camp out the night before the solar eclipse in Hopkinsville, KY. The three of us had our own tent. We all slept well. The temps were in the low/ mid 70's. There was 100% humidity. I fully had my vestibules zipped up. I had my door mesh window unzipped, and early on in the night, I zipped open a small opening in the door near my face to let in more air. Later in the night, I zipped up the door, and the window. I used a sheet when I felt cooler in the night. (Also, I had a cotton blanket; sheet was mostly used). I had no condensation in the tent. The other two tents worked equally as well. My tent had good space for all the extra things I brought. The vestibule is good, but, I also recently bought a Vaude Campo 3 from STP, and I am really impressed with the vestibules of that tent; however, inside would be cramp for three ( for me, great). Of all the tents I own, (Big Agnes, Vaude, ) I chose Mountainsmith out of them all for this camp out because of it's overall features. I was very happy with it's performance, it's ease to put up/take down, and packability.


Verified Buyer

Reviewed by Colorado 14R from Colorado on Tuesday, August 15, 2017

First set up was in the rain, easy to use, color coded poles, easy clips for the tent, fly goes on easily. We spent 3 days in the rain, really like access doors on both sides, no crawling over your mate to get out. Came home and bought another one just in case we need another tent with friends.

Reviewed by mendozai from Chicago on Friday, July 14, 2017

There was enough room for my boyfriend and I plus our packs. I love the 2 vestibules. Easy to set-up. I docked a star because the storage bag ripped at first use and tent doesn't come with footprint. Lightweight so great for travel, a little on the heavy side for backpacking I think.

Verified Buyer

Reviewed by Jimmy Jam from Nashville on Monday, June 12, 2017

I studied tents for a week or so. I was after 2 doors, 2 vestibules, and between 5 and 6 lbs. I kept coming back to this tent. I ordered this tent and road tested it this past weekend at Big South Fork. Set up is easy, and inside has enough room for 2. The length of the tent allowed us to store our packs on 1 end. I gave it a 4 because it was a perfect night with no rain. It appears that it will shed water, as the fly extends out over the entire tent, but you never know until it rains. So far I am pleased.

Reviewed by DesertCamper from California on Monday, April 24, 2017

I bought this tent for backpacking with our Boy Scout Troop. I used it for the first time at a Scout camping event, and was so pleased with it. We camped on a ridge in the desert. A wind storm came in the second night, and this tent handled it beautifully. No whipping around like the other tents in camp were doing, just a little shaking.

Setup was simple. Seasoned campers were commenting on how easy it looked. The design on the inside was brilliant - just the right number and size of mesh pockets, with loops at the top for my lightweight lantern. I'm six feet tall, and I was able to fit in the tent with an air mattress with room on all four sides.

My son was jealous. He's outgrown his child-sized tent, so I'm back to purchase a Celestial for his birthday. Mountainsmith is my new favorite brand.

Verified Buyer

Reviewed by Greybeard from WV on Tuesday, April 18, 2017

Haven to gotten to use this tent in the rain yet, but it is super simple to setup and pack up!

Verified Buyer

Reviewed by Scouter from Topeka Ks on Tuesday, April 11, 2017

Bought 6 for a Boy Scout Troop, but have not used yet. Will have to see how they hold up. Features and materials on par with other tents I have owned and at an attractive price. Again time will tell.

Verified Buyer

Reviewed by Lost Dutchman from Superstition Mountains on Sunday, April 2, 2017

This is an excellent tent, especially for the price. It runs 14 to 16 ounces heavier than significantly more expensive tents, but the included metal stakes and the sturdy carrying bag account for that weight. So leave the stakes and the carrying bag behind and you have a great 2-person backpacking tent, a shelter with room to keep your gear inside if you are solo, or a really nice car camping tent if you take the extra weight . Set up and break down are quick and easy. It uses a color coded clip and hook system. I was done in less than 5 minutes. The tent has two doors, one on each side of the tent, so it is really good for two people. Your significant other does not have crawl over you in the middle of the night, and that is a bonus. The materials are sturdy and this tent has has kept me dry in intermittent downpours with the fly on. The tent also has a significant area of mesh walls, so it works great in summer with the fly off, too. Highly recommended.

Verified Buyer

Reviewed by numbskull37 from CA on Saturday, April 1, 2017

I purchased this tent for a 2 week Moto camping trip last year and have used it for the same 4 times since. easy to set up quickly, packs very easily and good size for light travel. It's starting to wear a bit more for few uses than I'd like but wrapping it in a more durable cover (piece of scrap leather is the call) prevents said wear. Very happy with the tent and would definitely recommend to others.

Verified Buyer

Reviewed by Wanting to camp more from California on Friday, December 30, 2016

I was test-driving this tent to wake up to the sound of rain on the fly. I stayed dry and happy. I like the features it has, like a fly that clips easily onto the main body. Watch out when cinching it down, I had to use the old duct tape to repair a snapped clasp. Cinch it before connecting it, and you'll be fine. I like the vents, and they didn't let water in. This is my first Mountainsmith purchase, and I would definitely consider their products in the future. And thanks to STP for another great deal!