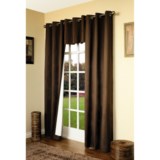 Overstock fabric. Energy-bill watchers prefer Thermalogic Weathermate grommet-top curtains because they keep your house cooler in summer, warmer in winter, and darker and less noisy year-round.
Average Rating based on
135
reviews
4.140740
0
5
Verified Buyer

Reviewed by nicky nickname from California on Tuesday, July 12, 2016

I buy ONLY Thermologic curtains & ONLY from STP. They are a terrific deal & usually are available in the sizes I need. I have a sliding glass
window that opens to my deck & it gets lots of direct sunlight. The Thermo drape I use here breaks down in a way none of the other curtains does.
The backing fabric will heat up & stick to the glass in spots. Very weird. Still, it's worth it to me to just replace the drape since it takes a matter of years
to become noticeable. I've never tried to wash these curtains because I had a bitter experience doing so with other fabric-backed thermal curtains. Also,
I have chronic pain & don't have the energy to go to a laundromat that has a HUGE washer--that's what I'd need for the big drapes. I'd recommend these
to others, especially if you're just buying regular curtain-size items. I hope STP keeps a good stock of these at all times.

Verified Buyer

Reviewed by Amanda from Fenton, MI on Saturday, December 12, 2015

Originally I was worried about the teal color being faded, but it is rich and coordinates will with all of my accent pieces. It's the modern day "peacock" color I was hoping for. They do help keep the cold out and are lined in white, which is a requirement of my neighborhood association. I bought an identical curtain in black previously and washed that set. They did shrink even though I washed on cold, and line dried. I recommend spot cleaning. Something to keep in mind is when you close the curtains the grommet top creates a wave, so they curtain won't lay flat again the window. I have (2) 40" panels on a 63" window and the curtains will not cover the window. I will either return for (2) 80" panels or purchase additional 40" panels.

Verified Buyer

Reviewed by thesetwo from Arizona on Monday, December 7, 2015

I ordered one set of this size Thermalogic Weathermate Curtains and was pleased with the color (coral) and they seem to be a great buy for the money. How ever they did shrink when I washed them in cold water gentle cycle, and hung out too dry. That is a problem because the sheers I bought to go with them on a double rod did not shrink. I ordered two narrower sets of these drapes in another color. We liked the sage color too. Problem was the length of one set was wrong. The package had been opened and drapes removed. The label on the package showed the proper length but the package contained short drapes!

Verified Buyer

Reviewed by Doug T. Boug from OR on Wednesday, November 18, 2015

I've bought Thermalogic drapes before and loved them. They have a faux silk finish. These drapes are a very plain fabric without the nice sheen of the ones I bought before. They do seem sturdy and well made.

Verified Buyer

Reviewed by Laramie buyer from Laramie on Tuesday, November 10, 2015

It is very hard to find 160" wide curtains that are thermal too. I like the numerous color choices. These curtains are very classy looking too

Verified Buyer

Reviewed by Running around from Iowa on Saturday, October 24, 2015

I purchased these curtains 10 months ago and will kick myself for a while for not checking them all immediately. I purchased three sets and hung one set right away. They hang well, block the light adequately in the heat of the day, and slide nicely on the rods (I recommend a sturdy rod to handle the weight). Just today, finally hung the 2nd and 3rd sets. Once set has many small holes, and is 4 inches shorter that the other sets. Though the color is identical, the backing appears to be thicker (where the light doesn't shine through). I'll be going out to find another set of curtains.

Reviewed by SteveM from Jemez Springs, NM on Sunday, October 11, 2015

Bought these to block out the light. also used to block out a cold hallway during winter. Both situations worked extremely well. very pleased.

Verified Buyer

Reviewed by cj the perfectionist from nw MT on Saturday, May 23, 2015

nothing to hard to understand here. just good, simple, useful, washable, attractive, insulating grommet curtains. ta da! finally affordable curtains i don't have to marry! ;)

Verified Buyer

Reviewed by Thumbody from Michigan on Wednesday, March 25, 2015

These are nice, heavy weight drapes. It is hard to get the wrinkles out, I dried them each with a load of wet laundry and ironed on top side (the back side can't be ironed). They hang really nicely and fold up to nearly nothing when opened all the way. They give the room a casual, sophisticated look. I have them on my 9 ft. French doors and 12 foot picture windows and they are lovely.

Verified Buyer

Reviewed by Eil from Pittsburgh, Pa on Tuesday, March 24, 2015

Look great, hang nicely. I ironed the wrinkles out. Keep the light out. Soft backing looks great.