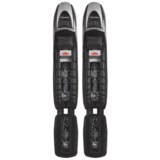 Closeouts. Rottefella's BC3 Nordic ski bindings utilize a BC NNN system for compatibility with a wide range of BC NNN compatible boots, and also feature a wide 56mm platform for fantastic edge control and stability.
Average Rating based on
44
reviews
4.159090
0
5
Verified Buyer

Reviewed by Edward the Ski Guy from New Hampshire on Thursday, April 13, 2017

Compared to the nnn touring binding this is heavy duty. Assembly and mounting instructions would be helpful as small parts free in package. The wide catch for the Backcountry boot toebar cannnot be used with a touring binding toe bar unless specified for backcountry (too much play).

Verified Buyer

Reviewed by Edward the Ski Guy from New Hampshire on Thursday, February 23, 2017

These bindings are designed for Backcountry skis and boots, but can also be used on xc skis Check the length of the toebar on the NNN boot to make sure it is wide enough to fit tightly in the binding groove. Although no instructions and some parts not installed,easy to match up. Not for NIS set ups.

Verified Buyer

Reviewed by J from Wiscy on Monday, January 23, 2017

Just buy NNNs and file down the rear baseplate. Cheaper

Verified Buyer

Reviewed by Donnelle from Utah on Tuesday, January 10, 2017

These bindings are a cinch to use. Easy to engage and disengage. I love them.

Verified Buyer

Reviewed by StasiaO from Montana on Wednesday, January 4, 2017

Great binding at a great price

Verified Buyer

Reviewed by Mountain guy from Washington the State on Tuesday, November 8, 2016

A long time ago I did cross country skiing. At that time I had a nordic standard 3-pin binding. I never really liked the binding and the shoes I had at the time were such that you could twist the sole a bit so you didn't have all that much edge control.

I bought these binding to go with a set of cross country skis and nordic NNN-BC (Back Country) boots. The NNN-BC boots have a slightly thicker metal bar than the NNN boots, so the binding and boots must match.

Installation of the bindings was not a problem, but there were no good directions or templates, which would have helped. However,, there are YouTube video's on how to do the installation that are quite helpful. Some detailed instructions would have been nice..

Installation, including balancing the two ski's and splitting the difference so that both skis had the binding installed at the same location, took less than 2 hours and that was because I was watching a football game then drilling a hole then adding glue and tightening a screw during breaks in the game.

I am looking forward to exploring logging roads and trails with these this winter.

Verified Buyer

Reviewed by Anonymous from Central Oregon on Friday, October 21, 2016

I've been using Rottefella NNN BC bindings for about 25 years on various pairs of touring skis to light duty Telemark skis and I have never had anything break (the rubber toe bumper wears out eventually but it is easily replaced). This particular model looks to be slightly wider than the older versions by a few millimeters. I prefer the NN BC binding over the 75 mm 3-pin for light Telemark skiing (as long as you can find a boot that is stiff enough) as the screws mounting the binding are further apart which spreads the torque over a larger area of the ski. If you are touring the NNN BC binding is preferable over the NNN binding because it is a lot stronger binding (NNN boots don't fit NNN BC bindings). I have seen several broken NNN bindings in the backcountry.

The problem that a lot of people have with this binding system is snow getting packed into the mechanism. This is a result of not clearing snow out of the bar area on your boot. This is operator error and not the fault of the binding. Note: I reserve five stars for innovative products. This product has been functioning well for several decades.

Verified Buyer

Reviewed by Fisher dad from New Jersey on Saturday, August 6, 2016

This is a good, solid, no frills NNN binding for Back Country skiing. Don't put these on lightweights XC skis, they are for the off-the trail, messing-around-in-the-woods type of XC skiing!

Verified Buyer

Reviewed by Alaska Dave from Becker Ridge, AK on Thursday, March 17, 2016

No installation instructions!
No manual.
Ten screws and some parts..figure out the proper installation for yourself

Verified Buyer

Reviewed by Fisher dad from NJ on Saturday, March 5, 2016

I have these mounted on several of my "heavy duty" XC skis. I have a lot of skis.... Perfect for use with wider skis for outside the prepared trails and or when you need something more stable and rugged as when you carry a larger backpack. Don't put them on your racing skis! They are NOT NIS type so once you have mounted them they stay there.