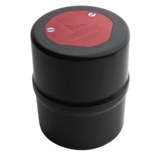 Closeouts. The UDAP No-Fed-Bear bear-resistant container is the perfect size for your backcountry travels, designed to store four days of food for one person without becoming cumbersome.
Average Rating based on
52
reviews
4.365384
0
5
Verified Buyer

Reviewed by 5' 10" Shopper from Virginia on Friday, July 28, 2017

This arrived a day after our trip so I purchased a clear, more expensive one locally. Personally I like this one better due to the longer more narrow shape. It also feels sturdy as a seat and getting it open is two quick turns with a pocket knife or quarter. The clear one opens by pressing and turning past two notches which you get used to but was a challenge at times. You can't see through the sides like the other one but it comes with a lightweight storage case to strap onto your pack. Sierra's price can't beat. If you need a bear proof container this is a really good deal.

Verified Buyer

Reviewed by Crima from Colorado on Friday, July 14, 2017

I took this backpacking a couple of days ago for the first time. I opened/closed it the proper way, but by the second day, one side would not close at all. Upon closer inspection, the small 'pipe' that turns to secure the lid had split and was unable to be moved. This is not good, especially if it happened to both sides and you couldn't secure it at all. Or worse, if it split while closed, you may not be able to get it open with your food in it. I did like the product besides this. I will be returning it and not getting a replacement for fear of the same thing happening.

Verified Buyer

Reviewed by JJP from Washington on Saturday, January 14, 2017

Rather heavy, but has a good amount of room. Never encountered a bear so cannot review how well is holds up to bear claws.

Verified Buyer

Reviewed by Bush McKay from Virginia on Thursday, November 3, 2016

First backcountry trip and I was torn between bear bag v bear canister. Hiked Shenandoah where I didn't need the canister. Overlooking the weight difference I figured I'd go with the canister because they're required out west. Couldn't be happier w my choice. Never worried about hanging a bag. Just dropped the canister at night and retrieved in the morning. Awesome! Just a note...don't spill food on your pack or spill on the canister where it might then rub food inside your pack. Or spill food in your pockets. Or spill tuna juice on your clothes. You don't want any, ANY, hint of a food smell anywhere near your sleeping area.

Verified Buyer

Reviewed by Laura the MTBer and Skier and Hiker from Virginia Beach, VA on Thursday, September 8, 2016

We hiked the A.T. in Virginia over the Labor Day weekend. That the bear canister came with the nylon case and straps was a bonus. It attached easily to my old school Kelty external frame back.

We bought two, and the second one will come in handy for longer trips.

Verified Buyer

Reviewed by Greg D from Vermont on Tuesday, May 31, 2016

Has yet to be bear tested, but compared to other bear canisters I've used, it seems solid. Enough space for 4-5 days of backpacking food.

Verified Buyer

Reviewed by catvet from Washougal, WA on Friday, April 29, 2016

Easy to use. Not really lightweight, but there is no such thing when you have to guard against bears. A really determined bruin could get it open eventually, but the idea is just to make it inconvenient enough he looks at someone else's food and leaves yours alone.

Verified Buyer

Reviewed by HappyTrails from Pennsylvania on Thursday, April 28, 2016

Seems great. I originally had a clear blue bear vault and loved that it was transparent but hated the lid. The lid on this one opens easily with a coin/knife. I plan to carry a washer tied to my pack so I don't have to worry about losing it. 4 stars only because it's black. Heavy too, but unless you want to spend $$$ on a carbon fiber one, they all are.

Reviewed by Christina from Missouri on Thursday, July 23, 2015

We purchased this canister for a three day hiking trip for two in Colorado where caching in a tree may not always be easy. We will only be putting food for two days (as we will be eating our first day meals before camp) for two people along with scented items. We are light weight food packers when need so will have no problem making this size work. It didn't seem as heavy as I had feared and can also double as a nice stool when needed. The screw openings were simple and we used the back of our Benchmade knife blade no problem. It would be nice to have a clear canister to see where your food is, but this price will do!

Verified Buyer

Reviewed by Pine Cone from Western Washington on Saturday, July 18, 2015

Given the large number of places I would like to go that now require a bear-resistant container, I decided to spring for this one. While it is a bit on the small size, it does fit nicely in the inside of my pack. Can't beat the quality or price.