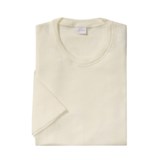 Closeouts. Cold climates call for layers, and this close-fitting Medima shirt of toasty warm merino wool and angora fits closely around your torso. It's a great choice for discreet warmth under your athletic or professional clothes.
Average Rating based on
31
reviews
3.709677
0
5
Verified Buyer

Reviewed by Unhappy from Tennessee on Thursday, May 14, 2015

This product wasn't so bad, except the thick stitching that went down the armpit and cause a huge irritation on my husband's skin. I have contacted Sierra Trading Post for weeks now but I've finally given up all I want to do is return this because while it doesn't fit our needs, it could certainly fit someone elses.

Verified Buyer

Reviewed by Randy from Mlton,ga on Friday, December 19, 2014

Fit is pretty good. Its a little on the slim side. The material has a nice soft hand, but is also a bit itchy. I assume the itch is from the wool. Over all it is a good cool weather undershirt. It is a bit warm for hot weather.

Reviewed by Sarookha from Moscow, Russia on Wednesday, October 22, 2014

I've worn wool undershirts for a good 15 years now, and most of them were much cheaper than these from Medima. I have never found wool undershirts to be itchy before. I thought maybe I just had tough skin. But these Medima wool-angora undershirts are quite itchy. I can wear them during the day, but it is hard to sleep in them because of their scratchiness.

I also had to return the first order because they were so small. I've never needed an extra-large in anything before! Sierra was of course fantastic with the return, what a great company.

Verified Buyer

Reviewed by King Cormack from Chicago, IL on Wednesday, July 16, 2014

As I live in the cold Midwest, for several years I have made annual purchases of Medima wool-angora blend long underwear. It is lightweight and of the best quality. Not heavy enough for expedition but a perfect under-clothing layer for the urban dweller in cold weather. I have bought every piece made for men: longsleeve tops and bottoms, socks and women's wear for my friends. I bought this short sleeve simply to have it in my wardrobe as these garments are first quality and so comfortable.

Get your best price and be aware the grey color sometimes sells out!

Verified Buyer

Reviewed by Ephblum from Amherst, NY on Tuesday, April 8, 2014

I am always looking for the ultimate undershirt. When I first put this shirt on I thought it would be itchy, but that feeling went away quickly and it became very comfortable. Not sure if I just got used to it or it wore in a bit. Fit is slim in L, which is great for me (6'2" 180lbs normally wear medium or large in t-shirts). My only gripe is that with the ribbed knit it is pretty warm being wool even for an undershirt weight and I won't be able to wear it year round, although the ribbed knit also adds to the slim fit. I have purchased 2 of these so far and may get more in the future (although that may not be before it gets colder again). One caveat is that the white color is more of an ivory/off-white as the picture accurately describes (the color description is a bit off saying it is white).

Reviewed by James from Texas on Thursday, January 23, 2014

If this is representative of euro sizing they must be dwarves who love to scratch. Not only is the shirt severely undersized but the fabric is scratchy on the skin.

Reviewed by Trudi from florida on Tuesday, December 31, 2013

Soft, non-itchy. Will buy again in the future. Please do not discontinue.

Reviewed by Mike from North of Pittsburgh on Saturday, December 21, 2013

I am 6'6", 225, 50" chest 36-37 sleeve. I own a few of these tops to sleep in and to wear anywhere. I keep my house cold and wear long underwear at least 7 months out of the year because I have hypothyroidism and feel cold a lot.
I have many sets of Red Ram, Smart wool, Falke, Terramar...these are my favorites. They are itchy at first, but after a few washings, they lose a lot most or all of that.
Also, I have worn Red Ram short sleeve cream colored shirts to sleep in and the frequent washing burns them out quickly. These are holding up much better and I expect to get much more wear from them. So, that justifies the added expense. I try to buy them when I get that extra 35 or more percent off. That puts them in the low $30s which I am willing to pay for them. I wish I had given them a good try before I purchased so many Red Ram and Smart wool. I do like the zip turtlenecks in both of those manufacturers and wear them regularly. But the quality does not come close to Medima, nor are they as luxurious.
These are particularly wonderful to sleep in.

Reviewed by john from Racine, WI on Friday, November 8, 2013

When the weather turns cold I like to shift to a wool undershirt. This is very nice liner, thin and light and I liked the price compared to the +$50 usual wool shirt pricing. I recommend it. Not sure how it will hold up to regular use and laundry.

Reviewed by John Smith from Maryland on Monday, March 11, 2013

People must be short in Germany because as far I could tell this is a normal length shirt; I'm a fairly tall guy (6' 3") but thin and was enthusiastic to see a tall non-cotton undershirt (offered in medium) but unfortunately it is not the case.

Like other reviews state - the shirt is really tight. That's no problem, but I probably could have ordered a large and it would have probably still been skin tight and maybe a bit longer.