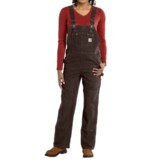 2nds. The perfect choice for rugged outdoor work, these bib overalls from Carhartt are constructed of hard-wearing, long-lasting washed sandstone cotton duck, with tool pockets and hammer loop.
Average Rating based on
54
reviews
4.462962
0
5
Reviewed by ArchyGrl from SW Colorado on Friday, October 20, 2017

I own a variety of Carhartt overalls (cotton-painters, demin, duck/sandstone) in both men's and women's cuts and wear them practically everyday for work. I'm 5'9", curvey (38D/size 12/14) and all over the place with Carhartt's sizing. If you're not familiar with this material, its thick and stiff, good for fall/winter/spring wear, with little stretch and forgiveness. In this particular style i bought a 14/34 (when it was available) and they're snug but comfortable and perfect length with work boots). I also purchased a 16/32 which is looser/hangs longer on me, but more comfortable with long underwear underneath. As other reviewers have stated, the straps have very little adjustment span, but i personally didnt need to adjust much to cover my chest. The torso is longish (i have longer torso and the crotch hangs down to my upper thigh in the 16, but sits perfectly in the 14). I recommend sizing at least one size up if you have curves or some padding around the middle/front. Any kind of non-flat stomach will be accentuated (good or bad is up to you). The pairs of 2nds I received had no decernable defects in the fabric, incorrect stitching or random buttonless holes.

Verified Buyer

Reviewed by Trudyburch from Seattle on Wednesday, August 2, 2017

I assumed the 30" length would have a proportional torso but I was incorrect. I will need to get out the sewing machine and adjust the straps. I am 5'1. Probably would be great for a tall gal.

Verified Buyer

Reviewed by Deb from New York on Wednesday, June 7, 2017

These arrived promptly. They are typical Carhartt construction: heavy fabric and durable stitching. What makes them "seconds" is missing buttons on the sides. (The button holes are there, just not the buttons). These aren't even necessary, but adding buttons is an easy fix and I'm going to get some bright orange or red ones to add some color. Another win from Sierra Trading Post.

Verified Buyer

Reviewed by Jm from alaska on Monday, June 5, 2017

i know other reviews complained about the straps but i just sew them in the middle to make them shorter.perfect fit.so happy these come in specific sizes.

Verified Buyer

Reviewed by Tracy from California on Saturday, May 27, 2017

I ordered a size bigger than I am , I'm glad I did as the size seems to run small .

Verified Buyer

Reviewed by treefrogdarla from California on Tuesday, May 16, 2017

Straps only adjusted a couple inches. I was hoping the shorter inseam would mean the straps could be adjusted for petites as well. I would have needed to cut about 6 inches off of each strap.

Reviewed by Kate from Alaska on Tuesday, May 2, 2017

The quality is great and I can't see any discernable differences with this garment being "2nds." I wear a size 12 jean and as such, ordered a size 12 in these bibs. They fit fine in the rear and chest but abit too snug around my midsection which I'd rather not accentuate plus, it feels a tad uncomfortable when bending over. I do not like to 'swim' in bibs but I do like them 'relaxed.' As a result, have since placed an order for a size larger. If you are proportionate, these run true to size. If however, you tend to be thicker in the midsection, don't mind a roomier bib elsewhere, I'd consider ordering up.

Verified Buyer

Reviewed by Layne from New York on Sunday, August 7, 2016

Well made, warm, and good quality material. However, this size 10 was extremely large. I am 5'4 and weigh between 140-145 and it looked/felt like I had on my brother's pants on.
Overall I would recommend this item. If it came in my size, I would have kept it.

Reviewed by Alaskan in PA from Central PA on Thursday, June 16, 2016

Bought these to work in every day for 3 weeks at a research camp - they are comfortable, functional and surprisingly flattering! Can't figure out what the irregularity is - they seem like a steal.

Verified Buyer

Reviewed by Kels from Georgia on Friday, March 11, 2016

Functional AND super cute. Not that the cute part matters. I think the size runs small. I'm a little lady (5'3", 110lb) so I wear a small in everything and a 3 pant size only with a belt, but the 4 I got fit really well. I think anything smaller would have been restrictive. So I'm pretty happy. Kinda wish I had gotten the lined ones, but that would have been way too hot for the humidity I work in, but some type of liner would have made them more comfortable.

Otherwise, still a great product, definitely doesn't feel thing like the Carharrt knockoffs. Huge pockets--like the kind that are in men's pants. I haven't field tested them yet, but I already know they'll keep the briars and brambles from scratching my legs based on the other products my friends have. I can't wait to take them on my field adventures. The only thing wrong with them was a couple of mistake button holes on the front pocket but I can clip my keys there for when I'm walking through the woods :).