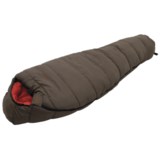 Closeouts. Stay warm through cold backcountry nights in the Long Echo Lake sleeping bag from ALPS Mountaineering, comfort rated to 0°F thanks to cozy polyester fiber batting insulation.
Average Rating based on
43
reviews
4.139534
0
5
Verified Buyer

Reviewed by grammie in nh from nh on Sunday, November 26, 2017

nice quality for the money. These are headed to a homeless shelter.

Verified Buyer

Reviewed by Shailo from New York on Saturday, September 3, 2016

This sleeping bag is very comfy and keeps me cozy warm at temperatures of low 40s to low 30s, but I don't know how cold I would be at low 20s and 10s. I'm a very light sleeper and have a tendency to get cold easily, for a person like me I would a lower temperature sleeping bag for low temperatures for warmth in negative temperatures.

Reviewed by ipartner48 from Alberta on Monday, July 25, 2016

I own this bag and have used it several nights. The stuffed dimensions are shown right on the STP website so i have done my due diligence and i know that this heavy burly bag is mainly car/horse/cottage camping. To ALPS credit, this is a very well built sleeping bag with a decent amount of loft to it. I know never to trust a manufacturer's temperature rating so to me, a 0F bag is more like a comfortable 10F sleeping bag so this bag does not disappoint. Very pleased with this purchase.

Verified Buyer

Reviewed by guerillajib from Colorado on Wednesday, May 18, 2016

Bag is super nice but should not be categorized as a backpacking bag it is like one reviewer stated "the size of a baby rhinoceros" but if you want a warm car camping bag this is the one for you....I give it five stars cause it is a nice bag just not made for backpacking

Verified Buyer

Reviewed by Kev from New York on Thursday, November 19, 2015

Very roomy, and quite warm for the conditions I was in. For the price I paid for two sleeping bags for me and my son to camp in cold weather, these Bags did a great JOB.

Verified Buyer

Reviewed by Barry from Southeast PA near Philly on Saturday, September 19, 2015

I am returning this, as it is not big enough in girth for me at 325# and 6'1, and not as long as needed either. No doubt if you are thinner, it might also be a little longer, but still seems it might be a bit short for taller people over 6'2".

One positive note, it seemed quite warm, just trying it on for size. I did like the color, and feel if the material, but the other cons outweigh those minor details.

Also, one or two of the threads in the outside of the bag were loose, so I don't know how it would hold up over time.

Also, unless you are very strong, don't try to stuff it back in it's cover-it's not suitable, and my wife and I had to do it as a team, on the bed, to make it happen, after 2 tries. I don't know how anyone could do it while camping. Besides that, I think I strained my arm and hands in the process (I have arthritis and am prone to tendonitis), so beware if you are not in prime condition to attempt getting it back in the provided cover.

Next time I may spend a little more to get a better bag, and one that will surely fit me better. Lesson learned.



Reviewed by Nurt from Colorado on Saturday, August 15, 2015

I decided to take a chance on this bag based on other reviews. It will be my bag for all car camping and Elk camp. I'm 6'3" 275 with broad shoulders, and while I wouldn't call this bag "roomy" I do fit in it comfortably. It is a very bulky bag, which is understandable being I bought it for $50.00. It has a good amount of insulation and a nice foot box area. I liked the way the hood fit my head and when cinched left me a decent breathing hole. If you're looking for a backpacking sleeping bag, look elsewhere. But for all other uses, I think it will be great. I can't attest to the 0 degree rating yet, but I will say I couldn't stay in it more than a few minutes in my house:) I'll try to remember to update after Elk camp in a couple of months. The zipper did want to snag in a few places, but when I slowed down a bit and used a little care, it worked fine. Again, $50!!

Verified Buyer

Reviewed by CaliCrusher from OAKLAND on Tuesday, June 30, 2015

Got this bag & it is literally the size of a baby rhino. I am 6'4" so I needed a long, fairly big bag and I did buy synthetic, but I did not expect this thing to be this big!

Verified Buyer

Reviewed by coffeelvr from va on Tuesday, June 16, 2015

This sleeping bag fits my 6'1" husband perfectly, will have to wait for cooler weather to try it out. Zipper does seem to be a little tricky. I may be almost afraid to zip it completely as it could zip up and around your shoulder, but what if it got stuck??

Verified Buyer

Reviewed by CG from MN on Thursday, June 4, 2015

Warm and dry fast. Purchased for 2 adults and 2 children and kept us all warm with temps to 40 degrees. A bit large, but expected that. Dried fast when got dewy overnight.