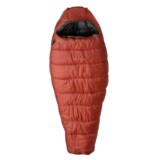 Closeouts. Stay warm through frigid backcountry nights in the Echo Lake sleeping bag from ALPS Mountaineering, comfort rated to -20°F thanks to cozy polyester fiber batting insulation.
Average Rating based on
64
reviews
4.093750
0
5
Verified Buyer

Reviewed by Julie from Colorado on Thursday, January 25, 2018

Great sleeping bag. Super cozy and I'm sure it will keep my body temperature up in cold-weather camping. We previously bought the longer version and have winter camped with it in the mountains of CO, and it worked out well. I wish I could afford the more lightweight versions, as this is a beast to roll up and get back into the bag. You have to roll it up very intentionally from the beginning, very tightly, and quickly get it into the bag while kind of bear-hugging the sleeping bag. I would hesitate to use this on a camping trip if I had to hike more than 5-10 minutes to get to it, but it's super great if you can throw it in the car and drive to the site. Very cushioned feeling, but I will also use an inflatable camping mat to keep it off the ground to make it more effective, as the cold ground will sap a lot of heat out of you.

Verified Buyer

Reviewed by Beladozer from West coast, USA on Monday, October 31, 2016

Tried it out in my house to check the length and width - I'm 5'4" and it fits me perfect, lengthwise. I think anyone over 5'6" - 5'8" might feel it's too short. I love the width too - I tend to sleep on my stomach/side with one knee pulled up and one leg straight and I can pull myself into this position easily without feeling like I'm going to pop seams or a zipper. This bag is heavy, but I got it for car camping with my kiddo, not backpacking, so weight and mass are not an issue, plus it's roomy enough that my 5yo could snuggle in too if he got scared or cold. The only thing that I don't like about it is that it's a right-zip bag and it feels so backwards (the left-zip was not available).

Verified Buyer

Reviewed by Carrie from Colorado on Tuesday, October 18, 2016

Very warm sleeping bag, a little bulky, but what do you expect? It's a -20 degree bag!

Verified Buyer

Reviewed by Rob from NEW ZEALAND on Tuesday, September 6, 2016

great bag... is pretty bulky but if car camping who cares... got this one for wife, ill be buying the long version.... good price for good product

Verified Buyer

Reviewed by adroe from wisconsin on Sunday, June 19, 2016

this was a gift for my daughter and she loved it.she cannot wait to use it.nice and fluffy!

Verified Buyer

Reviewed by MountainMomma from Washington state on Wednesday, May 25, 2016

Very warm bag but does not pack down as needed (for both car camping and backpacking.)

Verified Buyer

Reviewed by TraderJoe from Maine on Sunday, January 17, 2016

Great deal on a very high quality bag. Ive looked everywhere for a cold weather bag and this was by far the best deal. O would recommend this bag! Thank you!

Verified Buyer

Reviewed by Burnsy from Australia on Sunday, November 15, 2015

Excellent sleeping bag for the money you pay. Bags are a bit bulky but you can't have everything i guess. Zipper can jam on sleeping bag material occasionally but not a big deal. Just a matter of taking your time and zipping it up nice and easy.

Verified Buyer

Reviewed by Rob g from New England on Thursday, October 1, 2015

I could give it 5 stars due to the price but it is very high volume and difficult to pack. This bag has not been used in cold weather yet. Interested to see how the zippers will work in 0F and wet.

Verified Buyer

Reviewed by John H from Colorado on Wednesday, February 18, 2015

Very nice and lofty bag with lots of room. Unfortunately, I was looking for a bag for winter backpacking it's way to big to pack, even using a compression bag. Definitely recommend it for car camping though!