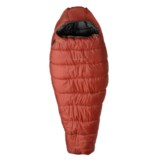 Closeouts. Stay warm through frigid backcountry nights in the Long Echo Lake sleeping bag from ALPS Mountaineering, comfort rated to -20°F thanks to cozy polyester fiber batting insulation.
Average Rating based on
51
reviews
3.941176
0
5
Verified Buyer

Reviewed by Johnny Cash from Ohio on Wednesday, January 18, 2017

I'm going to agree with everyone and say this bag is huge. When it's packed it's the size of a 5 gallon bucket. But for car camping or base camp in the bitter cold this is the bag. I used it in the teens and low twenties and was hot. The fit was perfect for me I'm 6'2" and 230. Overall the construction and materials are top notch. I rated it a 4 because I think it needs a draft collar. And the zipper is a little sticky when it gets towards the top.

Verified Buyer

Reviewed by Zacksquatch from Lake Placid NY on Thursday, January 5, 2017

this thing is extremely heavy and large

Verified Buyer

Reviewed by Avid Backpacker and Camper from LA on Saturday, December 31, 2016

I can't believe the specs say this is suitable for backpacking. Unless you're the hulk and you have some kind of magical COMPRESSION stuff sack (which, by the way it doesn't come with) there is NO WAY you're going to take this backpacking. Furthermore, it is very wide (it could easily fit two skinny people or kids), so this is something to consider. If you are bigger sized or like extra room while car camping, this is the way to go. But if you want something more snug, I was getting a cold drift since it was so roomy inside (my dad thought it was perfect though since he doesn't like to be confined to small spaces). My dad loves it, so I'm giving it a three. But it is 110% a car camping item - oh yes, it's so big one when in the stuff sack it does come with that an elementary kid could probably sit on it as a seat and swing his legs around.

Verified Buyer

Reviewed by gina from California on Wednesday, December 14, 2016

Phenomenal bag for the value. Only gave it 4 because it it HUGE. :)

Verified Buyer

Reviewed by Dee from NH on Tuesday, December 13, 2016

I have several Alps sleeping bags. I used one in 13F weather. I got this one bc of the waterproof outer lining. It has the more slick outer lining - not fabric. I could not get it back into it's sack so I bought a ''LIBERTY MOUNTAIN Cotton Storage Bag'' from EMS. It fits this bag.

Verified Buyer

Reviewed by Andrew from Colorado on Thursday, October 20, 2016

The bag is incredibly warm - in the tent at a temp of about 20F, I was sweating pretty profusely throughout the night. Haven't had a chance to take it out anywhere colder yet, but I'm sure it's going to hold up really well.

The one downside is that it stuffs down really large - DEFINITELY not a backpacking bag. Perfect for car camping, though.

Verified Buyer

Reviewed by Rob from New Zealand on Friday, October 7, 2016

great sleeping bag... is the longer wider version of the standard one (my wife has) really warm bag a bit bulky but bought XL compression sack to go with it (from another site STP dont stock)

Verified Buyer

Reviewed by Jimbo from Colorado on Thursday, August 25, 2016

Too bulky for back packing, maybe ok to carry in a RV or leave at the cabin. A good question to ask is; how well will this bag shed water if it were to get wet? Otherwise it looks to have been made well.

Reviewed by David from Denver, CO on Sunday, April 17, 2016

I bought this bag primarily for winter car camping in temperatures that might drop as low as -10. In the future there's the possibility of loading it on a pulk, although that's not very important to me right now.

First, the good. This bag has a lot of insulation and is warm. I've slept with it down to about 15 degrees and didn't even need to zip it up all the way. I hate having to worry about getting my bag wet when winter camping so synthetic fill is a plus for me, but I recognize it's not for everyone.

Second, the bad. This bag doesn't compact very well and is heavy - heavier than my 3 season tents. It is not something you'd want to carry on your back and pushes the limits of what you'd load on a pulk. It also lacks a draft collar, which is surprising given its temperature rating. I would not expect this to keep me comfortable down to -20* F, and anything subzero I'd probably want a liner or extra blanket. I can't say that for certain, though, because I haven't had a chance to use it in those temperatures yet.

In all, it's definitely worth it for the price (~$50-$70 or so) if you're not concerned about portability, weight, or size.

The bag only comes with a stuff sack, no storage sack. Just a public service reminder: don't store your sleeping bags in their stuff sacks because compressing the filling decreases the bag's ability to keep you warm.


Reviewed by Blueschiz from Georgia on Friday, March 11, 2016

We camped out for a week during which night temperatures varied from 35 to 60 degrees. I was comfortable in this bag every single night. Never too hot, never cold. The bag unzips from the bottom or the top so you can adjust your comfort level. The shape and puffiness are just right and it felt wonderful to climb into it each night. Easy to wash and hang dry too! Will be ordering more for other family members too.