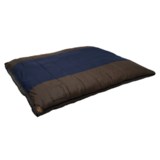 Closeouts. Share ALPS Mountaineering's 20°F double wide sleeping bag with your honey or stretch out and keep the spacious rectangular bag all for yourself.
Average Rating based on
40
reviews
4.400000
0
5
Reviewed by Dennis from Ponte Vedra Beach, FL on Saturday, October 7, 2017

Taken this on a plane to vacation out west a couple of times. Fit in a large hard sided bag from Costco with an inflatable mattress. Tent and car camped in Yellowstone, the Tetons, Dinosaur and Rocky Mtn Natl Park in the fall. Tent camped in Acadia this September too and it worked fine. Paired with a nice inflatable mattress kept us warm. Seems well made. No issues at all.

Reviewed by AboveFL600 from CA on Thursday, September 21, 2017

We raved about this bag after the first night camping in the low 30F's. The loft of insulation and layered construction are positives. The basic zipper arrangement is convenient, allowing each side to unzip to get in and out or regulate temperature without affecting the other side. Unfortunately, the sewing construction of our bag was very poor. We could see seems starting to separate right out of the bag. One seam pulled apart on the first night of use. When washed/dried, strictly according to instructions, multiple seams separated to expose the insulation material. We liked the bag so much during use that we actually considered just repairing it. However, it's obvious that the same poor seam construction is used throughout the bag, which would certainly cause the same problem with other seams. If you want a nice light duty warm double sleeping bag at an excellent price, maybe just indoors, you might consider this bag. Just be aware that you'll need to treat it delicately and maybe just spot clean when necessary. We're returning this bag and looking for a "high-end" bag with more durable construction.

Verified Buyer

Reviewed by Jriske92 from Illinois on Wednesday, June 7, 2017

This bag offers plenty room and though it hasn't been used, in sure it will serve as a good 3 season bag.

Verified Buyer

Reviewed by Happy To Chat from NYS on Monday, September 19, 2016

definitely made for cottage camping, I wanted to make this into two separate bags, but haven't been able to figure out the zipper system--it won't come apart.

A bonus: has a pocket for valuables on the outside.

Jury's still out until I can separate this into two bags.

Verified Buyer

Reviewed by geminigirl57 from New Mexico on Wednesday, August 24, 2016

Nice construction. We have used it once, but it wasn't really chilly, so the zippers were great for adjusting. Only complaint is a strong chemical odor from the fabric. Airing it out has helped some.

Verified Buyer

Reviewed by Marty of the Mountain from Selkirk range on Monday, August 22, 2016

The bag is awesome. It's warm, it's comfortable fabric, and I can tell it is put together well. The only negative I have for this bag is the size packed down. Caveat, for a double bag, it's manageable. It will fit on its side in the bottom of my eberlestock. I had a sliver of hope it would pack down even smaller coming from Alps mountaineering. But, I gave it 4 stars for a reason. I'm quite happy with this bag, just had to have something negative to say for the design team. Thank you, we love it!

Reviewed by Rachel from South Carolina on Sunday, July 31, 2016

I'm 5'5" and he's 6'2". I'm cold-natured; he's hot-natured. We camp from 75 degrees to sub-40 in the mountains. We needed something compact, that we could get on a plane, that is easy to set up and take down every day. We got all of that! We ended up wishing we had a little more cushioning, but it was a very comfortable, warm, roomy, convenient bag with a great stuff sack. The bag exterior is impressively water-resistant, and despite baggage handlers breaking two of our checked baggage, not a scuff or rip on the sleeping bag or its stuff sack. We checked it as-is, in its stuff sack, and it might have come out in the best shape after two flights.

Tip: you can arrange the zippers so that the warm-natured one can stick their feet out, AND the cold-natured one can cinch up the drawstring on [her] side, kick over the bulk of the material to make it more coffin-shaped, and suddenly the bag is tight and much warmer on one side and still ventilated on the other. It's almost magical.

Verified Buyer

Reviewed by Stefan from Idaho on Saturday, June 25, 2016

Definitely not warm at 30 degrees much less 20 degrees. Not sure where they test these but it wasn't nightime in the Lolo mountains of Montana. Hard to get back in the carry case, as usual. Otherwise seem decent.

Verified Buyer

Reviewed by Meher from Ventura, ca on Thursday, March 17, 2016

Ordered it from the good reviews. Perfect for car camping because it's a bit bulky, but what you get from it is unmatched.
1. It's thinness is perfect for those cold nights.
2. It fully unzips both sides. With this said I think it can zip into two different sleeping bags and zip up individually.
3. It's a queen size when laid out with both bags onto of another.
Just a good all around must have option for car camping. Well worth it. This paired with a blow up queen and your right at home.

Verified Buyer

Reviewed by Love Camping from Cincinnati on Wednesday, November 4, 2015

We went camping in Red River Gorge, Kentucky and needed something to keep us warm saw this double sleeping bag and bought it what a great sleep we had stayed warm and cozy all night!!