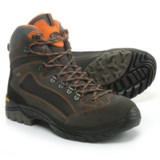 Closeouts. Enjoy waterproof protection on the trail at a great value with the Garsport Madrid hiking boots. Its waterproof breathable membrane pushes away the rain and snow, the Vibram® rubber outsole adds traction, and the multi-fabric upper enhances stability.
Average Rating based on
18
reviews
4.166666
0
5
Reviewed by Experienced hiker from Georgia on Thursday, July 5, 2018

These are not the same quality as Asolo, Zamberlan, etc. Mine were made in Romania but the stitching is not up to par for other boots that I have from Romania. My feet got wet on a rainy hike, so the waterproof line is inferior to Gore Tex. They definitely run small compared to traditional dress shoe (Alden, AE, etc.) sizes. Bottom line, they are not top-of-the-line boots, but you shouldn't expect that for their price.

Reviewed by JAiii from northern California on Monday, June 25, 2018

best hiking boots I have had for awhile... the soles are awesome and grip way better than the Hi_Tech boots I have been using... the feel great, excellent support... I just checked to see if they had my size so that I could order another pair...

Verified Buyer

Reviewed by Marc from Oregon on Sunday, June 10, 2018

These were inexpensive and I didn't have high expectations. The fit was good, comes with Vibram soles, and the workmanship was good, they were made in Romania. The only issue I had that caused me to send them back was that after walking in them on a cool day for 3 hours, I took them off and was able to wring sweat out of my Darn Tough socks. These are waterproof but they still need to be able to breath.

Reviewed by Hunter Joe from Idaho on Thursday, May 3, 2018

These boots are NOT waterproof. Initially, I wore them for a weekend vacation on the Oregon coast and they performed flawlessly right out of the box. However, after about 15 miles of hiking, the waterproof membrane is failing. I walked my dogs this morning and my feet were soaked. Garsport should spend more time on the membrane design and forget attaching the little brass tag that says "Waterproof". They would be great boots if you live in the desert southwest.

Verified Buyer

Reviewed by Sir WalksAlot from Chicago on Thursday, April 12, 2018

This boot fits well, and is easy to put on and take off. Excellent traction with the vibram sole. My only criticism would be that they don't breathe very well (they are waterproof) and so my feet get hot. Haven't tried them in the wet, so I can't say how water resistant they actually are.

Verified Buyer

Reviewed by RJ Marble from california on Tuesday, April 10, 2018

I like the quality of materals used, and this is a true to size shoe. I am a true 7.5 mens, but I often wear size 8 with some shoes, due to sizing differences. I ordered a 40 EUR for US mens 7.5 and it fits just right.

Verified Buyer

Reviewed by RJ Marble from San Francisco on Friday, April 6, 2018

Quality material....a bit tough in the beginning but takes a few times to adjust to the shoe fit, but it fits. I am a regular mens size 7.5 to size 8M..and I re-ordered a size 7.5 and it fits well. The size 8M was a bit bigger and felt like a size 8.5-9 so I returned it for a size 7.5 and it fits better. Nice pair for maybe winter use.

Reviewed by JB from Michigan on Tuesday, April 3, 2018

For the price, the leather is of good quality and so is the Vibram sole.

However, there is very minimal cushioning. The insole is very thin. I tried replacing it with one with more cushioning and it doesn't make enough difference. The boots need some sort of cushioning in the midsole as a barrier between an insole and the Vibram outsole.

In addition, the lining is very flimsy. Before trying on the boots, I looked inside. The material is already felting. As it wears down on the inside, this will no doubt limit the water resistance of the membrane.

Verified Buyer

Reviewed by CJ from Sedona, AZ on Wednesday, March 28, 2018

Fit is about right, plenty of volume, rugged sole - which is good for rocky trails. A keeper!

Verified Buyer

Reviewed by Lee Butcher from Southeast Missouri on Wednesday, March 28, 2018

I was looking for a new pair of hikers to replace my wife's old Kayland's when I came across these in my daily email flyer, and I thought it said women's boots. After reading the specs, then the reviews, the first of which was titled "Pretty, pretty, pretty...
" (this sounded like a woman's review), I thought I'd buy her a pair. Then I started looking at sizes and found they were men's boots. But after talking to the wife, and finding that there was a pair that would fit her (size 40 which is a 7 in men's but an 8 1/2 in women's, we figured we'd at least give them a try. After getting them we took a 2 mile hike to watch the spring whitewater kayak races at Millstream Gardens in south east Missouri, with lots of traversing rocks at the spectator area, and she was really happy with them! Absolutely loved them. Everything about them was right. Felt comfortable from the first step (I told her one reviewer said they ended up with heel blisters, so wear thick socks!), but she didn't have a bit of trouble. We even went out on a second hike the next day at Pickle Springs trail, a '5 boot' rough trail with plenty of hills, rocks and roots, and she was sold. I was afraid the width or feel wouldn't fit her right, but she says they're the most comfortable hikers she's ever had, and it's been a few years since she even wanted to hike. I was shocked that she wanted to go the second day! Thanks, Garsport and STP for such a great boot at such a great price. Some of us (US!) are retired and don't have $200 to spend on luxuries any longer (retired Ironworker, here), and it's nice to know that there's a company who's willing to pass a good deal on instead of capitalizing on an opportunity to bleed the turnip, per se. We would highly recommend this boot, and feel it's a great thing when we can get a decent product for a fair price that isn't cleaning out our bank account. Although I love my Salamon hiker's and Thorogood "work" boots, I could buy 4 pair of these nice boots for what we paid for her new Garsport's. Thanks to them and STP for having the good sense to sell a fantastic boot that EVERYONE can afford to wear!