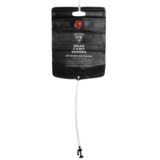 Closeouts. Now you can enjoy the comfort of a warm shower after a long day on the trail thanks to Seattle Sports Solar Camp Shower, featuring an easy-to-use, on-off valve and a lightweight, packable design.
Average Rating based on
18
reviews
4.666666
0
5
Verified Buyer

Reviewed by Camper Girl from Washington on Monday, July 24, 2017

didn't actually shower with it yet but filled it with water and let it sit out all day. The water was hot after 6 hrs (didn't check before then) and maybe too hot for a shower but happy to see it worked. Says you have to rinse it with baking soda water before first use, not sure why when if you throw in your camp gear you're probably not going to have warm water and baking soda on hand at camp. Note we were heating on a 90 degree clear day.

Verified Buyer

Reviewed by Lost in Pine Cone Country USA from Extreme NW MT on Tuesday, October 25, 2016

I really like the gray variety best but when EPA cleaned up our home the gray ones along with a few other things in our walk in outdoor suplly closet went missing and those did to. So jumped at the chance to buy 2 of these to replace the lost ones. I have never taken a shower using one despite having a privy tent to set up for such. Instead I hang several of these up and use the privy tent as a small kitchen set up including doing dishes and washing hands etc. Works for me and these work pretty good with full sun in spring and summere to provide camp ready hot water around tent camp. I would continue to use these for tiny camper use too. The Seattle brand I prefer to the cheaper ones I did try years ago.

Verified Buyer

Reviewed by Liala from Philadelphia on Wednesday, August 31, 2016

This shower saved my life! Everyone should have one. On hot days, fill it with your cooler water, ahhhh!!!!

Verified Buyer

Reviewed by Sander from California on Thursday, August 18, 2016

This is a great solar shower, it's sturdy and good for washing hands and taking showers. It provided enough for 3 of us to wash our feet and hands, and we still had tons of water left for dishes. If only we hadn't left it in Idaho! I am definitely ordering another one. It's a great deal and a great product!

Verified Buyer

Reviewed by mo from Albuquerque on Friday, May 6, 2016

I am a teacher and we are studying solar power so I purchased this to demonstrate the heating power of the sun. We hang the bag from a tree and wash our hands in the afternoon after we've garden. The students are impressed with the high temp. Seattle Sports make good products.

Verified Buyer

Reviewed by Andy "O" from Duvall, WA. on Wednesday, October 28, 2015

I bought this because I like to go camping alot. For the price I will try it out. The product does look pretty bomber though.

Verified Buyer

Reviewed by Gone Fishing Sam from New York on Tuesday, September 22, 2015

Practical and sturdy.

Verified Buyer

Reviewed by Gail when not hiking from Idaho on Tuesday, July 28, 2015

easy to use, great showerhead. A wonderful warm shower after a hard days hike from base camp. What more cold you ask for. Sack, has a bar across handle that makes it easy t hang.

Verified Buyer

Reviewed by JJCA from Louisiana on Tuesday, July 28, 2015

Bought this for our camping trip. I can't wait to try it out.

Verified Buyer

Reviewed by Carol from Michigan on Tuesday, August 26, 2014

We spent 10 days in a cabin in Montana in the Rocky Mountains. It was a bit rustic but beautiful.

This Ultra-Mega Solar Shower was wonderful! Sooooo glad I purchased this. The water warmed up during the day and we took showers in the evening. We hung it on a tree with the rope it came with. It looked Majestic hanging there! :) Just knowing we could take a shower in the evening was, well in a word, shibby!!!!!