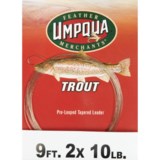 Closeouts. Umpqua Feather Merchants' trout leader is precision extruded from the finest polymers to provide a superior strength-to-weight ratio.
Tapered
Length: 9'
Size:
7X (9ft/2lb)
5X (9ft/4lb)
6X (9ft/3lb)
Material: Nylon
Made in Japan
Average Rating based on
12
reviews
4.833333
0
5
Verified Buyer

Reviewed by Mike from North Carolina on Sunday, April 23, 2017

This stuff is usually way too expensive at the fly shop or big box store. I usually keep a stockpile of these, really good to know you are not spending a fortune on leaders. This is a great price for a good mono leader.

Verified Buyer

Reviewed by Ifish from Atl on Tuesday, March 21, 2017

A good bit more supple than the SA

Verified Buyer

Reviewed by NCTU37 from North Carolina on Saturday, December 31, 2016

Purchase several in 5x and 6x. They work as well as any I've used. I've never broke any fish off using them. Great STP price.

Verified Buyer

Reviewed by Ridin' Dan from Colorado front range on Monday, December 5, 2016

Been using Umpqua leader for years, they work.

Verified Buyer

Reviewed by Fishing Bum from Pennsylvania on Monday, July 20, 2015

I used to tie all my own, bud decided it was a waste of time when these became available at these prices. Nice taer, seems to turn over well

Verified Buyer

Reviewed by NMFLYGUY from New Mexico on Tuesday, April 28, 2015

Leaders are great- They are easy to straighten and float well for dry flies-

Verified Buyer

Reviewed by AT Hiker in training from Virginia on Thursday, April 2, 2015

Umpqua products are first class. By combining the appropriate leaders and tippet material any stream or river can be fished. The Umpqua tippet is an easy to tie material for those who have difficulty with their hands and poor vision. Umpqua leaders and tippet material do not retain the coils that less expensive or lower quality lines tend to do. This is very noticeable when trying to tie a fly onto your line in poor weather or when the fish are biting and you are in a hurry. Tippet material disappear into the water and make presentation to the most spooky trout possible. Umpqua leaders and lines do not stretch thereby allowing you to set the hook and keep a fish on the line when making a run for it. The leader lengths of 7 1/2', 9', and beyond allow the flexibility to fish different size streams and where presentation is critical. Good quality tippet is critical. Umpqua appears to be knot friendly for novice fisherman. It appears to be more forgiving when a loop becomes a whip or when a rock is slapped.

Verified Buyer

Reviewed by 406heart from michigan on Sunday, February 22, 2015

Sierra always has amazing deals with there coupons. Im sure these leaders are older. However monofiliment doesnt lose tensile strength until exposed to uv light and you dont get alot of that inside. Memory can be an issue with older line but its not a problem I have experienced yet with this product!

Verified Buyer

Reviewed by Asarkozy from Aurora, CO on Sunday, August 17, 2014

I've used Umpqua tippet lines and leaders for years, they are strong. I keep a few spares in my gear bag, but I rarely replace them.

Reviewed by Moosaki from WV/PA/VA/MD on Tuesday, July 22, 2014

This goes on a line loop easily. It straightens with minimal effort. The leader is durable and you can extend the life of it with a tippet. I only use tapered leaders.