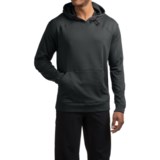 Closeouts. A cozy haven on the bitterly cold trail, Terramar's Geo Fleece base layer top regulates vital body warmth thanks to moisture-wicking Body-Sensors EC2® fleece with grid channels for breathability.
Average Rating based on
100
reviews
4.350000
0
5
Verified Buyer

Reviewed by Brett from Montana on Tuesday, November 1, 2016

Comfort and seems durable, will be worn alot.

Verified Buyer

Reviewed by B in Beaufort from Beaufort NC on Tuesday, April 26, 2016

Purchased a few Terramar pieces from STP and I've been very happy with all quality and fit wise. Good layering piece that's not too heavy but still adds good warmth.

Reviewed by Claire from North Carolina on Saturday, April 16, 2016

I ordered the medium for my husband, who is thin but quite muscular with broad shoulders and average height. This was way too short on him, barely reaching his hips. He usually wears things in a slim fit, so I expected it to be wider, but not so short! if you've got a short torso, this may work for you. Otherwise the fabric is really nice and the inside fleecey feel is super warm and light. It would be great to pack along for hiking, etc. Wish it had worked! Funny thing is, I ordered the women's half zip of this same brand/fabric, and it was also incredibly short!

Verified Buyer

Reviewed by Mike from Georgia on Monday, February 8, 2016

My friend Sneaky D told me that Terramar made a good product, and he was totally right! This is very warm, fits great, and I love that it has a hood. I've used it running in cold weather and also as a base layer while sitting at my kids' early-season soccer games. Real comfortable shirt. I'll definitely be going to Terramar again in the future!

Reviewed by adamct from CT on Thursday, February 4, 2016

Like many people, I have been looking for a cheaper alternative to the Patagonia R1 hoody. I recently purchased three contenders and thought I would share by opinion on how they compare:

1. Melanzana Micro Grid Hoodie - $69 + shipping. This was my favorite of the bunch.

Material: The material is very soft and comfy, layers well and seems warm for its weight. It is worth noting that the grid side of the fleece faces outwards, and the slightly smoother side of the fleece faces inwards. I would have preferred if it were the other way around (similar to my Black Diamond CoEfficient), since it would be easier to slide other layers over the Melanzana hoodie, and I think it would be more comfortable to have the grid against the skin, but from a technical perspective, there are arguments the other way as well.

Hood: The hood is form fitting (but not tight), it is made of the same micro grid fleece as the rest of the garment, and it has a drawstring and toggle to tighten the hood. Thoughtfully, the toggle is placed offset, slightly to the side of your face, where it is less likely to interfere with a jacket zipper and less likely to bother your chin or mouth.

Neck and Helmet compatibility: The garment has a very high neck that easily covers up to your chin and, if the hood is tightened, it can comfortably cover your mouth as well. It fits comfortably under a ski helmet.

Cut/Style: I appreciate that this is a pullover style, not a jacket. I hate it when base and mid-layers have zippers, as you just wind up with zippers layered over zippers, creating a stiff, bulky mass in the middle of your chest. Pullovers are lighter, warmer, more comfortable and less fussy. I like the many color options offered by Melanzana, thought the colors are more muted than I had hoped.

Pockets: The only pocket is a low profile kangaroo pocket. Since this will usually be used as a base or midlayer, I view this as perfect. Extra pockets just add bulk and weight.

Cons: The sleeves are a bit loose (not elasticated), there are no thumb holes, and there is no drawstring to adjust the hem. Given that this item fits me well, none of those are deal breakers.

2. Terramar Geo Fleece Hoodie - about $18. This jacket is an absolute screaming deal at a fraction of the cost of the Melanzana hoodie, which is a fraction of the cost of an R1!

Material: The material is a little thinner than the Melanzana material, and much thinner than the Monkey Man Grid, but the difference compared to the Melanzana is slight. The material is soft and the grid portion faces inwards, with the smoother side facing outwards, as is my preference. Again, the material is warm for its weight and layers well.

Hood: On the upside, the hood is made of the same material as the rest of the garment (which means it is warm), and it has a drawstring with two toggles to tighten the hood, both of which are located somewhat to the side. Unfortunately, the hood is enormous and ill-shaped. This is a real problem. If you try to tighten the hood, it will slip forward, so there is no way to tighten it "around" your face, as opposed to tightening it "in front of" your face. When tightened this way, it blocks your vision. When worn under a helmet, you also wind up with a huge pouch of fabric hanging off the back of your head. There is no way to casually wear the hood -- left untightened or without a helmet to hold it in place, it will slip off (and I have a big head). While it is nice the drawstring toggles are located offset to the chin, two of them increases bulk and makes it difficult to truly tighten the drawstring right under your chin (unlike the single toggle on the Melanzana hoodie).

Neck and Helmet compatibility: The Terramar hoodie is cut with the hood starting fairly low, with a distinct "V" where it joins the main body of the garment. There is no distinct neck portion, as there is with the Melanzana. Coupled with the drawstring and toggle design, this means that it is difficult to get the hoody to comfortably cover your neck or mouth without cranking on the drawstring and then covering your eyes. The material is thin enough to comfortably fit under a ski helmet, but you will have fit issues since the hood is so shapeless.

Cut/Style: This is a pullover style without a zipper, which I prefer (see above). Putting aside the shapeless hood, the cut of the garment is quite good. I have this hoodie in Evergreen, which is a lovely, deeply saturated color.

Pockets: The only pocket is a low profile kangaroo pocket. Since this will usually be used as a base or midlayer, I view this as perfect. Extra pockets just add bulk and weight.

Cons: The hood (try to contain your surprise) is what really lets this item down. But the extremely low price makes up for its shortcomings!

3. Mountain Hardwear Monkey Man Grid Jacket - list is $180, bought on sale for $75. Warm, but expensive, bulky, poor hood, oversized and questionable side panels.

Material: Made with Polartec Thermal Pro, this is easily the warmest jacket of the bunch. The fleece fibers are much longer. As with the Melanzana hoodie, the grid side faces outwards. While I thought I would appreciate the greater ventilation offered by the stretch fleece side panels, in practice they seemed to rob the garment of much of its warmth. I think it would have been better if it was limited to the area directly around and under the pits.

Hood: What the?!?!?!? If you thought I was harsh on the Terramar hood, the Monkey Man hood is even worse. It is made of thin stretch fleece, not the same material as most of the jacket, so it isn't very warm. It doesn't have any drawstring, so there is no way to adjust it. The hood is too large, so coupled with the lack of a drawstring, there is no way to get it even close to right.

Neck and Helmet compatibility: I wear a size XL in just about everything, but somehow the XL size was way too loose, baggy and shapeless on me. As a result, I couldn't get a good fit around my neck or face. I would suggest ordering a size down from what you usually wear. While the hood will fit under a helmet, you will have the same fit problems as with the Terramar.

Cut/Style: As I mentioned, the XL was baggy on me. To provide some context, I am 6'2" and weigh over 245 lbs. I'm not a small guy, yet the Monkey Man Grid fleece was still too baggy and didn't seem to have any shape or tailoring to it. I've returned the XL and will try a Large, which I'm hoping will fit better. The Monkey Man Grid has a full-length zipper, which I tend to dislike for the reasons discussed above. The various shades of blue that the Monkey Man is available in are absolutely gorgeous.

Pockets: The Monkey Man Grid has several pockets. I view these as adding minimal convenience, since they will usually be buried under my outer layers, and yet they add bulk and weight. Not the biggest deal in the world, but I would have been fine if Mountain Hardwear had omitted them.

Cons: The hood, cut, bulk, weight and loss of warmth from the side panels all seemed to let this jacket down. The reason to get this jacket over the Melanzana or an R1 (which has a similar list price) is the greater warmth offered by the "Monkey Phur" fleece, but if all the heat is going out through the stretch side panels, then you might as well stick with a lighter and lower-profile material like the Melanzana grid fleece. Considering this jacket lists for $180, I was severely disappointed.

Conclusion: if you're on a tight budget, the Terramar is a no-brainer. If you can spring for the Melanzana, the superior cut and warms are worth the higher price.


Verified Buyer

Reviewed by airehead from denver on Sunday, January 17, 2016

Light and warm

Verified Buyer

Reviewed by cc from nj on Wednesday, December 2, 2015

some Terramar products are great other are not this one is great. True to size, light weight, but warm. Great for yard work, second layer hiking, and around the house. This is the second one i purchased.

Verified Buyer

Reviewed by Ohio mom from Ohio on Monday, November 30, 2015

I initially bought one of these for my son, then bought 5 more because other family members wanted one too. It is lightweight but warm and very soft.

Reviewed by Soupy from Kentucky on Thursday, November 19, 2015

I wish I had discovered Terramar a long time ago...but now I'm just glad I found them.
Everything from underpants to base layers is superbly designed and impeccably made.
The main thing I am after is their grid fleece that you see on this hoody and the Eccolator stuff.... it's warmer than a comparative fleece and breathes so naturally you appreciate it at points during your hike.... at least I did.
I bought some Terramar sub zero socks... and found the same great quality and performance.
My new favoUrite brand.... to join Marmot, Outdoor Research and Montbell.
This is serious stuff... grab it while you can.


Verified Buyer

Reviewed by Ubbikin from California on Monday, August 10, 2015

Lightweight, comfortable, functional. Performs well.