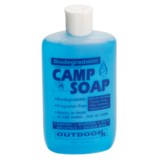 Closeouts. When you're spending time outdoors, a bottle of Outdoor Rx Biodegradable camp soap is suitable for all your cleaning needs. This fragrance-free soap is safe for washing the body, hair, dishes and clothing.
Average Rating based on
50
reviews
4.540000
0
5
Verified Buyer

Reviewed by MontanaKitty from Montana on Thursday, October 26, 2017

This is great soap. For minimalist camp soap, this is the ticket. I have a tiny bottle that I refill from this one.

Verified Buyer

Reviewed by J from OH on Sunday, June 4, 2017

I also purchased the Camp Soap wash kit with scrubbing sponge and towel when it was available through Siera Teading Post. This is a much larger bottle and will be good to refill the smaller bottle I already had.

Verified Buyer

Reviewed by Love from UT on Wednesday, May 24, 2017

Safe for the environment, works perfectly on body, clothes and dishes. Doesn't cause skin irritation and leaves skin fresh and soft.

Verified Buyer

Reviewed by Hiking grandma from Ohio on Wednesday, May 17, 2017

Luckily it Arrived in a sealed bag because the bottle had leaked. Haven't tried the soap as it was a gift.

Verified Buyer

Reviewed by Reviewer 4323 from Colorado on Tuesday, May 16, 2017

I thought this was the small 2oz one based on the price. It's one of the big ones, which is even better. We swear by this stuff and have used it for years.

Verified Buyer

Reviewed by E. Williams from Massachusetts on Thursday, April 6, 2017

Note that this is a bigger bottle, great for refilling the smaller containers that I actually take with me. Especially like that it is fragrance-free.

Verified Buyer

Reviewed by Avid Backpacker and Camper from LA on Saturday, December 31, 2016

Trying to be environmentally friendly, I have been using this biodegradable camp soap while camping (a month at a time) yet I'm still not used to its texture or consistency. It's kind of like jello that's been taken out of the fridge for too long. It's not completely runny but glops into your hand. I think it works well - though I haven't used other biodegradable soap to compare its cleaning powers to. Everytime I wash my hair with it my hair feels really weird for a few hours, then it seems to have this shiny sheen on it - which is not bad - though I have no clue what that is that is causing it!

Verified Buyer

Reviewed by Kristy from Ohio on Thursday, June 23, 2016

This was larger than I thought it would be, it will last a long time.

Verified Buyer

Reviewed by Backcountry Vagabond from Michigan on Thursday, June 23, 2016

I buy this stuff all the time for backpacking. I use it for dishes, clothes and bathing in the backcountry. Great price for this size bottle. I'll use it to refill my smaller bottle.

Verified Buyer

Reviewed by mimbresgirl from Northern California on Tuesday, May 31, 2016

Easy handle to,grab, opens and closes easily. Low sudsing but will clean grease. Easy to identify in camping/kitchen box.