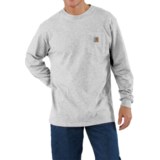 2nds. You'll wear Carhartt's Work Wear shirt for extra warmth when it's cold, and as a great casual shirt anytime, anywhere.
Average Rating based on
60
reviews
4.483333
0
5
Verified Buyer

Reviewed by Hawktooth from North Carolina on Monday, July 10, 2017

Very nice

Verified Buyer

Reviewed by Exhausted trying to get a few shirts from So Oregon on Wednesday, June 21, 2017

Bluestone, Green, Port & Navy had Holes... Orange, Brown & Red were ok in LT & XLT.

Holes in chest, collarbone, back & armpit all visible... Check them each so you don't get stuck with 3rds!

........... Had to order 4 total orders to get 5 shirts in each size of LT & XLT.

Holes sewn shut on 80% of these shirts, ended up buying 35 shirts to get 5 each in 2 different sizes.
Runs Big but at 6'2" Tall & 6'6" Tall they fit great in Talls in arms & Length.

Verified Buyer

Reviewed by Exhausted trying to get a few shirts from So Oregon on Thursday, June 15, 2017

Last 2 yrs of Buying these shirts has GONE WAY DONE on quality.
These are 3rds & NOT 2nds.
3 Orders later after $400 of shirts ordered to replace Shirts with HOLES in them is insane!

Out or the 2rd order alone 2 shirts were ordered - since i learned order a Grip & see if you get 6-8 out of the deal.

I ordered 22 shirts Long & short sleeved & got 8 out of the order. I now have 3 ordres & No Father's day Long sleeve shirts!

NICE
I am just going to return them & get some down the street that are not IRR.
Sierra Trading Post has gone down hill on these, sad because I have 3 men that get them for the year.
Going on 3 weeks of shuffling shirts is not cost effective.

Where is the Quality Control???
Won't buy here again after 7 yrs of buying here.... At Least Not the shirts

Good LUCK

Verified Buyer

Reviewed by Grining Bear from Michigan on Saturday, June 10, 2017

Am always looking for an extra Carhartt long sleeve work shirt. Hard to pass up the deal and get a different color.

Verified Buyer

Reviewed by ncmountainbiker from Nashville NC on Sunday, July 3, 2016

Pure cotton, Carhartt quality and a Sierra Trading Post low price !!!

Verified Buyer

Reviewed by Exhausted trying to get a few shirts from So Oregon on Sunday, November 15, 2015

FYI > 50% of my Orders had HOLES SOWN SHUT NOT OK! Never had issues with any other Sierra Trading Post stuff been ordering 5+ yrs alot of stuff.

Same issues I had trying to order in July - 1" Holes sown shut & for this Price almost not worth returning 50% of the shirts >10 total trying to get 5 shirts with NO HOLES (ended up ordering 12 to be safe), Holes ranging from above pocket, collar bone , shoulder blade- now as 2nds the definition is something that does NOT effect the Wearability- per Sierra trading post Mgr- well in my book if the thread comes out it has a HOLE so then hello- that will effect the wearability.

I got the Carhartt brand do to the LONG durability & Quality- for $7.00 more I can get them on sale at Cabelas or anywhere right now really.

Out of all the carharts I have bought- Jackets, pants- only the shirts have had this issue & now again in Nov I am having to return over & over again to get shirts with no HOLES- Not cost effecting- BTW it has taken 5 orders to get 7 shirts.

Flip the shirts inside out & Look for the holes sown shut some are not visible immediately until washing.

Carhartt's XLT fits 6'2" 230 lb with much Extra room in body- Tall length is really Long comes to bottom of butt. 2XLT fits my brother 6'10" Tall 235 lb guy long body- well long everything on him.
LgTall fits Dad 6'2" tall 190 lbs LONG body & Arms generous room in body & length.
They shrinkage is minimal but having tall guys in family we dry to 90% dry but unless You are 6'10 ya can probably dry till totally dry.
RUNS LONG

Good Luck

Verified Buyer

Reviewed by Robert from Colorado on Saturday, November 14, 2015

Been a fan of Carhartt for over 30 years now, that should tell the story, the quality is great and so is my source!

Verified Buyer

Reviewed by SandyG from Indiana on Monday, August 3, 2015

All though the purchased items are for Christmas and a birthday later this month, the product always arrives In a timely fashion and in excellent condition. I have purchased many item from this company and I have always been very satisfied and the recipient of my gifts have been pleased. I would not hesitate to order again and urge others to do the same.

Verified Buyer

Reviewed by Rich from CA on Monday, July 20, 2015

Carhartt shirts are made of tough, heavy fabric. Perfect for hard work where lighter weight shirts would get torn. Although these were labeled as seconds, they did not have obvious defects. Whatever defect it had was so small as to be unnoticeable.

Verified Buyer

Reviewed by Classic dresser from Cresson on Sunday, November 16, 2014

I've purchased several of these through the years from STP and they are always a hit. My son and my nephews both wear tall men attire and they are great. A man can never have to many of these in his wardrobe.