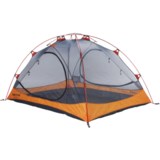 Closeouts. Dependable and easy to set up, Marmot's Ajax 3 tent minimizes weight by keeping things simple yet highly functional. Mesh panels provide optimal ventilation and a Catenary Cut floor lifts seams off the ground for full waterproof protection in nasty weather.
Average Rating based on
178
reviews
4.623595
0
5
Reviewed by Mysskhryss from USA on Wednesday, September 13, 2017

I used this in July and it worked fine. However, using itnfor a raining camping trip over Labour Day weekend proved difficult. The tent doesn't come with a foot print so we added a tent. 12+ hours of rain was more than this tent could handle. The vestibles were convient to have, but made getting in/out of the tent very awkward (even more so in the rain). On the bright side, it was high enough for 2 adults, 2 dogs, and our gear. In terms of weight, we've only uses it for car camping at this time.

Verified Buyer

Reviewed by Gator Greg from North Texa's on the Blackland Prairie on Tuesday, August 29, 2017

Tent is roomy, light and packable, easy to set up, the rain fly seems to provide excellent coverage. Entry on each side. I am looking forward to field testing it and seeing how the ventilation is.

Verified Buyer

Reviewed by Annette from North Carolina on Tuesday, July 4, 2017

Bought this tent in preparation for a camping trip in August, but have already used it twice, and love it. Easy up, easy to attach rain fly and to cinch up tight. With the everyday/evening rains, it has kept me dry and happy. I love it. Light weight, easy to pack up. No muss no fuss! I'm a happy camper.

Reviewed by the_magikal_bean from Texas on Friday, June 16, 2017

excellent-value, tent is awesome and easy to set up. love the mesh-dome look. the rain tarp needs more ventilation and I'd be worried about the mesh ripping. I would upgrade the tent stakes because they are minimal. very study and love that orange look. if you think you'll like it you'll probably love it, especially at this price.

Verified Buyer

Reviewed by Clinger from SE Louisiana. on Tuesday, April 25, 2017

I am in south Louisiana so I needed a well vented semi compact tent for car / four wheeler camping and possible use for canoe camping on rocky beaches in Arkansas i.e. I was not weight concerned. I use hammocks most of the time. I have been running a small 2 man seira design for twenty plus years but I have to drink too much now to make a wimpy pad comfortable so I wanted something to fit a mattress. REI has a nice 6 inch air mattress with dims to match this tent footprint and with the mesh upper I was in. I have only set this up in the house but I am pleased. Slept in it twice in the den with my son and it looks like everything is in order. Quick setup. Free standing. Big vests on both sides. Daddy likes. Highly recommend.

Verified Buyer

Reviewed by MichaelDSikora from Ohio on Tuesday, April 11, 2017

So far we have set the tent up twice inside the house. Real easy for a beginning camper like me!
Can't wait to take it outside to try it!

Verified Buyer

Reviewed by SeaShell from California on Thursday, November 10, 2016

Ordered this tent based on a recommendation of a coworker. Our last tent ended up leaking in a storm and we just had it. Needed something that could handle water. We haven't taken this tent out yet, but based on other reviews, I have good faith. The other day we did a test run on putting the tent together, it's very easy to set up. Spacious on the inside. We picked the 3 person tent only because we like extra room to place our luggage in.

Verified Buyer

Reviewed by grandmak from California on Monday, October 31, 2016

I have not used this tent although I did set it up to check it and found it reasonably easy to put up alone. It will be roomy for 2 people and possible for three people. It does not come with a ground cloth but I will purchase a 6'x8' tarp. One should always use a tarp under a tent, both to keep it clean and to avoid punctures. Remember to tuck it so that any rain runs off and not under, and to use a trowel to dig a trench if heavy rain is expected. I found the poles and the stakes in the package, plus an emergency pole repair sleeve and some line to stake the tent in high winds. My one complaint is that there are tie-offs for the rain fly only on one side, whereas one might not want to use the vestibule in really nice weather. I plan to add an extra tie-off. There are doors on both sides of the tent, which I like. So far I am happy with the tent.

Verified Buyer

Reviewed by Shawn from Colorado on Wednesday, September 21, 2016

One of the easiest tents I've ever set up and can easily be done with one person. Only used once so far, but we are very happy with the purchase. It doesn't come with a footprint; however, those can be purchased easily after-market.

Verified Buyer

Reviewed by Family backpacker from Idaho on Tuesday, September 6, 2016

We used this tent for the first time backpacking this weekend and it was perfect. We bought it to accommodate our growing family as a two-person tent was just too small for the husband, child and myself. This tent is light-weight, easy to set up and roomy enough for a bouncing toddler. The vestibules also had plenty of space for the two dogs and gear. The one downside of the tent (and the trip) was it rained on us during the night and there was some water leakage if you touched the rain cover. We didn't get dripped on or anything like that, but if you rubbed up against it on the inside you got a little wet. Not a big deal all in all. It is definitely a good find for the price!