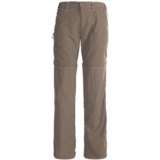 Closeouts. Perhaps the most versatile piece of clothing you'll ever own, White Sierra's convertible Sierra Point pants feature performance-minded fabric and zip-off legs for when your day heats up.
Average Rating based on
18
reviews
3.111111
0
5
Verified Buyer

Reviewed by BagLady2 from Maryland on Wednesday, August 17, 2016

Great fabric but fit way too small. I always wear a 1X but these fit more like a Large.

Verified Buyer

Reviewed by Em from KS on Wednesday, July 20, 2016

Ordered these for a hiking trip and ordered up based in other reviews. I'm usually a 1x but ordered the 2-3x. Waist and hips are slightly snug, especially when sitting but there is good range of motion when walking. Zip offs are nice, the zippers have a L and R so you know which goes where. I am keeping these since it is so difficult to find hiking pants in my size.

Verified Buyer

Reviewed by tking from Indiana on Wednesday, June 22, 2016

I cannot tell you how much I would like this pair of pant, how they worked, etc., because they can't fit me. I always, always buy pants in a size 16. I ordered these pants in a 1X so they should have fit me just fine, but they were too tight. I really think you need to re-check your sizing (and this is not sour grapes speaking.) I thought, OK, I'll reorder and go ahead and try a 2X, even though I never wear that size, but these pants were only available up to 1X. Too bad. No sale from me, after all. So, now I really don't want to order any pants from this company because I'm so uncertain of the sizing (even with the sizing chart.)

Verified Buyer

Reviewed by NY Hiker from Upstate NY on Sunday, June 19, 2016

The 1X size is more along the 14-16 range rather than the stated 16-18. Then, when I tried to order the next size, it was out of stock. Women of all sizes hike and need these pants. Wish I could have actually used these.

Verified Buyer

Reviewed by KP from NJ on Wednesday, June 8, 2016

Although the quality of these pants seems good, I had to order 3 sizes larger than I usually wear for them to fit!! Cut very small in hips and thighs.

Verified Buyer

Reviewed by soccermom from Bethesda, MD on Thursday, June 2, 2016

Nice for hiking. Tried them out with the Girl Scouts and they worked great. My only quibble is that as the leader I need more pockets! Lots of stuff to bring along, some of which I need to have accessible (and not on my back in a pack.) Wish you made them in navy blue or dark green.

Verified Buyer

Reviewed by Gypsy from Texas on Tuesday, May 31, 2016

I purchased these to on a pack and paddle trip. The fabric dried quickly when it got wet. At the same same time it was not so thin that in the evening off the water offered some warmth. the fit was true with no tight spots that usually come with an xl. The zip on and off leg bottoms worked well.

Verified Buyer

Reviewed by H Hubbell from Fredericksburg on Tuesday, May 24, 2016

I would say 2 to 3 times smaller. I usually wear a 22 and ordered the 24 thinking they would fit because they are a classic style that is not body hugging but, I could not even zip the pants up and the legs fit very close. Too bad they seem to be a nice light hiking pants. There is a problem big problem in many company brands listing one size but the manufacturers are making them way much smaller than the size listed. I love to hike and would really like to find a pair of sun protection light fabric comfortable hiking pants that fits and not pay over $100. It is too bad I guess I will just have to make a pair myself.

Verified Buyer

Reviewed by Sue from Texas on Monday, April 4, 2016

The sizing is way off am a solid 14w and the 1x was very small. Could not pull up zipper. These are 2nds. Columbia 1x fit perfect and even a little loose.

Verified Buyer

Reviewed by Arubafan from Virginia on Monday, March 21, 2016

I have a large booty and thighs to match. That said, it's always difficult to find any type of pants that fit me. These do the trick nicely and are super comfortable. I drive a shuttle van and get quite hot but the material these pants are made with is very breathable and helps quite a bit. The color is like a dark khaki and they fit true to size. If you have large thighs, I definitely recommend these!