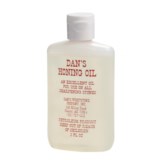 Closeouts. For optimum whetstone performance, use Dan's Whetstone honing oil to lubricate and clean the stone during and after use.
Average Rating based on
27
reviews
4.888888
0
5
Verified Buyer

Reviewed by Rusty37 from Minnesota on Thursday, January 26, 2017

For the amount of knife sharpening I'll be doing, this is a good amount for a great price

Verified Buyer

Reviewed by Fell off the Orient Express from Arizona on Monday, January 23, 2017

While one can use any oil, including 3 and 1, this one is specially formulated for use on a whetstone. At these prices, you can't go wrong. BTW, you must use oil of a whetstone( although I've seen some real old timers, even older than me) spit on the stones, instead of using oil) for it to do it's job.

Verified Buyer

Reviewed by Adil X from Istanbul on Saturday, November 26, 2016

It does the job

Reviewed by Jacobo Peterman from NYC on Tuesday, October 4, 2016

There's not much to say about it. It's oil used for your whetstone. But it does the job well and keeps the stone from accumulating metal shavings. Use as directed both before and after sharpening. Will certainly prolong the life of the stone and ensure a razor edge.

Verified Buyer

Reviewed by Fishski from Utah Mnts. on Wednesday, July 22, 2015

I bought this for my brother Dan as a gag gift. I don't know the quality of this oil, I think honing oil is honing oil, but for a little over a buck it was worth the gag.

Verified Buyer

Reviewed by RoverMartian from Oklahoma on Monday, July 20, 2015

Works as expected.

Verified Buyer

Reviewed by SpartanA2 from Columbus, Wisconsin on Monday, March 9, 2015

This is a fine quality honing oil without any extra additives and will not contribute to clogging your whetstone.

Verified Buyer

Reviewed by gremlin from Davis, CA on Monday, September 29, 2014

I purchased a set of whetstones from STP several years ago. There's nothing quite like a good sharp knife. This honing oil is just the right weight.

Verified Buyer

Reviewed by Paddle from Australia on Wednesday, July 16, 2014

This is a nice oil to use on my whetstone, much nicer than cooking oil.

Verified Buyer

Reviewed by Jimmy2Trails from Monterey, CA on Thursday, May 8, 2014

What can you say? It is honing oil. Great price, nice size, works as advertised.