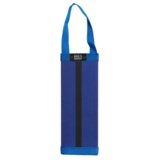 Closeouts. A great training tool! Fill Katie's Bumpers Bottle Tracker dog toy with a basic water bottle, add in treats or scenting materials, and let the games begin!
Average Rating based on
16
reviews
4.437500
0
5
Reviewed by Terri, Keeve and Dallas from Iowa on Sunday, January 5, 2014

This is a large, sturdy dog toy. My dogs love the crinkly sound of the plastic bottle inside and play tug with it.

Reviewed by Shopper from Colorado on Thursday, January 2, 2014

My dog loves this toy. However, it only took an hour of chewing to fray a corner of the toy, precipitating the toy's demise. It'll take a while for the rest of the toy to get dismantled so, I'm glad I bought it. But it is not indestructible.

Reviewed by vednazune from ny on Tuesday, December 3, 2013

Perfect toy. So good they each had to have their own.

Reviewed by BH from South Dakota on Sunday, September 22, 2013

We bought one of these a few months ago for our own dog and he loved it (Gordon Setter). We stayed with some friends who have 2 Golden Retrievers and we ordered two of these bumpers for them. They said their dogs carry them around (although they each want the same one.) Very durable and the dogs like the sound and the chewing effect of the plastic bottle that you insert inside of it.

Reviewed by Happicamper from California on Saturday, July 13, 2013

then this is a great toy and will keep your dog entertained retrieving and crunching at the bottle. You add your own bottle and can put something inside to make it rattle as well. Not intended to be a chew toy. Probably too big for small dogs mouths with a bottle that has not been flattened. Good for medium and large dogs.

Reviewed by Pat from WI on Wednesday, June 26, 2013

I have a chocolate lab that loves this toy. I bought one a couple of years ago and it was starting to show wear so I thought I'd replace it. I was so happy to see that Sierra was still seeing them.

Reviewed by Pine Hiker from Pine, CO on Monday, March 11, 2013

I sent this toy back as it felt a little too rigid for my pups. It's really well made, and I'm sure that it would have lasted forever, but I didn't feel like it was a good fit for my dogs at the time. I would love to try the stuffed versions of these toys soon, so I might invest in them through STP.

Verified Buyer

Reviewed by Barn Fly from Tucson, AZ on Friday, January 4, 2013

I bought this to put water bottles in to play hid & seek and to throw for my pit bull that can chew through anything. However, it is ridiculously large. Hiding it is difficult and its like throwing a brick. The material is extremely strong and I would purchase a different item made from it.

Verified Buyer

Reviewed by Liz and her Yellow Lab from Norther California - Wine Country on Tuesday, December 11, 2012

My lab loves to crunch plastic water bottles, but as we all know those are not safe to chew.This toy is made of indestructible fire hose material with a velcro end that can be opened to insert an empty water bottle (or anything you like). Easy to replace bottle once the crunch is gone! The velcro tabs have never worn out. They are very strong - they close and stay closed. Floats too. Great training tool or for everyday play. Large handle fits my gloved hand in the winter and makes it easy to toss. This is my dog's favorite toy! He brings it to his bed and carries it around the house. I doubt this toy will ever wear out or shred, it is that well made. My lab is an active 75 lb male. We tug and toss every day, it still looks like new. Washes well. He has not gotten bored with it and he's had it over a year. The only reason I bought a new one is because the neighbor dog swiped ours and I don't have the heart to take it back, he enjoys it so much.

Verified Buyer

Reviewed by Fel from Bellingham, WA on Saturday, December 8, 2012

This toy was bigger than I thought it would be. This is a great toy if your dog easily becomes bored. The velcro opening and tough construction make this toy versatile because you can add squeakers, bottles, balls and chew toys and customize it to your dog.