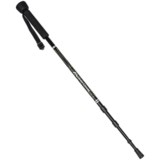 Closeouts. Mountainsmith's Monotrek trekking pole pulls double duty on your hike by lending shock-absorbing support on rough trails and acting as a camera mount; just screw off the top grip to reveal a threaded bolt with locking ring.
Average Rating based on
63
reviews
4.396825
0
5
Verified Buyer

Reviewed by AJ from Michigna on Thursday, January 26, 2017

We haven't used this yet, but it looks good. I was a little disappointed it wasn't a pair, but that was my mistake when reading the description. Quality and price were good enough to keep a single pole.

Verified Buyer

Reviewed by Jimmy from Atlanta on Wednesday, January 18, 2017

My wife has been using this type of pole for years and I expect to get lots of wear as well. Comfortable handle and the top comes off if you want to mount a camera. With most poles there is a tradeoff between price, sturdiness, and weight. I've come to believe that weight is the least important item. My expensive lightweight poles broke both at the handle and joint.

Verified Buyer

Reviewed by gjust from Davenport, IA on Tuesday, January 17, 2017

This trekking pole doubles as a camera monopole with its camera mount hidden under the top grip. The pole is shock absorbing; however it is very sturdy when the pole sections are tightened. The pole is tall enough to bring the camera to eye level when shooting. There is a spike inside the bottom rubber foot for trekking on rough terrain.

Verified Buyer

Reviewed by sailnightingale from Atwood Lake on Saturday, November 19, 2016

This walking stick is made perfectly. It has a soft handle with a convenient strap which make holding the stick very convenient. There is no pounding on my hands. It easily decreases and increases in length and tightens so there is no slippage. It allows me to walk very straight and stops my staggering. I love it.

Verified Buyer

Reviewed by Aqueelah22 from Pennsylvania on Tuesday, September 6, 2016

I really love my Monotrek Trekking Pole. Its very sturdy and reliable. The Anti-Shock feature makes me more confident, because it really absorbs the shock when I'm using it. I also like that its adjustable. Thank you so much!!!

Verified Buyer

Reviewed by Knitser from Connecticut on Monday, August 15, 2016

Lightweight and serviceable; squishy foam handle through and tips wear out VERY quickly so get extras if you are on rocky terrain

Reviewed by Pauly D from Alabama on Monday, August 8, 2016

The poles have worked well for me as I have been using them for stability and for mobility after moving away from a walker after spine surgery. The poles seems well made for lower priced poles (they have cheap handles). My main complaint is that the rubber tip wore out after 3 miles, and after contacting Mountainsmith customer service, he said that the rubber tips weren't made for hardwood floors (!!!) but to protect the carbide tips from damaging "floors, doors, and walls". I have used other poles where the rubber boot tip was very durable and made to be used on asphalt. These are found on the pricier Scandinavian brands. Mountainsmith's representative did offer to replace my chintzy tips which I will cover in ShoeGoo and he said that after many complaints they are going to be using new rubber boots in the future. BUY THE POLES but don't expect much out of the rubber tip!

Verified Buyer

Reviewed by Chef Jim from D.C. on Tuesday, July 19, 2016

Gifted

Verified Buyer

Reviewed by Chef Jim from D.C. on Tuesday, July 19, 2016

I have not worn them yet'

Verified Buyer

Reviewed by Rosie from New Mexico on Wednesday, June 22, 2016

Got 2, trying to get more upper body exercise on my walks. Adjustable!, has a bit of give at the tip that moderates impact, handle is a soft foam type material.