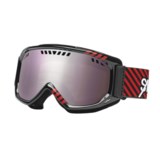 Closeouts. Scope out your next line in Smith Optics' Scope Graphic ski goggles. They come fully loaded for powder days with an Airflow ventilation system to make sure your vision stays clear.
Average Rating based on
14
reviews
4.500000
0
5
Verified Buyer

Reviewed by Robert from Crystal mtn on Saturday, December 31, 2016

Always been a Smith guy and,these are great!

Verified Buyer

Reviewed by Jay from New York on Friday, December 30, 2016

Make sure you don't try to clean the inside wifh any other material than the case, because it will scratch It up.

Verified Buyer

Reviewed by Lola1 from NYC on Monday, December 19, 2016

Lovely, comfortable but look HUGE on me which is fine as they will protect more than my eyes!

Verified Buyer

Reviewed by Anj from Kansas on Monday, December 12, 2016

Used my new ski goggles this past weekend and was blown away! For the price, they were amazing. They never fogged up and I was able to see clearly the entire time. Excellent purchase.

Verified Buyer

Reviewed by Kocho from Maryland on Wednesday, April 8, 2015

At around $20 on sale here, these are pretty good. Used them all day and they did not fog-up and I was able to see clearly through them. They are not too dark - just enough tint to be comfortable in the sun. They also do not alter the color of the light much, so when you take them off or put them back on there are no wired color changes in your vision. Comfortable to wear. Fit fine with my helmet. For people with smaller than medium-sized faces AND a helmet restricting them from above, they may go a bit too far down the nose and put some pressure on it (were fine for me, I have medium-large head/face); should not be an issue without a ski helmet, because without one you can position them higher on the face. Not very scratch-resistant, so take care. They do not have fancy optical coatings, so you may see some internal reflections when the light comes at certain angles, but nothing too bad. Overall, very pleased.

Verified Buyer

Reviewed by Jeff C. from New York on Tuesday, April 7, 2015

Comfortable and clear. Never fogged

Verified Buyer

Reviewed by Styles for Less from New York on Saturday, February 21, 2015

These goggles passed the test last week when I was skiing in Vermont in frigid temps.
They kept the freezing air out and did not fog up at all. Great goggles for the price.


Reviewed by Ben from Colorado on Friday, September 6, 2013

As advertised this goggle lets in 35% light transmission. It works well on those overcast or snowy days when the snow surface turns flat with poor definition. You will have the advantage with the Smith Optics Scope Graphic Snowsport Goggles in low light conditions. In those low light other skiers may not be able to make out the terrrain you will have no problems. Once the sun does come out in full force you will need to switch out your lenses or change back over to your full sun goggles. The Smith Optics Scopes are a inexpensive option to low light condtions. They fit well and on my 7 3/4 head. I use a Atomic full size FIS helmet and these goggles fit well on this set up as well. Overall a good goggle for the price.

Verified Buyer

Reviewed by Max58 from Buffalo,NY on Monday, January 14, 2013

Lense leaves some to be desired, I need to buy another because it is not good for all situations. Slight Red tint

Verified Buyer

Reviewed by Liz from Boise, ID on Saturday, January 12, 2013

Wore the goggles just once so far, but they worked as hoped. They didn't fog (although I wasn't skiing very hard with my 5 year old) and they kept my face warm in 10 degree F temperatures. The pinkish lens isn't very dark, but did help with the glare. The band has a sticky line to help keep it in place. I found it hard to get it on over my hat because it kept grabbing the hat and pulling it off as I slid the bad over, but once correctly in place, it sure didn't slip.