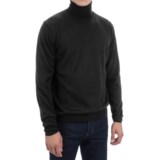 Closeouts. Toscano's merino wool turtleneck is crafted of merino from the prestigious Italian mill, Zegna Baruffa-Lane Borgosesia -- a smooth, itchless knit with an incomparable feel.
Average Rating based on
119
reviews
4.285714
0
5
Verified Buyer

Reviewed by Mac from Northern MI on Wednesday, February 1, 2017

This is the third one I have ordered. While not the thickest, it is one of the warmest. I use it as one of my layers, usually over my base layer. Then the Merino TN, and then layer on top of that as needed. The neck is a little tight but I have not found the turtle neck to be overly tight. I am a ski instructor so I spend a lot of time outside and I really like this product. Size is pretty true for me. I order large and it fits great. I only gave four stars because of the thinness and the tight neck opening. I want you to understand this is not a "thick" wool sweater but a nice layer.

Verified Buyer

Reviewed by Mac from MI on Tuesday, January 17, 2017

A great layer garment.Or to use under a shirt or sweater. It is not a thick garment so don't expect that but as a layer it works great. I am an avid snow skier and this is an absolute for me. The merino wool against the skin on my neck is comfortable all day skiing. The neck opening is a little tight but the sizing is pretty accurate. I am 5'11" and 165 lbs. and the large is perfect for me. It is large enough for a couple of layers underneath but not so large as to hang if I am wearing it under sweater or shirt. The neck size is the only reason for the 4 stars instead of 5.

Verified Buyer

Reviewed by teddy from New Smyrna, Fl on Friday, December 23, 2016

Slightly small in size, good for me, a classy high quality top, do not expect it to look good if worn every day, these tops good looks is short, however, a long life of rugged warm function will survive.

Reviewed by Stanley M from Northern California on Monday, November 28, 2016

The yarn, fabric and manufacture are all outstanding. Seldom see full fashion knits anymore but the sizing is unbelievabley small. Ordered XXL and is was more like a slimfit medim. Description should be improved. Note bene: there is no care instruction tag on garment as required.

Verified Buyer

Reviewed by Barry from Ontario Canada on Tuesday, July 21, 2015

The sweater is excellent, very light and cool and not scratchy. It is a little small - I ordered the large - but not enough to worry about.

Verified Buyer

Reviewed by James from Massachusetts on Monday, July 20, 2015

Finding a turtle neck that fits is always a challenge. This make is good quality and is well made. The feel, cut, and fit of the neck is perfect. I would definitely buy another one.

Verified Buyer

Reviewed by Ron from Wisconsin on Monday, January 19, 2015

This is quality and one of the best fitting sweaters I own. I am a very fussy dresser and have spent $350 + on sweaters not as nice. Highly recommend...

Verified Buyer

Reviewed by Sinbad the Sailor from Massachusetts on Sunday, December 28, 2014

These wool turtlenecks are light weight but warm. Exactly what my husband has been looking for - for a long time. The turtleneck itself is quite thin and tight. For this reason, we needed to order a size up. Overall a really nice product.

Verified Buyer

Reviewed by Not Applicable from NY on Tuesday, December 23, 2014

The body of the sweater is sized accurately & the wool isn't itchy. The mock neck, however, is preposterously small--child-sized--and itchy. It strangles you once you manage to force your head through. It isn't a style issue--I suspect there was an error at the factory and small necks were sewn on large bodies. It would have been comical had I not spent money on it.

Verified Buyer

Reviewed by wyoming mom from wyoming on Wednesday, November 12, 2014

Great color, fit, and very cozy. A classy sweater!