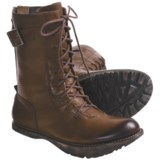 Closeouts. A boot for the cause, Earth's Rebel lace-up boot is crafted from soft burnished leather -- a combat-inspired silhouette that's fashionably detailed and comfortably grounded.
Average Rating based on
42
reviews
4.309523
0
5
Verified Buyer

Reviewed by Buddur from W PA on Thursday, October 9, 2014

I bought these boots as a birthday present for my Wife. She is very environmentally conscious and loved the fact that these boots were (apparently) made with environmentally-friendly materials. She says they are very light-weight, not heavy and clunky like her other boots. She loves them, which means they fit well, are comfortable, and look good with her outfits.

Verified Buyer

Reviewed by damomma from Maryland on Sunday, June 22, 2014

I have skinny heels and wide toes/ball of the foot (think duck shaped) with a fallen arch so shoes are a royal pain for me. Earth shoe flip flops that have the gel (but that are long discontinued) are my preferred option (I got 6 pairs about 5 years ago). Since they do not work in winter, I got a couple new pairs of Earth boots recently. These have a good sized toe box to accommodate my odd foot, I got a half size down because I can wear an 8.5 if the toe box is reasonably big. They are rugged looking which is fine with jeans, brown pants and probably some skirts, they have not been worn a lot yet because I still have flip flops for this time of year. I think these will be good for fall and winter when it is dry, I have other Earth boots for snow. I teach and am on my feet all day so comfort is important. I think they were worth the money.


Reviewed by saucie from oregon on Wednesday, February 5, 2014

These are sooo comfortable, and fun to wear. I get compliments everytime I wear them.
My husband and I like to take walks and these boots are my go to everytime.
I will say at first I did hesitate on this purchase, as I thought at my age (50's) they would look silly. So glad I decided to go ahead.
Oh, I don't lace mine all the way up I've kept them the way they came laced out of the box.

Reviewed by finecraft from Louisiana on Wednesday, December 4, 2013

Don't be fooled by the looks of these boots...they are so comfortable and feel light on my feet. It feels like I'm not wearing shoes sometimes! Great pair of boots!

Reviewed by Hypatia from Seattle, WA on Saturday, November 30, 2013

Pros: Excellent quality leather, very comfortable walking shoes, nice color.

Cons: HUGE! I wear a 6.5 in all other Earth Shoes, took the advice others had offered and ordered a half-size down. Still too big (I double up my wool socks in order to wear this boot)! Recommend you order a full size smaller. Toe box is very wide, more so than it looked to me in the picture; if you are going for the current round toe combat boot look, this will not quite be what you are wanting. But this is a solid boot, and if not the fashion I was expecting, I like it for longer weekend wandering.

Reviewed by Kat from MN on Monday, November 25, 2013

The boots feet great and after a evening of walking outside in 10 deg. weather, my feet were fine. I haven't been able to figure out how to get them on and off without unlacing, unzipping and unbuckeling to slide my foot in and out.

Reviewed by Kat from MN on Monday, November 25, 2013

The boots feet great and after a evening of walking outside in 10 deg. weather, my feet were fine. I haven't been able to figure out how to get them on and off without unlacing, unzipping and unbuckeling to slide my foot in and out.

Reviewed by country gal in the big city from Concrete jungle on Wednesday, November 20, 2013

I have very hard to fit feet for boots, but like the other reviewers stated, these are comfortable right out of the box! Leather is excellent quality. Do order smaller than you usually do. I did, and they are still a bit roomy. Now, these are not dainty boots, and have more of a hiking boot look to them than a moto boot, but hey! they are still cool. The boot shaft is roomy enough for bigger calves, or to wear over jeans. (And by very hard to fit feet, I mean I have those awful wide square feet that are good for long treks, but lousy for Jimmy Choo's ;-)

Reviewed by dc_charm from Washington, DC on Friday, November 15, 2013

These boots are awesome. I wanted some brown lace-ups that were more rugged-looking than most other boots I'd been seeing. The color is lighter than what they look like on this site & than what I was looking for, so that's why I'm giving 4 stars. I usually wear a size 9, but other reviews warned that these ran big & that one should order a half-size down. They didn't have an 8 & 1/2 whenever I looked so I didn't order for months. I kept eyeing them, though, so I finally decided to risk ordering an 8. They fit great (with thin socks) & are pretty comfortable. I just got them last week & I've worn them at least 5 times. There was no breaking in period necessary; the 2nd day I wore them involved walking around downtown for 3 hours, & my feet were fine. I'm very happy I went for an 8 & finally bought these boots.

Reviewed by Kate from San Francisco on Saturday, November 2, 2013

I ordered these boots a month ago and have worn them about 10 times since then. They are very comfortable and look great with everything. On the first day I wore them, I walked about 4 miles to and from and outdoor concert, and they held up well although my legs needed to adjust to walking with the negative heel- I did not pay attention to the warning in the box. They did not need breaking in though; the leather is very soft. The color is a little lighter than the picture but looks great, especially after being conditioned with some Dr. Marten's shoe balsam. I can stand all day for teaching in these. This is my first pair of Kalso Earth shoes although I have several pairs of Earthies. I love them and will probably buy the Diablo.

Based on other reviews, I sized down from a 7.5 to a 7 and there's still a little bit of slipping with thin socks on, so be sure to wear thick socks with these. Especially because of the fit; you may end up having your heel rise up with each step.