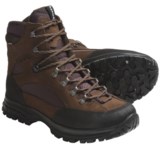 Closeouts. Versatility is the middle name of Hanwag's Dakota Gore-Tex® hiking boots. Supportive, flexible and completely waterproof, they perform like champs whether it's a week-long backpacking trek or a short hike over mild terrain.
Average Rating based on
40
reviews
4.550000
0
5
Reviewed by Justin from Indiana on Tuesday, May 5, 2015

I'm a field biologist and have used these boots the last three years in OR, TX, and IN, with conditions ranging from muck to gravel to sand to dense vegetation to nearly open water. I've not experienced any leaks (although I believe there is one developing now) nor tears, and the sole is still solid with decent treadlife remaining. They are incredibly stiff soled and quite tall for standard hiking boots, which results in exceptional ankle support. The one flaw may be that these are too stiff and not meant for 8+ straight hours of walking on hard surfaces, such as dried clay and stone.

I'd buy another pair any day, especially at the discount prices here.

Verified Buyer

Reviewed by sarge from new york on Tuesday, March 3, 2015

This would have been pair #4 of Hanwag, except I returned them because the maker listed the sizing wrong. They said US 10.5 EUR 44 which makes them a US size 10. My other pair of Dakota, which I wear, says US 10.5 EUR 45, my other Dakota says US 10 EUR 44.5. The Pair I returned were stated as US 10.5.

Reviewed by Stan from Tennessee on Thursday, February 5, 2015

First, the sizes are really off. I had to return the first pair and order another...but the size was still a 1/2 size too large. But i didnt want to go through the hassle of another return so i just wore them. After about 1 month of wear the sole began pulling apart from the leather in the toe area. And it was not from abuse. I have been gentle on these boots. I've also been very patient to do this review wanting to give the boots about a year of use.
Sizing: I ordered a size 10, but the boots are really an 11 (US)

I have always bought the Asolo FSN 95 and will be going back to that boot.

The laces can be difficult to lace up also. The Asolo will lace up quickly, but these are clumsy and difficult to get that one lace holder. These Hanwag boots are comfortable is you can get the right size. They will keep your feet dry, even after months of wear. But because of the short time that the sole separation began and the sizing issues...i'm giving them 1 star.

I'll go back to the Asolo that fits like a glove from day 1 and I usually get about 2 years of wear out of them.

Verified Buyer

Reviewed by Jim from Denver on Tuesday, January 13, 2015

I'm giving these boots a lukewarm 4----they didn't seem like hiking/trekking boots, because they felt "puffy" and large, like snow boots, so I returned them. When I got these, I also ordered AKU Tetons (from Sierra) which I am ecstatic about (see my review of those boots if you want more insight into my hiking style and size requirements).

Reviewed by Blueberry Benjamin from Orange, VT on Monday, December 22, 2014

I was excited to get this pair of boots in the mail. They appeared well made and were plenty heavy. However, after only 3 wears a rivet broke. I tried calling and e-mailing Hanwag to no avail. I finally had to break down and pay for the repairs myself, despite them supposedly offering a 1 year warranty. The catch is that they make it beyond difficult to get in touch with customer service, either by phone or e-mail, so you'll eventually just pay for the repair yourself. These were pretty shoddy and the customer service that I finally did get in touch with refused to make it right and offered me a coupon for their store, which is way overpriced to begin with. I will never buy another product from this company.

Verified Buyer

Reviewed by Dirt Road Living from Pennsylvania on Tuesday, April 29, 2014

I am a forester in Pennsylvania spending 6 to 8 hours daily walking rough terrain. I have tried many brands of boots.
Hanwag craftsmanship was evident right out of the box. So good I ordered a second pair. Some of the reviews recommended
ordering a half size larger so I did. I'm between a US 9.5 and 10, so I ordered the 9 UK. I think I would have been fine with
An 8.5 UK (9.5 US). But with 2 two pairs of socks they feel great. Lightweight and the vibram sole is great for slippery rocks
and logs. I will be looking for a Hanwag winter boot.

Verified Buyer

Reviewed by Lost Hop from Great Plains/Wyoming on Monday, April 28, 2014

I was looking for a lighter alternative to my heavy all-leather backpacking boots for when I'm a carrying a lighter load.
These Hanwag's appear to fill that need.
Very comfortable with reduced weight but good support.
I haven't owned them long enough to evaluate longevity or waterproofness.

Be sure to correctly decipher the sizing chart.

Reviewed by deer shed hunter from wisconsin on Tuesday, April 1, 2014

great hiking shoes for the spring . lots of support and very comfortable right from the start.kept my feet dry as well

Reviewed by rotartiller from Alabama on Wednesday, March 19, 2014

I ordered the 42(US 10) and 43(US 10.5) Euro sizes just to be sure of the fit. I had measured my feet closely and fell somewhere around a US 10 and maybe a little more. The 43 felt good but had excessive heal slippage which would probably get worse the more I wore them. The 42 feels a little snug on the top outside of both feet and the toe box is not as roomy. So, they are running pretty close to true to size. They are loosening up bit by bit and I hope they loosen up some more before I get serious with them. Smartwool PhD socks with thick padding seem to help. I have been walking in them between 2 and 4 miles a a day for a week or two. I put green Superfeet in them and the jury is still out on whether they will stay in or not. The lacing system is very good and the tongue is a full length leather gusset of ample thickness. Anyhow, the overall quality is good and the weight is 1.5 Lb per pair lighter than the beloved 16 yr old Scarpas that came before them. As I get older I find it prudent to shed pounds wherever possible. Scarpa's abysmal customer service steered me away from them on this purchase. I know I won't get 16 yrs out of these but then again I didn't pay 300 bucks for them either. If I get anything over 5 I will be happy with them.

Reviewed by KevinS from Massachusetts on Wednesday, February 19, 2014

These are high quality boots. I was very impressed. I wear a size 8.5 US and based on other reviews here, I ordered the UK size 8. They fit perfectly.
Thanks.