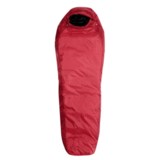 Closeouts. Marmot's 30°F Sorcerer sleeping bag is perfect for family camping and mild nights outdoors. It features Marmot's Spirafil® synthetic insulation in a wave construction for warmth and comfort in a spacious, non-restrictive design.
Average Rating based on
9
reviews
3.888888
0
5
Reviewed by nspec from RI on Monday, December 25, 2017

This shipped as a Sorcerer Jr. bag, not the full size bag. Much too small. Ugghhh!

Verified Buyer

Reviewed by WaldportDan from Oregon on Monday, June 6, 2016

So far, so good...

Verified Buyer

Reviewed by surly joe from West Texas on Thursday, March 24, 2016

I have used a snugpak mummy bag for years and have always regretted getting a mummy bag because I never get cold enough to use the hood. So when I bought my kids a bag I went with the semi rectangular Marmot. It appears to be well constructed and has plenty of room. It compresses impressively into a small granite gear compression sack (it comes with a stuff sack but not a compression sack). We will use it this weekend (temperatures will dip
Into the 30's (F) so I will update if anything changes. It doesn't unzip fully but that isn't a problem as far as I can tell.

Verified Buyer

Reviewed by Steve E from Louisiana on Monday, November 16, 2015

This traditional style sleeping bag is fantastic. I have used this product, it seems well constructed and I am pleased with the purchase, as I'm sure you will be......but.....

..there are some things to consider before buying that are not mentioned on Sierra's web site, or even Marmot's.
(out of 5 stars)
TASTE: (1) this sleeping bag tastes terrible, although, if you add soup stock, the salt helps, but not much.

MAGIC: (0) although I made several wishes while in this bag, not one was granted by morning...so if you intend to buy this bag and use it to get your own unicorn, look elsewhere.

ATTITUDE: (2.5) I really don't know which way to go on this one, my bag and I have had some pretty lengthy discussions, but it doesn't like to talk about it's past and, when I get personal, it just lays there indifferently.

ATHLETICISM: (4) The bag and I were on the same team for volleyball, and it just sat the bench for most of the game. But who would have thought, when Aunt Myrtle was ejected for slugging the referee (again this year Myrtle... really?), the bag came in and covered it's position well and came up with a few clutch saves.

PURPLENESS: (0) This bag is almost completely not purple, unless you stare into the campfire for too long.

Verified Buyer

Reviewed by Rich from Wasatch Front on Tuesday, September 22, 2015

Comfortable to sleep in. With a almost full zipper on one side and a partial zipper on the other, regulating temperature is a breeze. Draw strings at the top and loops at the bottom for hanging the bag are also nice addtions.

Verified Buyer

Reviewed by scootero from new jersey on Monday, July 13, 2015

No question the bag performs well, having kept me and other members of my family warm well down int the 40s without at all realizing the cold. It quite light weight, too, making it easy to carry, whether you're going to and from the car or trailhead to camp site. My two complaints: doesn't unzip all the way, so can't be used in an open fashion, like a blanket or to zip to bags together. and the interior is essentially the same slippery poly as the exterior. that certainly makes it easy to get in and out of, but it also makes bag staying quite and the bag staying put with any movement more of a challenge. i'd prefer a flannel like lining to be honest. Both of these are...sort of...noted in the specs, but to my mind not in a clear enough way.

Verified Buyer

Reviewed by GAfromCA from California on Sunday, July 5, 2015

Very nice quality. Not as narrow as a mummy bag, but still quite light weight. The zipper only goes down one side, but not across the bottom. This saves weight and avoids air leaks. But I needed one that could be zipped open and lay flat like a blanket. Note: The model names and photos for Sorcerer and Mavericks are confusing or mixed up.

Verified Buyer

Reviewed by The walker from Mn on Monday, June 1, 2015

Used it this past weekend got to about 34 at night and stayed plenty warm

Verified Buyer

Reviewed by geezerette from Nebraska - chilly church was in south Texas on Friday, February 13, 2015

My new sleeping bag was delivered the day I was leaving on a mission trip and destined to sleep in a chilly church - I was miserable there last year in my lightweight bag. The Marmot kept me toasty and comfortable, both temperature and room-to-move-wise. I especially like the 24 inch zip down on the side opposite the long zip.