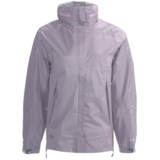 2nds. If your reflex is to head inside at the first sign of rain, grab Outdoor Research's Reflexa jacket instead and stay outdoors. Pertex® Shield waterproof breathable ripstop fabric, a zip-away hood and TorsoFlo venting zips protect you from the elements without making you overheat.
Average Rating based on
41
reviews
4.487804
0
5
Verified Buyer

Reviewed by Sacha from Yukon Territory, Canada on Monday, August 10, 2015

Very light and compact jacket, versatile, good windbreaker, nice colors and style, no bulk, great hidden hood too (nice surprise). Great feminine shape for the jacket when zips are open on the side (like a A-line dress) very flattering. I will bring this to Hawaii for the chillier days and use it as well up north, where we actually live (Fall arrives in August).Perfect !

Verified Buyer

Reviewed by Wilfedoh from Maine on Wednesday, July 15, 2015

fits well, true to sizing chart, nice colors, love it

Reviewed by Megatron from Colorado on Tuesday, July 7, 2015

This trusty jacket has been in a few downpours and kept me nice and dry. I love the giant side vents. Great value!

Reviewed by servalgirl from Idaho on Wednesday, June 10, 2015

I was in need of a new rain jacket and wanted something lightweight for hiking and for climbing Kili in a few months. Liked the full side zips and the reviews seemed good. Went with a large knowing OR fails to understand that women have hips. It was large in the arms but fit the hips perfectly (I am 5'5 and 140). Thought I had found the perfect jacket. Wore it a few times walking after work and it was not at all windproof and I got clammy. I sure am glad this has been a wet early summer in SC Idaho.....first time it leaked I thought it was sweat build up because the jacket just feels clammy the minute you put it on. Second time I blamed the cover of my pack for pooling water on the back, but the arms were wet too-spots all over the back and arms were wet inside. Gave it the shower test-3 minutes and the jacket had soaked through. Not long enough to make the shirt underneath wet but long enough for beads of water to appear all over INSIDE the jacket. When wet the jacket acted like a normal jacket and just becomes a sodden mess. You can see a black mottled pattern inside-I am assuming that is the Pertex? Well, it is useless. When I bought this a few months ago it was listed as a closeout and not a 2nd. Now it is listed as a 2nd and I wonder if it was all along? Do NOT buy this jacket, at least not from STP. I expect more from OR and now am back on the market for a new rain jacket all over again.

Reviewed by Ames from Boston, MA on Sunday, April 19, 2015

I bought this jacket to use both in the rain and as a shell for my down jacket in the winter. For the most part I love the design of this jacket. The hood stashes into the collar & the full length pit zips are handy, especially while snowshoeing. My boyfriend was so impressed with the design of this jacket that he bought the men's version for himself. I haven't had a chance to really test it in heavy rain yet, however it has performed adequately from drizzles to moderate rainfall.
My one BIG complaint about this jacket is the fabric. Anywhere it rubs against itself or something rubs up against it the fabric has pilled significantly in the 5 or so months I have had this jacket. 90% of the time I wear this jacket casually, walking to work. The other 10% of the time has been hiking or snowshoeing so I really question the longevity of this jacket. The pilling is the worst where the zipper from the pit zip ribs under the arms. There is also pilling on the lower back & shoulders from wearing my daypack.
If you are looking for a jacket to wear casually to & from work, & walking around town this jacket would be sufficient. If you are looking for something to use technically for hiking, backpacking, or snowshoeing keep looking.

Reviewed by Purldiver from New England on Monday, March 30, 2015

I am 115lbs, 5'3", and normally wear a size 2 US. I got a small and it was jut right to wear with a fleece underneath and keep mobility. An XS would have been too tight on my hips on my hourglass figure, and limited my arm movement too much. I like but don't love this coat. I kept it because I was tired of shopping. It is a good lightweight affordable shell with pit zips, which is what I was looking for. It isn't aces in function or style, but it does the job. For function, this is a better coat than the Marmot Precip. A little less nice for style.

Pros:
-Pit zips are 2-way and you can unzip all the way from the hem to your bicep turning the coat into a super airy rain poncho! (Extremely cool feature).
-Lightweight, minimal, packable, waterproof/breathable
-Well-made
-Great price from Sierra at $109.

Cons:
- Arm articulation isn't great. On a full cross-country ski stride the jacket lifts above your hip with every forward arm swing. This is surprising as pit-zip coats are meant for more aerobic activity and movement.
- Hood is too small. It does not extend far enough beyond face to protect in you in anything heavier than drizzle, and if you have a pony tail pushing the hood backward an inch it won't even cover your face. If it rains, expect to stare downward to keep your face dry. This is very surprising for OR, because as a brand they are generally less compromising in function. A good hood is the holy grail of a woman's shell.
- Collar/neck is somehow a little unflattering. Perhaps it is the industrial gray lining. I am not sure. Ho hum for style.
- Weird colors. None of them great for me. I got the red/rasberryish color. Its nice, but I have dearly loved versions of the Marmot Precip I have had in the past for the beautiful, versatile colors.

Verified Buyer

Reviewed by JOWENS from Sc on Wednesday, March 11, 2015

And she loves it! This is her first technical rain jacket, usually opting for 'cute' over quality. With this jacket she got both. She was surprised at the amount of features this jacket offers. She was quick to utilize the pit zips at a concert and does nothing but rave about the jacket. For the price, this is an excellent buy.

Reviewed by Trekker from Utah on Saturday, January 31, 2015

I really like Outdoor Research - great brand. They make really thoughtful designs. Was really excited about the jacket. GREAT DESIGN, excellent features! I got the Bluebird Blue. Pretty color. Unfortunately they must have NOT treated that batch of cloth, because it did not repel water. Sierra Trading Post is great about returns, so I could get something else.

If the waterproof treatment had worked this jacket would have ROCKED. :(

Verified Buyer

Reviewed by qagaye from Spokane, wa on Monday, January 19, 2015

I was drawn to this jacket because of the full side zippers, which I thought would be great for keeping me dry, but not overheating. Luckily, I guessed right. The fit is really nice and I love inside pockets, which this has. I have since sought out and bought more Outdoor Research clothing and have been equally impressed and happy. Great gear tor the outdoors. Plus, this jacket has a nice trim fit and feel (not too tight, not too loose) so is attractive on as well as practical.

Verified Buyer

Reviewed by Suzpooz from Washington on Monday, December 29, 2014

Perfect shell for rainy Washington. The hood neatly folds into the collar when you dont need it - you can barel tell its there! Unfolded the hood works great and can tighten up so wind cannot blow it down. The material is great - light, not at all clammy and very waterproof. The black looks sleek and pretty stylish actually. The length is great for longer limbed people. Im 5'7" 135lbs and the medium fits perfectly. .