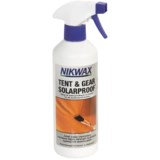 Closeouts. Extend the life of tents, awnings and backpacks with Nikwax Tent & Gear Solar proof. This spray offers non-toxic waterproofing and UV protection for weatherproof fabrics
Average Rating based on
10
reviews
4.700000
0
5
Verified Buyer

Reviewed by Willie from New York on Friday, July 31, 2015

This stuff works great! Made my tent water repellant once again. Don't forget to also buy seam sealer, that's what would cause most leakage in your tent.

Verified Buyer

Reviewed by Trogdor from Salt Lake City on Tuesday, April 21, 2015

Haven't used it yet, but this is the cheapest price by far. I bought several bottles and plan on coating 2 large tents with it.

Verified Buyer

Reviewed by Turbo from CA on Wednesday, March 11, 2015

I use this each year before the field season to vamp up my gear and extend its life. The bottle covers 2 tents and a few backpacks of mine (depends on much you spray one each product).

Verified Buyer

Reviewed by Henk from Aguanga CA on Monday, January 12, 2015

This stuff was easy to use. Just wet down and spray. I only gave it a 4 star because when I went to use the product the spray nozzle did not work and I replaced it with one that did. But after using it on my tent it felt like it put a wax coating on it that could make it withstand the elements. I can not rate it on use because I have not had a chance to use it yet. Very simple to use!

Verified Buyer

Reviewed by Lurp from TN on Tuesday, August 5, 2014

Nothing glamours. But if you want your gear to last longer, buy this product

Verified Buyer

Reviewed by oregon outback from oregon on Thursday, June 12, 2014

Buy more than you think. Works well. Make sure to follow the directions. Will use it again.

Verified Buyer

Reviewed by Marc from Maryland on Wednesday, April 16, 2014

I used this spray on a backpack and a large brimmed hat. They were not new and I washed them first with soap and water by hand. I then applied two coats to both, letting them dry between coats. At the end, they worked a bit better than before, but the water did not really bead up so much as sit on the surface and not get sucked in. I took them to Peru and was rained on almost every day, but the pack seemed to keep the water out fine, although the hat seemed pretty much unchanged from before treatment, ie, it got damp but not wet.

Reviewed by maykay from west on Thursday, November 14, 2013

this spray works great. i used it on my gazebo cover and it is doing the job! only time will tell about the uv protection. i also used it on my raincoat which wasn't so waterproof anymore. now it's like new. very happy with this product. i especially like that it is not an aerosol.

Reviewed by Josh from Oregon Coast on Friday, March 15, 2013

If you have a tent...you MUST get Solar-Proof! This stuff is great. I usually treat my tent at the beginning of the year and then again halfway through. Living in the Pacific NW, we get a barrage of rain and sun...sometimes within the same hour. This stuff is great.

Verified Buyer

Reviewed by capt john from North carolina on Tuesday, November 20, 2012

It really works. I tried it and now have gone Nik Wax crazy. and have made all my friends believers to.