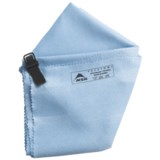 Closeouts. The Packtowl Nano Lite towel is designed to absorb twice its weight in water, is treated with an antibacterial solution for freshness and takes up practically no space in a pack.
Average Rating based on
12
reviews
4.500000
0
5
Verified Buyer

Reviewed by Jackidd from Austin on Thursday, March 16, 2017

This towel is awesome and folds/packs into a very small bag (~1.5"x1.5" i would guess). Great for backpacking as it dried quickly.

Verified Buyer

Reviewed by Nana buys good stuff from Gales Ferry on Saturday, July 9, 2016

Towel is small packs easily in carrier and is very absorbent. I Use to wipe perspiration off my neck and face dries in minutes!

Reviewed by ND from CA on Friday, March 15, 2013

It is very light indeed, but I prefer the other packtowl, because it is more absorbent. The material that the nano is made of doesn't look very durable.

Verified Buyer

Reviewed by Ole' So.Cal.Fly Angler from Outskirts of L.A. on Tuesday, January 29, 2013

Great Compact hand towel to have around to absorb sweat when hiking, general wash-up, wiping off spray from surf launching my Kayak, etc.
I use it as a hand towel for fishing wiping off fish slime and blood from my offshore trips (easy care), wash & twist dry...use again!

Verified Buyer

Reviewed by Lovin It! from Sunny South! on Tuesday, January 1, 2013

We love these packable towels and the price here couldn't be beat. Anything that cuts down on size and weight when heading into the outdoors is a plus for me. We knew the size, but still wish they were bigger. Still, they do the job. We prefer these over a conventional towel and prefer the ones that hold 6x their weight, but this is almost just as handy, though it only holds 2x its weight in water. Lightweight and packable into the size of a fist, so a great item for camping,hiking, backpacking and survival packs. Highly recommend purchase of at least two. If you can find them, buy the larger sizes.

Verified Buyer

Reviewed by ClothesHorse from Near Charlottesville, VA, USA on Thursday, December 20, 2012

At the bottom of every successful organization is a rag. Be it a handkerchief, or, in this case, a towel, this fills that bill: something absorbent. At 16.5" x 17.5", it's about as small and light as a towel can get. Clipped back to its webbing, and stuffed back in its semi mesh bag, and hook & loop closed, smaller than a cigarette pack, it seems less obtrusive than any towel has a right to be.

Verified Buyer

Reviewed by Denver from Denver on Wednesday, December 19, 2012

I bought this for rafting next summer, and extras for gifts for campers. Nice features such as the snap for hanging it on a branch. Checked it out after a shower and it dried me very well for as tiny as it is. Also, it was dry in 1-2 hours, but this is Denver!

Verified Buyer

Reviewed by Moshe from Tel Aviv, Israel on Thursday, December 13, 2012

If you're a true minimalist this is the hiking towel for you

Verified Buyer

Reviewed by B from California on Tuesday, December 11, 2012

This is a good square-ish size for use as a hand towel. Not big enough to use for bathing, but great for brushing your teeth or attaching to your backpack as a kerchief. Stuffs into an included mesh sack that is about the size of a balled up plastic grocery bag.

Verified Buyer

Reviewed by flyfishga from Atlanta, GA on Monday, December 10, 2012

I sweat a lot when I fish. I started to use this to mop my brow instead of a cotton bandana. It's very absorbent and dries a lot quicker than cotton.