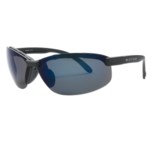 Closeouts. Native Eyewear's Nano 2 sunglasses feature ultralight, ventilated and durable Rhyno-Tuff® Air Frames that are perfect for tackling high-octane activities, and interchangeable, polarized Reflex lenses for versatility and glare-free vision.
Average Rating based on
30
reviews
4.433333
0
5
Verified Buyer

Reviewed by MicStr from Colorado on Wednesday, March 22, 2017

I have had multiple pairs of Native sunglasses, and I continue to come back to them! They're great!

Verified Buyer

Reviewed by LonnieMoo from San Francisco on Sunday, February 12, 2017

So interestingly I have had a pair of Nano-2's since 2007 but this last version is that much larger and the lenses now touch my cheeks too much. had to return

Verified Buyer

Reviewed by Driver from CA on Friday, February 5, 2016

The frame is thicker than I prefer, so I'm returning them.

Verified Buyer

Reviewed by LonnieMoo from San Francisco on Wednesday, February 3, 2016

they no longer make these...so love finding a deal to pick up a pair

Verified Buyer

Reviewed by Alton from Louisiana on Tuesday, September 22, 2015

Glasses fit good seens to help with the sun, how good they hold up is another story my first pair of native eyeware the lens went bad in 6 months.

Verified Buyer

Reviewed by Quadmax from Arizona on Monday, September 7, 2015

I have trouble finding sunglasses that don't squeeze my temples (my friends would say I have a fat head) but Native's Nano 2 is very comfortable for me. I love the look and the variety of interchangeable lenses that come in a variety of shades and colors. They are discontinued now but I was thrilled that Sierra Trading Post still has a supply of them.

Verified Buyer

Reviewed by Don the biker from Washington on Friday, July 31, 2015

Great glasses, they work great for skiing, mt biking and motorcycling! Brought this pair to replace a pair I lost. These fit me perfect, best sunglasses ever owned.

Verified Buyer

Reviewed by Robert from Houston, TX on Monday, April 13, 2015

Among all of the sunglasses on the market today, I've found that Native Nano2 fit me best (large head) & the ability to change out the lenses to meet the environment is a feature that I really like. These are very lightweight sunglasses that go with me everywhere & meet every need, including OSHA safety requirements when I visit sites that require it. The polarized lenses work wonders while fishing & I can adjust them to meet the light - cloudy, early morning, bright sunshine, &c. I have three sets of frames & a multitude of lenses in the hopes that they will carry me through the inevitable breakages & damage over the years, especially since these are a discontinued model - though there are still plenty of them in the marketplace.

Verified Buyer

Reviewed by Not Going Native Again from Florida on Wednesday, January 21, 2015

The Nano/Nano 2 is no longer manufactured or supported by Native.

I've owned 4 pairs & am now on my 5th: you get hooked, because each pair comes (or came) with multiple lenses (as many as 4 sets) and, although you could buy replacement lenses you couldn't simply buy replacement frames.

So when the frames broke you had to buy new frames AND lenses. Since I had 4 frames break, I ended up with about 15 pairs of lenses. Native DOES offer a warranty whereby you can buy a new pair of frames with 1 or 2 pairs of lenses for $30, but that just keeps you hooked. (The Native Customer Service agents ARE friendly and DO try to be helpful.)

In addition, the lenses scratch easily. About 11 of the 15 prs I have are too scratched to use for anything that requires sharp vision.

When I couldn't replace the Nano 2 frames for $30 via Native, I bought my latest pair from Sierra Trading Post (came with one pair tinted lenses, one pr clear) but only because I already have all those old lenses. I like the design, but this will be my last Native purchase of any kind.

I also just bought a pair of Costa Blackfin BL 22s from STP. Wow! What a difference! Why did I even buy that 5th pr of Nanos?! The Costas are especially good for boating and get very high ratings from Practical Sailor magazine, which is the Consumer Reports of sailing. PS doesn't rate any Native eyewear.

Verified Buyer

Reviewed by WyoMom from Laramie, WY on Tuesday, December 9, 2014

While my husband (the ultimate user) thought these fit OK, 2/3 of the people that tried them on in our house thought they sat crooked on our faces. In the end even my husband opted for a different pair.