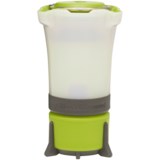 Closeouts. Black Diamond Equipment's Orbit LED lantern provides lots of illumination in a lightweight package, with a dimming switch and a collapsible, double-hook hang loop.
Average Rating based on
85
reviews
4.400000
0
5
Verified Buyer

Reviewed by Mnh from FL on Sunday, August 27, 2017

Very bright, small, collapsable lantern with adjustable brightness. Perfect for camping and night-time backyard picnics. The plastic seems a bit vulnerable (thin), hopefully, that does not equate to easy cracks, breaks. Time will tell. Will use this a lot.

Reviewed by Car Camper from Detroit Area on Thursday, August 24, 2017

The Orbit a well built well designed lantern. I tried out the Orbit, Voyager, and Moji XP. I ended up choosing the Voyager. The Orbit is much smaller than I expected. It is great size if backpacking. For car camping a larger lantern would be a better choice. The lantern light output is not especially even. It does not seem especially bright. If hanging it would light a picnic table OK using both the lantern lamp and the flashlight lamp. A design flaw with both the Orbit and Voyager is that much of the lantern light is directed upward where it is wasted. All lanterns seem to have some design flaws. So I think the Orbit and the Voyager are the among the best overall. If you are a minimalist go for the Orbit. If you can handle slightly more weight and space go for the Voyager.

Verified Buyer

Reviewed by Jeff from Illinois on Wednesday, May 31, 2017

Love this lantern. Packs well. Dimmer switch is great. Cant beat the price lights up a tent on lowest setting.

Verified Buyer

Reviewed by MMN from 22310 on Monday, May 22, 2017

light weight, good light output, function memory

Verified Buyer

Reviewed by 456fast from Oregon on Tuesday, December 13, 2016

It's bright, it works like it's supposed to, but I wonder how well it will stand up over time. Closed up, it's fairly sturdy, but opened, it's a little wobbly and I worry every time about pulling the lantern top out. Will I pull it too hard this time? I haven't yet, but the the loose construction worries me. I won't take this as my only light source.

Verified Buyer

Reviewed by Max from OR on Thursday, November 3, 2016

This brand is trustworthy,love it

Verified Buyer

Reviewed by senorblastico from Western Washington on Tuesday, November 1, 2016

I really like Black Diamond products and have purchased headlamps from them for myself and friends. If you have a BD headlamp you will probably be used to the interface on this lamp - click it on and it will be at max brightness, click and hold and the lamp will dim until you either let off the button or it hits the dimmest setting. If you keep holding it will start to brighten again etc. It can work as both a lantern and a flashlight (though I'm mostly interested in it as a lantern).

So far it seems to be of good quality -- I'm looking forward to having it in the tent the next time I'm in the mountains. It is small enough to bring even if you are a gram counter.

My only complaint so far is that, for the retail price, I think it should come with some batteries.

Verified Buyer

Reviewed by Sonny D from Utah on Wednesday, June 29, 2016

Fairly straightforward. Press button once, lantern turns on. Press twice for flashlight. Press and hold to dim.

It is heavier than an inflatable lantern, and I wouldn't ever take it backpacking, but car camping or midnight picnics, it excels.

Verified Buyer

Reviewed by Scouty Mom from Arizona on Monday, June 27, 2016

When I first opened up my shipping box and saw this tiny little lantern, I was quite disappointed. I mean this thing is tiny! I was going to send it back just for the fact that I thought it would be wimpy.
I am so glad that I didn't. This thing is amazing. It doubles as a flashlight and lantern and when you hold the power button down it dims the light making it perfect for using it in the tent at night. This little guy is lghtweight, hangable and super bright.

It is making its journey to scout camp this week and I am confident that it will hold up to the task at hand. Great product.

Verified Buyer

Reviewed by Joe from Louisiana on Thursday, May 12, 2016

A tiny light with a smart switch that lets you go from reading light to flashlight, with a dimmer function. Handy hanging hooks. But very tiny.