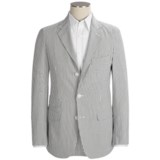 Closeouts. A svelte look for summer in cool, comfortable seersucker, Scott James' Arden jacket is a three-button style with dapper ticket pocket and pick-stitch detail throughout.
Average Rating based on
8
reviews
2.375000
0
5
Verified Buyer

Reviewed by The Beach Bum from s.c. on Thursday, June 25, 2015

EXTREMELY MIS-SIZED. THE JACKET I GOT IS AT LEAST TWO SIZES BELOW XXL. TRYING TO SEND BACK BUT DOES NOT SHOW ON MY PROFILE. THAT ASIDE, THE QUALITY OF THE JACKET APPEARS TO BE VERY GOOD. WISH I COULD GET ONE THAT FITS.

Verified Buyer

Reviewed by CMG from Roanoke on Thursday, May 28, 2015

This is a very casual seersucker with virtually no lining. However, it was returned for being extremely, excessively small. The 50L should be perhaps considered something between a 46 and 48. I have an athletic fit (38"w for a 50"ch) and this was unbutton-able and the shoulder seams were at risk for the slightest movement

Verified Buyer

Reviewed by Crusher from Kansas on Wednesday, April 9, 2014

I really like the look of the jacket. I am a big guy and thought a 3xl would be plenty big. Not even close. This jacket fit in the shoulders but around the middle was very small.

Reviewed by OCULUS from Rensselaer, NY on Tuesday, August 6, 2013

I guessed that the sizing was incorrectly listed here and I was 80% right. By the time I ordered the only size left was XXXL--nominally a 58cm Euro size--not the US XXXL cited by STP.

Turns out, the XXXL fit my US 46L torso well; guess your size from there! (I would normally wear a Euro 56)

Oddly, the pants are cut full and large--had to have mine altered from 40 waist to trim the waist, seat and crotch. If you order the pants and jacket as a suit, be prepared to have adjustments made.

Otherwise, both seem to be nice fabric and decent construction; a bargain at STP pricing.

Reviewed by gscott from ny on Tuesday, June 18, 2013

I am a fairly exact size 42 and this coat was cut very very slim, almost hard to button. I ordered the pants to go with it in a size 36 which generally is a bit big on me but these were huge (I measured the waist and it was actually 38 inches not 36).

Reviewed by gr8white1 from Vienna, WV on Saturday, May 18, 2013

Had to be returned as sleeves were too short and no way to let out length

Reviewed by shir o shakkar from Philadelphia on Friday, May 3, 2013

Excellent! Great fit and blend of cotton and linen.
Sizing exceeded my expectation, because I am accustomed
to seeing 42R, so when I see L - XL I am somewhat skeptical
of what I am getting. I would highly recommend this piece.

Reviewed by ClothesHorse from Just outside Charlottesville, VA on Sunday, April 28, 2013

Scott James brand items are beginning to seem to be mis-marked. I ordinarily wear a size 50 jacket; so I ordered a size XXL thinking that would be equivalent to a size 50-52. It was much too small. So I subsequently exchanged a size XXXL. This still could not button. (Both were the Arden Seersucker by Scott James.) Then after e-mailing STP, we agreed that it would be best not to exchange for another Arden Seersucker by Scott James; but, instead, exchange for a Scott James Alec jacket XXL. This, too, was much too small. I give up. Without trying the absurdity of buying or exchanging even one more Scott James jacket, I am beginning to believe that possibly all of them are mis-marked. Too bad, too. The line has many welcome features, among which are working cuff-buttons, buttoning label, and the same fabric under the label when the lapel is turned up as the rest of the jacket. In my humble opinion this apparent mis-marking should be called to the attention of management for correction.