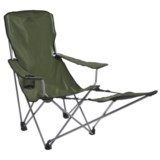 Closeouts. Sit back, relax and kick your feet up! ALPS Mountaineering's Escape camp chair is designed for comfort and relaxation thanks to its sturdy steel frame, adjustable armrests and fold-out footrest.
Average Rating based on
56
reviews
4.607142
0
5
Verified Buyer

Reviewed by Chicago Michelle from Chicago on Monday, October 16, 2017

Love it!!! Got this as a present from a friend. Mom sat it in and I ordered another one right away. Was delivered within 4 days!!! Great for watching kids football soccer games. Chair is easy to fold up. Bag is not bulky and not heavy to carry. Woulda loved to get in another color but all that was available was green. They need to come out with a Velcro pillow.

Verified Buyer

Reviewed by Maisie from FL on Sunday, August 27, 2017

We had almost completely used up our old camping chairs, we use them so much for just about everything. We had been looking for one with a foot rest, but were turned off by the prices and the complexity of set up. Then I saw these on line, and the price cannot be beat, so I figured, what the heck. Well, these are the best! Sturdy construction, yet still lightweight to carry, and set and breakdown just cannot be easier. We have already used them several times, backyard, beach, haven't even gone camping yet, but I know they will be perfect. Highly recommend. The army green was on sale. Get it while it lasts!

Verified Buyer

Reviewed by dschneider3 from Seattle on Tuesday, August 22, 2017

This lawn chair with foot rest was everything I expected. I used it for the first time at an outdoor concert recently. I like the tote bag for easy carrying, it unfolds really easily, the foot rest is adjustable for short, medium or tall people, and the foot rest easily unclips and lays down flat on the ground if you want to sit without the foot rest.
The unit is not industrial strength but I didn't expect that. For the price it is a great chair.

Verified Buyer

Reviewed by Farm Boy from Nebraska on Saturday, August 19, 2017

My old footrest bag chair of a different brand wore out after many, many years of good service. A replacement was surprisingly difficult to find. Luckily, I happened upon the ALPS chair at a fair price. I have not had it long enough to see if it will give me the long useful life as its predecessor. The chair is comfortable, not exceedingly heavy for its size. The fabric seems to be durable, but, again, time will tell. One thing I would change if I could is the footrest so that it could be adjusted to a level less than horizontal. It can be unclipped and lowered to the ground, but nothing in between. An addition I would like to see is a pillow-type headrest. All-in-all, I am satisfied with this chair.

Verified Buyer

Reviewed by lorraine934 from Marion, MA on Thursday, August 17, 2017

It's a bit awkward getting in, but once you set yourself up you are good for hours. Read a book, enjoy the scenery! I really like that you can remove the foot rest and it is then an ordinary chair.

Verified Buyer

Reviewed by oscar from Washington Stateb on Wednesday, August 2, 2017

For 30 bucks I was skeptical of this chair. I thought it would be another cheap chair with a foot rest added. I was pleasantly surprised. The steel tube frame is thicker than the run of the mill 10 dollar wal mart chair. It has a nylon strap to hold up the armrest by the backrest which is really handy. Super comfy, its like a recliner.

Verified Buyer

Reviewed by Jeannie from TX   -   Texas on Thursday, June 29, 2017

I ordered two of ALPS Mountaineering Escape Camp Chairs one for me and one for the husband. It's not only used for camping. We have been able to used them recently while watching our son's little league football. I have to say these are the most comfortable and relaxing folding chairs we've ever owned. It makes those long field practice days enjoyable. I sit, eat, drink, & catchup on reading or emails all in comfort. I like the built-in drink holder. The foot rest is designed to be adjustable. To me it's one of the best features on this chair. The chair arms are nice and wide not flimsy like the other chairs. My husband likes that this chair was designed with the tall guy in mind. It's backing come up high and rest right at my husband's neck for true comfort. On most other chairs the back side only comes half way up the back not giving you good back and neck support. The ALPS Mountaineering Escape Camp Chair is so comfortable that you can even takes a nap in it. My husband likes the green color, matches all of our camp gear. I highly recommend the ALPS Mountaineering Escape Camp Chair you won't be disappointed.

Verified Buyer

Reviewed by Laura in Texas from Texas on Tuesday, June 27, 2017

Bought this chair to elevate my legs at the end of long summer camp days. Chair is comfy and foot rest slows your legs to be elevated without putting strain on knees or back of calves. Smart X design allows you to have feet placed on either side to sit up/down comfortably. Weight was not a problem since it stayed at camp all week and price did not break the bank. Would definitely recommend buying this chair.

Verified Buyer

Reviewed by Deena from Montana on Wednesday, May 31, 2017

Easy set up, very comfortable and appears well made. Could easily fall asleep in this chair.

Verified Buyer

Reviewed by Lady Spankington from Pennsylvania on Tuesday, May 23, 2017

Love this camping chair. It's comfortable, super easy to set up, and the entire footrest detaches very easily. I bought 2 and I'm wishing I bought more!