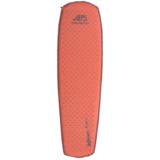 Closeouts. Add some cushioned luxury to your camping or backcountry experience with ALPS Mountaineering Ultralight Series sleeping pad, featuring a self-inflating design that saves on weight but doubles up on comfort.
Average Rating based on
58
reviews
3.931034
0
5
Verified Buyer

Reviewed by David Y from Waltham, MA on Tuesday, May 30, 2017

I've used this sleeping pad twice now and it has formed an ever growing bubble in the top layer of the pad. A shame because I did like the product the first time I used it. It is fairly light and has been more comfortable (thicker ie more height) than other ultra light sleeping pads. My weight is only 155# and I've only used it on dirt under standard camping conditions so there's no reason this should have happened. Its been stored in a humidity controlled basement, laid flat with the valve open.

Verified Buyer

Reviewed by Dave M from Mississippi on Tuesday, April 18, 2017

Appears to be solid and well made- definitely appreciate packability and weight- rated a 4 simply because I haven't used on the trail yet

Verified Buyer

Reviewed by JJP from Washington on Saturday, January 14, 2017

Light and comfortable. I'm a side sleeper and this provided adequate cushioning.

Verified Buyer

Reviewed by Ali from San diego on Tuesday, November 1, 2016

Used this for a camping trip. Packed up small and lightweight and easy to inflate. Just open valve. It's thin so don't expect plush but it did the job.

Verified Buyer

Reviewed by Danielle from California on Thursday, October 27, 2016

I used this mat for a camping weekend recently. It was easy to inflate, and comfortable. I was surprised to see how narrow the mat was - I am a 5'6", 130 lb female and I wouldn't recommend this mat for anyone much bigger than me. It basically was an exact footprint of my mummy sleeping bag. I do wish it was wider but I slept well on it and will continue to use it.

Verified Buyer

Reviewed by Amber the Climber from WI/MN on Wednesday, October 12, 2016

This is the first sleeping pad I have purchased so I don't have much to compare it to besides the yoga mat I've used for my hammock.

It self inflated fairly quickly but you have have to blow im a few breaths to get it to a firmness you like. I camped with this in Devils Lake WI recently and I think the insulation really helped keep me warm!

It is a fairly narrow pad but seeing as I am only 5'1"(about 110lbs) it's more then enough for me but I can see how taller (ish) individuals my not have enough width, especially men.

Setting up was really easy and I did struggle a little rolling it up. I never had a self inflating pad so I have to mess around and now know a good technique for rolling it up.

Overall I would recommend for the price

Verified Buyer

Reviewed by Dave from KY on Wednesday, August 24, 2016

I haven't used it camping yet, but it appears to be a great pad.

Verified Buyer

Reviewed by PhotoHiker from Oregon on Monday, August 22, 2016

Great sleeping pad

Verified Buyer

Reviewed by DWH from Pennsylvania on Tuesday, August 16, 2016

Fabric seems fragile, valve appears to be brass and should be durable

Verified Buyer

Reviewed by Newbie Backpacker from Athens on Wednesday, August 10, 2016

First sleeping pad I've owned, so I don't have anything to compare it to. I was looking for a light but durable pad. This was the best price I found online and in stores. I bought two (pretty much for the price of one, in stores), one for myself, 5'3'', 130lbs, and one for my fiancé 6'1", 170lbs. We both slept comfortably. It's well-made and the quality is good. The self-inflating part took longer than I expected, and we both blew some extra air into it to inflate it all the way. Pack up was easy- On my knees I used my weight to keep the air out as I rolled it up. It came with two bands to keep it rolled up, and a carrying bag. Bottom line: Would recommend to a friend.