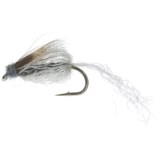 Closeouts. Hand-tied to exacting standards and crafted of high-quality materials, the Emergent Sparkle Pupa emerger fly helps anglers enjoy a successful day on the water.
Average Rating based on
6
reviews
4.000000
0
5
Verified Buyer

Reviewed by TruReview from California on Wednesday, June 3, 2015

So I ordered 3 dozen of these classic la fontaine's sparkle pupa. The price was unbeatable. I mean the price I got on these was like $4.50/dozen or something, so likely cheaper than when I tie them myself. As well, I can spend my limited tying time on other patterns. However, I got a mixed bag with these flies. Let me explain...some of these are great but others have a problem. The problem is that the antron bubble/case whatever you want to call it is not much of a bubble. Whoever tied them simply pulled the antron up and they didn't really puff it out. So they aren't a very good representation of the what is being portrayed. That being said, for the price I wouldn't send them back either as shipping costs more than the flies that weren't tied correctly.

Of the 3 dozen I ordered, 1 of them(olive) is tied this way. A few here and there aren't perfect but more than acceptable in the other 2 dozen. The flies outside of this look great. I will likely fish the olive anyway when there are olive caddis staging, emerging or even post hatch...we shall see if the fish will refuse these. I suspect it will depend greatly upon how pressures the water/fish that I am fishing will determine that.

Your results may vary. Fish On.

Verified Buyer

Reviewed by Daryl from Missoula, Mt. on Tuesday, March 24, 2015

Gary LaFontaine's emergent sparkle pupa is a wonderful imitation of emerging caddis flies here in Montana streams and lakes. These patterns look like they'll do the trick.

Verified Buyer

Reviewed by Daryl from Missoula, Mt. on Tuesday, March 24, 2015

These Bird's Stonefly patterns look fine, not quite as nice as the version that I tie, but close enough. And Sierra's bargain price was so enticing I couldn't pass them up. I don't think the trout will either.

Reviewed by FishininnsunnyCA from CA on Friday, March 28, 2014

Good proportions and materials used for a must have fly if you plan to fish any caddis hatch.

Reviewed by MtnMan from CO on Wednesday, May 15, 2013

Looks good, not tried yet

Verified Buyer

Reviewed by SavageLawyer from New York, NY on Saturday, December 29, 2012

I am an avid fly-fisherman (though I don't fish nearly as much as I would like to). I have purchased quite a few dozen of flies from STP. Particularly when they are on sale, they are a very good deal. I have not fished with them yet so don't know how well they will hold up or whether they are tied on top (or even adequate) quality hooks. But the flies appear to be well tied (though not always exactly in accordance with the prevailing pattern instructions, though I don't suspect the fish are likely to notice or care) on quality hooks (they are at least initially sharp). Assuming these don't disintegrate or fish don't break off the hooks (would love to get a 20-incher to test them), they are a great deal from STP.
And, as expected, my order was promptly filled, packed, sent and received.