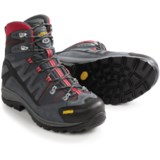 Closeouts. Thanks to their Gore-Tex® waterproof breathable membrane and grippy, Vibram® Radiant outsole, Asolo's Neutron hiking boots comfortably and confidently carry you over the most difficult terrain.
Average Rating based on
532
reviews
4.633458
0
5
Verified Buyer

Reviewed by klaus2go from Boulder, CO on Wednesday, September 20, 2017

I didn't break in those boots and went on a 15 mile hike. I had no pain, blisters or anything else that didn't feel right. The provide sufficient ankle support without being too stiff. They feel solid but are not too heavy. I feel like getting 3 more pairs and stacking them in my closet so I'm set for life :)

Verified Buyer

Reviewed by GCTX from Taylor, TX on Tuesday, September 19, 2017

Asolo boots are the best for people that are on their feet all day.

Verified Buyer

Reviewed by BrooksTriGuy from Northern Michigan on Thursday, September 7, 2017

This is my first experience with the Asolo brand. The boot fit great, it's nice a stiff, I'm expecting it to be spectacular on the mountain.

Reviewed by Aaron the archer from Pennsylvania on Sunday, August 20, 2017

I've had these boots for a little over a year, but haven't really worn them all that much(basically just for a week last year in Wyoming). I bought them because I've had good luck with asolo in the past. I wore these boots again this week for some morning hikes when there was dew on the ground and my feet got soaked every time. If I keep them treated, it helps, but they still leak.

Verified Buyer

Reviewed by carl seattle from carl seattle on Sunday, August 20, 2017

I tried these because STP doesn't sell Dachstein's anymore. Am I lucky! Wore these for a day before doing a 5,000 ascent, half dirt trail and half snowfield. They kept my feet dry when they were supposed to and provided me all the support I needed along the trails and rocks. Not as supple as the Dachstein approach boots but I've already gotten a couple of normal trail hikes in and I love the light feel. It did take an hour or so to get used to the higher heel but that's going to be great for backpacking. No fitting issues other than an occasional rub on the inside of my ankle bone which I solved by not tieing the shoes so tight.

Verified Buyer

Reviewed by carl seattle from seattle on Tuesday, August 15, 2017

Bought a size too large, returned them and wore these for a day before my hike to break them in. 2200 feet of elevation in dirt and then 2500 in a snowfield. Kept me warm and dry the whole time. Fairly light and once i figured out how to secure them properly for my feet it was all perfect.

Verified Buyer

Reviewed by Phil L. from Massachusetts on Sunday, August 13, 2017

Have only used them once on a 3 mile USFS "difficult" trail. The soles were adequately grippy on a variety of surfaces which is one of the reasons I wanted the boots. I have a pronation issue on both feet so it will take a little longer than most people to break the boots in. For the short distance traveled they were fine however.

Verified Buyer

Reviewed by William from WA on Friday, August 11, 2017

These boots are my third purchase. Third time is a charm!! These Asolo boots fit my feet perfectly, and provide the very needed support for my weak ankles. The key is fit. I have a moderately high arch, and the two previous boots, though equal in quality to the Asolos, did not provide the needed fit or support. To be clear, these boots are for city walking. I am 76 y/o with post-polio ankle weakness. If I were able to hike as in my past, I am very confident these Asokos would serve me well on the trail. Feet come in many shapes and sizes. These boots are right for my feet/ankles.

Verified Buyer

Reviewed by Thom from ATL on Monday, August 7, 2017

Fit well, comfortable right out of the box. These feel like my Asolo FS85, which just wore out after taking me to Kailash in the Himalayas, the top of Fuji, the top of Kilimanjaro, not to mention numerous small hikes.

Verified Buyer

Reviewed by Bill from Colorado on Tuesday, August 1, 2017

This is my fourth pair from Asolo. I use them everyday for work and for hiking. They are very durable. End up being a little on the heavy side and have a stiff sole. This is the second pair as the first pair was returned because they did not fit properly. This pair fit fine. I recommend this boot.