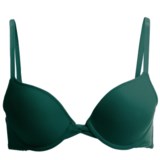 Closeouts. Simply twist the center of OnGossamer's Mesh Bump It Up bra to amp up your cleavage by up to one full cup size!
Average Rating based on
23
reviews
3.913043
0
5
Verified Buyer

Reviewed by funkymama from New England, USA on Monday, October 24, 2016

It's a pretty bra, and I liked the shape of the cups. They were small, but that would have worked for me had the band not also been too small: the cups weren't wide enough and they were too close together. Sent it back; no larger band size to try. Size up on this one if you can.

Verified Buyer

Reviewed by farmer in vt from Vermont on Friday, April 1, 2016

This is a nice bra - soft, nice amount of padding. I wear a 32 B and purchased that size, however both the cups and band are on the small side. With the padding, it feels like the girls are gonna pop out over the top of the cups. I'm keeping it, but I'm disappointed it doesn't fit better.

Verified Buyer

Reviewed by LouK from Kansas on Sunday, January 3, 2016

I'm not one to buy bras in bright colors, but I love this and it fits great. The "twist" option is also amazing.

Verified Buyer

Reviewed by Sally from WI on Wednesday, December 16, 2015

I'm a 32C, and it's very difficult to find bras that are both comfortable and functional. These are one of my favorites! They're lightweight and much more breathable, so when I end up doing active things I don't feel suffocated. I've bought three or four of them now, and they've held up well.

Reviewed by Mother of 3 from Missouri on Sunday, October 4, 2015

This runs small, I am usually a 34 C and the 34 D just barely fits.

The green color is lovely and it seems well made, but I don't wear this because the shape it gives my bust is odd and not flattering or natural looking. It reminds me a little of a bra from 50 years ago. But it's also like the shape being a push up bra you can tell through your shirt, the cups have an odd kind of pointy shape,

I like to have a somewhat natural looking figure, even if I am wearing a push up bra. But this just looks very weird.

Verified Buyer

Reviewed by Bargain Gal from CT on Tuesday, August 11, 2015

I don't wear push up bras, but bought this because another reviewer said that the cups are soft & their lining is 'thin'.
She is correct. There's a thin soft foam lining, except the foam @ the base nearest the underwire is thicker, thus 'bump it up'.
I bought this on a whim & am keeping it because it fits so well, was cheap to buy & is very comfy. The dark green color is nice!

Verified Buyer

Reviewed by Mountain Dweller from NC on Tuesday, August 4, 2015

Purchased my regular size and it's very small, not enough cup coverage from side to side. Made me feel like Amazon women although I'm only a size eight with a B cup. Pretty though, too bad. Colors aren't really too practical anyway

Verified Buyer

Reviewed by Clog Luver from NJ on Sunday, July 26, 2015

This deal is just too good to pass so, I bought 2 bras (34A) each in 3 different colors. For reference, I usually wear Wacoal 34AA. The band on some of these bras are a lot looser than others. The bras with the 'tighter' bands fit me perfectly. The bras with looser bands are kindda loose even when hooked on the most inner set. The cups fit me just fine.


Reviewed by culprit from Brooklyn NY on Monday, July 20, 2015

I've worn the same size bra (34B) for my entire life--and trust me, I haven't grown. This bra must be at least a full size smaller.

Reviewed by Jillians from Austin on Friday, June 19, 2015

It fits - no extra space/gap in the cups. Lightweight & comfortable. Cute colors, matching panties... It's a freaking miracle. It should not be this hard to find, but it is. If you are normally a full B or C cup, you should probably go up a size.