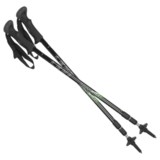 Discontinued or prior year model. Increase stability on challenging terrain with ultra-rugged LEKI Trail trekking poles, featuring robust 7075 aluminum alloy shafts and Round Top comfort grips.
Average Rating based on
13
reviews
3.692307
0
5
Verified Buyer

Reviewed by Barb from OH on Wednesday, June 13, 2018

I am not a typical hiker. I'm a 60 year woman with numerous orthopedic issues who likes to walk on the asphalt nature paths close to my home. With a knee due for replacement and degenerative lumbar discs, I need all the help I can get with stability. These poles do the trick. I'm less than 5' tall and shrinking. The pole lengths are completely adjustable and they weigh less than 10 ounces each with the optional Leki rubber tips installed and the basket removed. They are perfect for me!

Verified Buyer

Reviewed by jerry from Washington on Wednesday, January 17, 2018

Great product, this is my third pair of Leki poles over the past 25 years. adjustment for straps and pole length is quick and easy.

Verified Buyer

Reviewed by D.Otis from Sandpoint, Idaho on Thursday, December 14, 2017

I recently ordered these and used them immediately in Idaho's Cabinet Mountains in a soft snow climb on Scotchman Peak. They are durable and lightweight, a very good buy for the money. The screw out extensions can be problematic, especially with gloves on, but this would likely be the case with most other similar types.

Reviewed by Scout from Ohio on Saturday, April 1, 2017

I used a pair of Leki poles on my monthly hike for several years. I cleaned the poles after each hike to remove dirt and grit. One pole began to slip after a few years and finally gave out. Leki provided suggestions to adjust but I needed to replace the expander. After almost $20 for expanders and shipping, they sent expanders too large to fit my poles. They would not respond to emails or phone calls. It should be an easy fix but Leki service is awful. I only want the correct expanders. Not asking for much.

I will buy a new set of poles but they won't be Leki.

Verified Buyer

Reviewed by Anasazi Trekker from Los Alamos NM on Monday, December 19, 2016

I'd love to review some Leki Makalu trekking poles as were advertised but instead of being sent the mid range poles of the high strength series I was sent the lowest model Leki offers and told that color substitutions were in the conditions for the sale items.

A different color would be understandable but they sent me the cheapest model of Leki poles when it was clearly a set of Leki Makalu poles which feature Leki's strongest tubing(HTS 6.5 7075 Aluminum) and when I pointed this out they said I could return them for a store credit but made no offer to pay for return shipping or replace the poles with the higher model or refund my money. After doing business with Sierra Trading Post for years and years this will probably be my last purchase from them. They essentially pulled a "bait and switch" then blew me off when I called them on it.

Reviewed by Dinomatic from Texas on Tuesday, July 26, 2016

I bought these poles based on reviews stating they loved the anti-shock feature, though it wasn't stated in the specs. When I received them, I found that they do not have the anti-shock feature that I truly wanted.

I will have to buy poles from another online retailer as STP cannot guarantee I will get an alternate pair before I leave on my trip

I have always been very satisfied with STP in the past but am very disappointed with the way this situation was handled by their customer service department.

Verified Buyer

Reviewed by The gifter from nevada on Monday, July 4, 2016

light weight,strong

Reviewed by Steve-A from San Jose, CA on Friday, November 1, 2013

I purchased these poles for a friend after receiving an extra discount coupon. I wish now that I hadn't purchased poles from REI last summer at twice the price. I underestimated the added value of the shock springs in these Leki poles.

Reviewed by Bruin '85 from Northern MN on Wednesday, October 30, 2013

We have been avid walkers, runners and other outdoor sports but this is our first set of poles. So far we've taken them on a few walks about town. Really like the stability they add to our old legs! Not sure how the twist locks will hold up over the years. Looks like most newer poles have clamp type locks. Either way, STP gave us a great price and free delivery so how could we pass that up!


Reviewed by Mac from New Hampshire on Monday, September 23, 2013

My old poles were beat up (cheapos that I got a a large retail chain) so I decided to look for something a little better. I didn't have the $100 plus that I'm seeing a lot of good poles listed at so I needed a bargain. These Leki poles were available with a coupon at about tha same price as the cheap poles I've seen online so I snatched them up.

The positives: They are lightweight and sturdy (much more so than my old poles). The handles are comfortable and I really like the rounded tops to use when a little extra support is needed. The twist locks hold very well. I have already used the poles once and the they stayed locked in position for the whole hike (I was constantly adjusting my old poles). The shock absorbing springs are also a nice treat for the price I paid. Someone else said the springs were noisy but I would expect that, they are springs. They do make some noise but it's nothing much unless you are really banging them around.

The negatives: The poles do not come with rubber tips. I was able to procure some at my local outdoor store though. The straps are kind of stiff and rough on the wrists. I think they might need some breaking in but I think Leki could use a better material for these.

Overall they are a great set of poles and I could not beat the coupon price. I gave them 5 stars even though there are a couple of negatives. But the negatives are minimal and at this price it's hard to complain.