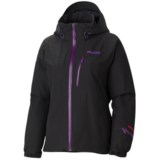 Closeouts. Marmot's Innsbruck jacket protects you from the elements at your local ski hill or an exotic Austrian destination. It features a two-layer, waterproof breathable Gore-Tex® Performance shell and a modern, highly functional design.
Average Rating based on
3
reviews
2.333333
0
5
Reviewed by Capt Pete from Mssachusetts on Sunday, September 1, 2013

My husband and I both wear Marmot parkas. His is indestructible. Mine, which is this model damages easily. I am about to return it to STP for replacement.

Reviewed by Last time from NC/Bc/Mont on Saturday, April 27, 2013

I suppose since the trend may be to look outdoorsy, not be outdoorsy, this is the new reality. But here's where I drop out of the game.

#1 You may think I am difficult to please or fit. Not so. I have three Marmot pieces 15 years old which I have loved. I am 5'2" 120 lbs, broad shoulders, kinda muscular from the 40 years of rock, ice, the Arctic Circle rambling. Medium has been FINE! I could move around inside the garments, who cared if they were slightly long? I got a medium of this. Forget it. STUFFED streamlined down under it.
#2 THEN there is the structure. My old shell had a zipper, a flap closed by velcro AND reinforced by a snap at the bottom. Hey! That's where the stress is if you're REALLY outdoors. This coat is closed by ONLY a lovely little zipper. Nothing else. You can hype me all you want about stronger, tougher zippers - I don't believe it; it's still just held once by thread. BUT there IS a second zipper INSIDE the outer zipper which I guess is for some MORE stuff Marmot sells. Yet there is zero mention of this in the ad copy and the STP person I spoke to didn't have a clue either. She was a nice person, but it doesn't work for me to try to buy stuff that's too vaguely described for all the ad copy. The second zipper is like a reminder where Marmot put their design energy when they could have made the lower closure stronger.
#3 Which brings me to my last example. I ordered the SAME size Verdun hiking BOOTS that I KNEW fit, because I have Verdun hiking SHOES. WRONG! The BOOTS run 1 size smaller?! What?!
I went back and saw a tiny disclaimer at the bottom of STP's copy which states BOOTS RUN SMALL. I then read the many customer complaints, so I guess they had to put that in.

Soooooooo, I fear online fitting rooms are not for me until STP can figure out a way to not offend it's suppliers while actually helping its customers. SENDING THINGS BACK AND BACK AND BACK is not the answer. Just state in LARGE letters at the TOP - this runs 1 size small - or Marmot HAS it's OWN ideas of what you should buy in their PRE PACKAGED layered gear; this will run small with even a fitted down sweater if you try to layer yourself...etc.

Reviewed by Lilo from Texas on Friday, March 22, 2013

Haven't worn it yet, but it looks like a good, gore tex ski jacket. Good quality and size allows room for layers.