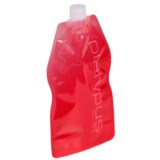 Closeouts. With the compact, lightweight Platypus SoftBottle, you can carry one liter of water without the extra bulk or weight of a metal or composite water bottle.
Average Rating based on
24
reviews
4.416666
0
5
Verified Buyer

Reviewed by elchivoloco from Colorado on Tuesday, January 10, 2017

It's nice to be able to collapse my water bottles as they empty. This one is holding water, and the lid is secure, and it collapses fine so, great! Not sure there is much weight savings over a light plastic conventional water bottle. I did have the edge seam vacuum sealed zone on another platypus bottle fail and start leaking after a few years, so durability isn't perfect.

Verified Buyer

Reviewed by Yooper from Michigan on Friday, November 18, 2016

These are a little bit harder to drink out of than a hard-sided bottle, but the fact that they are super light weight and take up no room when empty makes it worth the trade-off. And, I have found that they work great to keep wine fresh. Just pour it in and squeeze the air out. Platypus makes a version of this bottle that is labeled for wine preservation, but the only difference I can see is that the wine version is a darker color and more expensive. If you are keeping it in the refrigerator, then it doesn't matter.

Verified Buyer

Reviewed by Ice Man from TN on Sunday, November 13, 2016

When I ordered this bottle, l didn't think about its color. When I used it, l realized that it is really helpful for water bottles to be clear.

Verified Buyer

Reviewed by Oregon is Better from Midwest on Sunday, October 9, 2016

I've never had a platypus bottle leak before, but this one did while out backpacking. The leak was from a seam near the bottle neck. Very disappointing.

Verified Buyer

Reviewed by The gifter from Nevada on Monday, July 25, 2016

nice and lightweight

Verified Buyer

Reviewed by mral from colorado on Monday, June 20, 2016

This is a great bottle that can easily fit into almost any pocket. The reviews about needing to use 2 hands when drinking from it are slightly misleading. I find that if you put mouth over the opening and suck you can use one hand to drink from it.

Verified Buyer

Reviewed by SuzJorg from Pacific NW on Tuesday, June 7, 2016

I have a growing collection of these bottles to throw them in my panniers for long bike trips. I love that I don't have to deal with the bulkieness after I've used them up and I try to cut weight in whatever way possible. Have yet to see any damage and I am not protective of them.

Verified Buyer

Reviewed by Woogecat from Tennessee on Thursday, May 5, 2016

I own several of these for hiking/camping. Especially love that water doesn't taste like plastic.

Verified Buyer

Reviewed by Armando from Houston on Monday, March 28, 2016

Bought this for lightweight hiking and it does the job. I do wish you didn't have to hold it with two hands to drink out of it and maybe the mouth is a little wider so I can place my Lifestraw in it. Otherwise, no complaints.

Verified Buyer

Reviewed by Fathomthat from Central IL on Monday, March 7, 2016

I decided to use these as a space saver for UL packing. They roll and stow nicely when empty.