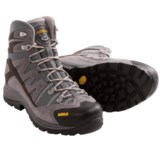 Closeouts. Asolo's Neutron hiking boots have an incredibly durable Cordura® nylon upper, toe and heel overlays and a Vibram® rubber outsole that excels during on- and off-trail missions.
Average Rating based on
107
reviews
4.401869
0
5
Reviewed by Lytkin Igor from Severodvinsk, Russia on Friday, March 2, 2018

I live in the far North of Russia near Arkhangelsk. I tried them for the first time in late autumn 2013.It was from +2 moist snow and wore all winter to -10 and it was good. My feet remained dry and warm.The size matched the description was good.Shoes several hard leg holding tightly, you can adjust the lacing.But on foot is easy and you can go in deep snow. I really like it, I ordered two more pairs. Would recommend.

Verified Buyer

Reviewed by Alberdin from California on Wednesday, January 24, 2018

Exelent boots

Verified Buyer

Reviewed by Tom from Georgia on Sunday, December 17, 2017

Excellent hiking boots. I have a pair I have been wearing for 5 years now and the bottom is just now starting to wear thin. The boot upper still in good condition.
These are some of the best boots I've ever had and I've tried many that wear out in a year or less.
I would highly recommend Asolo boots.

Verified Buyer

Reviewed by Happy Hiker from Arizona on Thursday, November 30, 2017

My husband and I love Asolo boots and the Neutron works well for him. He hikes in them but also wears them as street shoes to protect a bad ankle. Since we are desert dwellers Goretex is not that important to us.

Verified Buyer

Reviewed by Pat from Taos on Saturday, November 25, 2017

Would recommend to a friend.

Reviewed by Gregg FRanks from rockin, mt on Wednesday, November 8, 2017

bought these boots from Sierra......very good price. Went on three hikes and found them very comfortable. Then I noticed the eyelet closes to the toes was pulling out.........ON BOTH BOOTS! No receipt, no help from Sierra or Asolo.

THERE IS A REASON FOR THE BIG MARK DOWNS...........THINK ABOUT IT!

Verified Buyer

Reviewed by Flex from Ga. on Sunday, August 27, 2017

Great hiking boots, I always buy Asolo's. Great price at Sierra's.

Verified Buyer

Reviewed by sparky725C from Nevada on Sunday, July 16, 2017

I love these boots. I wear them 12 days a month and they are holding up well to rigorous use.

Verified Buyer

Reviewed by Matt T. from Adirondacks of N.Y. State on Tuesday, June 27, 2017

I wore the boots at work (hospital) for a day or two and then nice weather prompted me to go for a hike. I did a 14 mile day hike with 4700 feet of elevation gain, and descent. Conditions were very muddy in spots, with several stream crossings. Unfortunately, I started to feel hot spots on the steep incline at the backs of my heels. These boots are not waterproof, I knew that before I bought them, and they definitely do not keep out any water if in a mudhole, bog or stream. I have a blister on each heel, at the posterior (back) of my heels. I hope they are broken in now, because my blisters are pretty severe. I wore smart-wool socks, light weight, and no other fabric to prevent blisters, like moleskin. Thankfully, this happened before my trip to Colorado in three weeks. My blisters will be healed and the skin tougher while hiking out there, plus less water and mud issues, I hope. The in-sole is very hard and uncomfortable. Maybe some gel inserts or air pillows would help with comfort. I will say the boot is definitely rugged and durable, and is perfect for very rocky trails/terrain. I didn't lose any grip on slimy, wet rocks, and my feet felt very secure in the boot. The boot prevented any ankle rolling due to the higher top. I am hoping next time I wear them that I don't blister, hoping the boots and now broken in.

Verified Buyer

Reviewed by Lu from Oregon on Tuesday, June 20, 2017

Love Asolos, it's all we buying now. My husband loves these and they fit perfect. Super well-made boot.