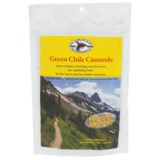 Closeouts. There's no need to suffer through another bland backcountry meal when you can have Hi Mountain Jerky's Green Chili Casserole. It makes three servings and can be prepared in the included pouch or a pot.
Average Rating based on
13
reviews
3.769230
0
5
Reviewed by HuntingHiker from Idaho on Wednesday, September 21, 2016

Wow. I have never had worst food. After hiking all day carrying food for a week I would have been able to eat my boots, but even then this food is not palatable. After adding the required boiling water and putting the bag in an insulated pouch and waiting 15 minutes, the beans and noodles were still really crunchy and the salt level was off the charts. We added some more boiling water and waited and the beans were still crunchy like boston baked beans... We joked that you could add pretzels and potato chips as filler as a way to reduce the amount of salt. I drank an additional liter of water during dinner just to choke this down, and I felt horrible the next day. And I won't even tell you how it ruined my bowels but just say my body really wanted the food out...
Thank god we only had to eat these for 3 of the 7 days. After 3 days I couldn't take the salt and would have just gone hungry. Save your money and buy Mountain house. SO MUCH BETTER. Reasonable salt, and much better texture plus things like actual meat in the meal.

Verified Buyer

Reviewed by Tyson82 from Colorado on Wednesday, August 24, 2016

As good as any other camp meal I've tried. Very filling.

Stir well.

Verified Buyer

Reviewed by Fishstick from California on Sunday, August 21, 2016

Had the green chile casserole mid way into a 40 mile pack trip. It was the hit of the camp, better than the more popular brands. Rice based, more like a stew than a casserole. Requires 15 minute set time after adding boiling water, but worth the wait, very good texture. The chile has some spicy bite to it, so beware if you don't like spicy heat

Verified Buyer

Reviewed by Harry from California on Monday, July 18, 2016

its really salty though i can handle saltiness. really salty.

Verified Buyer

Reviewed by Asa Spades from PNW on Saturday, July 9, 2016

I made this for myself after hiking for more than nine hours and I couldn't force myself to choke it down. It was just WAY too salty. Perhaps one could double the amount of water used, but then you just have soup.

Reviewed by ipartner48 from Alberta on Thursday, June 30, 2016

Just tried this meal pak - actually, it is for 3 servings so once it rehydrates, it is quite a large meal. A bit of spice - but definitely not medium or hot. Very filling as well. Found it rehydrated very well. Will definitely buy more as the price is super good!

Verified Buyer

Reviewed by Preston from Colorado on Monday, June 27, 2016

It's a good meal, but it has so much spice. It's not bland, but goodness, so much spice.

Verified Buyer

Reviewed by RoverMartian from Oklahoma on Monday, July 20, 2015

haven't tried any of the other flavors since the reviews of the others were not great. This was fine as expected.

Verified Buyer

Reviewed by PublicDisplayName from Nevada on Friday, May 22, 2015

This was our favorite flavor from this brand. The serving sizes are good.

Verified Buyer

Reviewed by Chemin de Fer from Baltimore, Maryland on Wednesday, May 7, 2014

I had one of these over the weekend on a backpacking trip. I enjoyed the green-chili heat, but I found the meal a bit too salty.