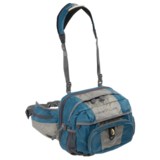 Closeouts. William Joseph's Flux fanny pack provides versatile, spacious storage without weighing you down. The main compartment converts quickly into a stripping basket, and the front pocket has a waterproof magnetic closure.
Average Rating based on
10
reviews
4.700000
0
5
Verified Buyer

Reviewed by RoverMartian from Oklahoma on Thursday, October 22, 2015

This a great pack. However, it too large for. I'm 5'6" with a 32 in waist. I had a hard time cinching the waist strap tight enough as you got tighten full down to the smallest size.It is possible but i would say it will not cinch any tighter below a 32" waist. The bag it self is cavernous and you can easily overload it making heavy but it is great if you need the extra space. Quality is excellent and was very impressed with the flip down workstation and the pop out striping basket. I doubt i would ever use the striping basket but it can useful in some situations. I decided it was too big and and will send it back. I ordered the William Joseph Coastal backpack/chest pack combo instead so that i would have less in the way on my front and all the possible hear i could carry in the backpack.

Verified Buyer

Reviewed by greenie from Utah on Saturday, March 7, 2015

This is great for the long days on the river not to big but lots a room for water and a few things.

Verified Buyer

Reviewed by Krilleflyfisher from Sweden on Monday, February 16, 2015

Happy and satisfied with the storage without weighing you down.
Great product!!!

Verified Buyer

Reviewed by AnnaLaurie from Arizona on Monday, February 2, 2015

I did not keep this pack only because I decided I would not use the special 'basket' element (which is VERY clever). This is a very comfortable lumbar pack. The strap goes nicely over the shoulder and is great for distributing the load. I appreciate the extra pockets on the waist band, the rain flap over zippers, and the multiple pockets. The IDEA of the magnetic front pocket is good, but the magnet is strong enough that you have to pull with enough force that things might sometimes fly out, when the pocket suddenly pulls free. I imagine this simply takes getting used to, and certainly this pocket will not fly open on its own. This pocket has no rain cover, and I don't know if it seals shut sufficiently to keep contents dry. Overall, this is the absolute best fanny pack I've ever seen, and I only wish it wasn't specialized for fishing.

Verified Buyer

Reviewed by Jen from Washington on Friday, January 23, 2015

The magnetic closure is awesome. This particular fanny pack is very big ( too big for me). I would be great for a larger man.

Reviewed by jp96 from KC on Tuesday, September 24, 2013

I just spent the past four days in the mountains of Colorado with my new FLUX. I love it. Honestly, I was going to give it 4 stars, but I didn't think that was justified! The only things I might even slightly take issue with would be (1) the padding on the shoulder strap could be longer...I am a fairly big guy, and the plastic tabs were catching me right on my collar bone, which was getting a little annoying. Some of that was corrected with continued adjustment however. And (2) the covered zippers make it a bit more difficult to close them. And when one hand is holding a rod, it's a pain to need two hands to get a zipper closed. The magnetic front pouch is really nice to have. The bag holds a TON! Overall, I think it is great! I anticipate having this pack for a long time...and what a great deal STP is offering on them.

Reviewed by salt_fly from TX on Monday, September 2, 2013

I really like the number of pockets and the fold-out stripping basket. The construction seems quite good and the zippers are non-corroding which is what happened to my previous pack (zippers all got stuck). I wish they had included a couple of built-in zingers for nippers or floatant holder though. This is a really large pack and can carry everything for a full day on the water including lunch and a rain jacket and a camera, etc. Overall, a really good pack at a great price from STP.

Reviewed by Kevin F from Raleigh, NC on Saturday, August 17, 2013

I wasn't sure I was going to like this pack at first. It is pretty big and I was disappointed there was no zingers (aka lanyards). I fell in love with the front magnetic pocket. I also really like the stripping basket. It packs away nicely and doesn't give the pack any more bulk. This pack can hold quite a bit. I really like the drink holders. They are small but that's a good thing. If they were larger it would make the pack very heavy. I hiked maybe 3 miles on pretty rugged trail. I can honestly say after maybe 5min of walking I forgot I was even wearing a pack. It stayed very secure while I was walking and didn't slide around at all while I scaled over downed trees and logs. I'm very happy with the purchase and this is a perfect replacement for my chest pack.

Reviewed by Steve from San Diego on Tuesday, August 6, 2013

Amazing Product, glad I bought the Flux Pack.

Have used it chasing bass in California and Fishing back home on the Chesapeake Bay.

Stripping basket is great in the boat or on the short line

Well Worth your time getting on of these!!!

Reviewed by MrFred from Chesterfield MO on Monday, July 1, 2013

Very well made with a life time guarantee, this is a great product at a great price. I'm ordering another for my son.