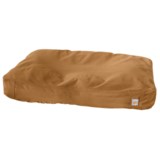 2nds. As tough as the brand's work wear, Carhartt's duck dog bed is made from super-durable 12 oz. cotton duck and has a removable inner cushion to keep your pup comfy.
Average Rating based on
13
reviews
4.384615
0
5
Verified Buyer

Reviewed by mama from WA on Monday, December 19, 2016

The outside cover was as expected- Carhartt duck material- loved this. The inside however has 4 long "cylinders" for cushions- they are loud and crunchy and not very cozy for the dog to sink into- our dog continualy circles the bed trying to find a comfortable spot, and then ends up on my bed. I think I will kneed to find a comfier insert if she is to take to the dog bed.

Verified Buyer

Reviewed by Matt in the Mitten from Michigan on Wednesday, November 9, 2016

Carhartt canvas fabric is bomber. I have pants that have lasted over seven years of almost weekly wear. So, when I saw a washable Carhartt dog bed, I ordered two immediately.

While the outside fabric is what I expected, the padding is not. Maybe I didn't read the description correctly, or it wasn't noted, but this is not a typical padding that you would find in a dog bed. It some sort of fiber that feels as if it coiled into 4 or 5 rolls. Those rolls are laid out along side each other. Therefore, there is not a uniform layer of padding. My dogs get on it and walk around in circles trying to find the right spot to lay. If there is another option (chair) they choose that first.

I may open it up and try to pull the fibers apart to make it more uniform, or I might just replace the padding as a whole. Either way, it was still worth it for a washable canvas cover.

Verified Buyer

Reviewed by Dean from Denver on Tuesday, January 26, 2016

In typical Carhartt fashion, made to be durable with the thick woven fabric you see on many of their products. Perfect size for our 80 lb American Bulldog! The cushion is fairly comfortable but can be a bit lumpy. Regardless, it doesn't take away from the overall quality.

Verified Buyer

Reviewed by Luke's mom from Coupeville on Monday, January 25, 2016

My black lab loves to tear things apart and he's good at it. I've only had this bed a few weeks and it seems to be holding up. Will it stand the test of time? Don't know.

Verified Buyer

Reviewed by Lindsay from CA on Sunday, January 24, 2016

Our Golden Retreiver is happy with this bed! i wasn't sure if this size would be the right fit for him but it's perfect. He's about 60 lbs, and the way he lays on his bed he's got lots of room around him and he's not hanging off.
My only complaint (more like a comment because I don't mind it) is that when I ordered, the website showed and described the bed as brown. The picture was a chocolate brown, which I've seen on other websites too. The bed I received is the Carhartt tan color, not dark brown. Still serves its purpose, but it's not what I ordered!

Verified Buyer

Reviewed by Mr. Bibs from Oregon on Wednesday, January 20, 2016

I bought two of these beds for our Border Collies, they're old and spend quite a bit more time on their beds than they did in younger times.

I love the cover material, every bit as tough but soft as your favorite pair of Carhartt pants. The interior pad is a little funky. It is sewn in baffled sections - like a cheap sleeping bag. Where that sleeping bag would have cold spots, this dog bed has spots that aren't filled and the end result is it is lumpy. However, there is a cure.

A while back my wife and I had a memory foam topper that was about 4" thick, which was designed to go on top of your mattress. When we bought a better mattress, there wasn't a need for the topper, but we'd grown tired of buying new dog beds because the inner part would get lumpy in areas and thin in others. So, I cut down a section of foam and it has worked beautifully for several years. Now the cover is worn out, and I'll likely still be able to use the foam in these dog beds. With a tough carhartt canvas cover and a memory foam insert, these dog beds will sadly probably outlast the dogs.

Reviewed by caryl from NC on Sunday, January 10, 2016

I ordered several of these. My dogs are using one, and I donated one to a rescue shelter. The director said it's the first dog bed that one finicky, and very large, resident has liked. The cover is made from that sturdy cartthart fabric. My dogs prefer fleece/sherpa types of dog bed, so I've simply draped a lapsize fleece blanket over the top. As others have said, it is a substantial item and should last many, many years.

Reviewed by InTheWoods from New Hampshire on Friday, September 5, 2014

First of all, a word of caution: This is substantially bigger than described or pictured. The description says 37"x28" but what I received is closer to 39"x34", so it's 2 inches longer in length and a full 6 inches wider in width! And it squishes/flattens out to be even slightly larger than that. Don't go by the photo with the yellow Lab on it, it's nearly a huge square and is definitely not the size shown. It's absurdly huge for my 26 pound Border Collie Mix. Of course I'm not really complaining, I certainly got my money's worth but if size is a consideration, just know it's huge and definitely larger than pictured and described. It's the same brown Carhartt material you see on Carhartt work clothing, so it's extremely durable. My dog loves to dig like a lunatic to "make" her bed, and now I'm no longer worried about her wrecking the material. The stuffing is not what I would describe as plush, it's a heavier firm material - kind of like a loosely packed futon, but it has good resistance and won't flatten easily. The bed is quite heavy so it stays put. The zipper is a nice heavy brass and tucks behind a flap for a finished look. The bed is taking up a big chunk of my tiny home office, but I don't care, I just love it.

Verified Buyer

Reviewed by Gloria from Southern California on Saturday, August 30, 2014

Very Big! Easy to clean; brush or
vacuum for everyday maintenance
& when it is time to wash,
just zip off cover! Have three dogs,
got one of these for each. A
bit of overkill for the two smaller
breeds (20 lbs +/-) they could both
fit on one bed easily...but the bed
only seems to come in one size.
Maybe in the future these will be
made in small & medium sizes, too...
This is perfect for the larger dog (70#)
and w/room to spare...I imagine this
would accommodate a pretty big dog!
(Not sure about the giant breeds)
Looks to be extremely strong & durable
material is just like the many Carhartt
coats and jackets I've purchased over
the years--never been disappointed...
Very happy with purchase!





Verified Buyer

Reviewed by Burlcreek from Clyde, NY on Tuesday, August 26, 2014

This is the best dog bed I've found. Real Carhartt fabric, big brass zipper. It's made to last.