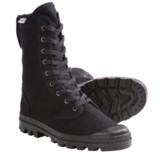 2nds, barely perceptible blemishes. With a lightweight canvas upper, fully gusseted tongue and heavy-duty outsole, Ruko's canvas desert boots are durable, ready for warm weather and fashionable enough for casual wear all summer.
Average Rating based on
39
reviews
2.820512
0
5
Verified Buyer

Reviewed by ok ok ok from Mississippi on Thursday, January 29, 2015

I wanted these to work. For the price I thought I could make them work; they are just too big. I wear a 4 in mens but these were twice the size of my feet. I noticed the actual size in the shoe was a 5 (still way too big for a 5) and had actually been written over with an ink pen to make it a 4. That's not cool guys. The boots are super cute though.

Verified Buyer

Reviewed by Deb the Gardener from Washington on Thursday, October 23, 2014

The price was right, I paid less than $6.00 for these boots. I understand they're factory 2nds but the only defect I could find were the rusty eyelets (on the inside, not the outer portion that shows). The canvas is very thin and light weight and they have a very strong "China-Freight" odor, but that said, they seem to be well put-together and when left outside or in the garage for a while, the smell gradually fades. (I wouldn't store these in your closet for a while!) The soles are sturdy.

I usually wear a women's size 6 so I ordered the (men's) size 4. They fit fine. Ladies, if you're ordering a "men's" shoe/boot, be sure to order at least two sizes smaller. I find it unfair to give a lower rating because of fit when you ordered a man's shoe in the wrong size.

Verified Buyer

Reviewed by M&M from Upstate New York on Monday, August 25, 2014

The canvas is pretty floppy and the toe rubber in top is oddly small. My daughter just didn't like them.. Too bad they were a good price.

Verified Buyer

Reviewed by mc from wisconsin on Tuesday, April 8, 2014

For the price...excellent. Boots are a little clunky.but couldn't beat the price. Overall, pretty comfortable.

Reviewed by Dave from Laying with my sore feet up on Friday, April 4, 2014

The price on these were amazing... As was the lack of quality, incorrect sizing, and unbelievable lacl of comfort. Third world sandals made from tyre's would be orthopedic compared to these.

Reviewed by rzaldiva from Utah on Thursday, February 20, 2014

I liked the shoes, however, I did my searches on woman's boots. When I chose the size I chose size 10. Huge mistake. These boots came to my house and they were a size 10 in men's. When I looked at the receipt it says size ten in men's/women's. How is that even possible. Men's and women's sizes are different I thought everyone knew that? So, the product was okay but this store is not a good one for ordering online as they don't make it clear that the sizes are men's sizes not women's. That bad thing was that in order to get an exchange on them it's a pain and you don't get reimbursed for shipping and handling, then they want you to pay the shipping fees for the new pair to be sent out so by the time your done the shoes cost more than they are worth. That being said I gave the shoes to someone that they did fit choking the cost altogether. I will not ever be buying from this store online again because I don't want to end up with items that don't fit

Reviewed by frankie from Ohio on Tuesday, February 18, 2014

These are ready well made, and were at a phenomenal price. I am not surprised though because everything I buy from Sierra Trading Post is awesome and for much less than anyone has the product priced anywhere!!

Reviewed by Anonymous from NEWYORK on Tuesday, February 18, 2014

WIFE WASN'T HAPPY KINDA THIN

Reviewed by Pa Jimmy from Pennsylvania on Monday, February 17, 2014

Light very flexible uppers with very sturdy lowers. Good for warm weather were no ankle support is needed.

Reviewed by ocshopper from California on Saturday, February 1, 2014

For about $5, these are a funky novelty shoe I'll keep. But they are very stiff and do have a rubber smell so not something to wear often.