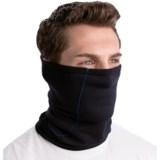 Closeouts. Komperdell's Arctic scarf is a four-in-one versatile layer that can be used as a scarf, hood, headband or face mask for excellent protection from the cold.
Average Rating based on
13
reviews
4.461538
0
5
Verified Buyer

Reviewed by Francesco from Wisconsin on Thursday, February 4, 2016

Versatile, warm, can be used like scarf and uder helmet as well instead of a hut...save wait and space. Recomended for very cold weather. On the warmer though I'd recommend merino wool buff tube...

Verified Buyer

Reviewed by SkiSteve from Colorado on Friday, August 14, 2015

I have several Buff neck gaiters that I use for skiing. The Komperdell Scarf is similar but with some significant differences. The scarf has 8" of fairly dense and tight weaved fleece (thinner than turtle fur), attached to 13" of stretchy thin fabric that is identical to the material in a Buff gaiter. I first put the gaiter on with the fleece part first (i.e., fleece part on bottom, stretch thin fabric on top). My initial issue was that the fleece part was too tight around my face, especially when i put it around my nose where the seam between the two materials rubbed against my cheeks/nose. I thought that this can't be right - nobody would design it this way. My melon head is not that big. I figured I did something wrong so I reversed the direction, putting the thin fabric on first (i.e., thin fabric on bottom, fleece part on top). This worked out great. The fleece's end seam was not tight against my cheeks/nose (it has more room to expand than the seam on the other end that is attached to the stretchy fabric). Plus, i could stretch the thin fabric perpendicular to the fleece part, between my jaw and the top of my head, such that only my eyes and forehead are exposed. Now i have a comfortable gaiter that is warmer for my face than a buff gaiter for those cold Colorado ski days. Ideal for a bald guy that wants some type of top-of-head warm when he skis.

Verified Buyer

Reviewed by Rody from Texas on Monday, January 26, 2015

Great quality has kept me warm in 20 degree weather. It is very comfortable and feels like it will last.

Verified Buyer

Reviewed by SuperCotet from New York City on Saturday, November 29, 2014

I use this scarf for riding my motorcycle, hiking or just walking around the New York City streets in bad weather. It's trickier if you are wearing glasses like I do, because they will fog if you are wearing the scarf above your nose. If you wear it below your nose you'll be fine. The scarf has two parts - one spandex and one polartec depending on how cold it is outside. Both materials are of high quality. Overall, I could not be happier with this product.

Reviewed by Ryan from Virginia on Monday, March 10, 2014

Worn under another scarf as a base layer, it worked well in near zero temps skiing in VT. Really love the length and ability to configure it as necessary throughout the day. Dries fast too.

Reviewed by SJG from NYC on Monday, February 24, 2014

Never saw anything quiet like this. As a normal neck warmer it is warm and compact. A little tight fitting but that helps keep the wind out. There is a softer lighter stretchier material that can be pulled up over the ears or head. Because this material continues in the straight tubular shape it is not as good a fit as a balaclava but in a pinch it works nicely.

Reviewed by Estelle from Michigan on Wednesday, February 19, 2014

Good; however, comes up a little high by the eyes...but it's too cold not to wear this.

Reviewed by robthomas1234 from Earth on Wednesday, February 19, 2014

Just the right size for the neck with fleece on inside and a bit extra to pull up on your head and face (that part is thinner than the neck part).

Reviewed by BethS. from Myrtle Beach, SC on Wednesday, February 12, 2014

This neck scarf is fitted to the neck, which I love. I'm always looking for vests and jackets that have a high fitted collar for the warmth. This is perfect for that: it's also nice and soft on the inside.

Reviewed by Beck from NYC on Wednesday, January 22, 2014

Most gator-like scarfs are ill-fitted for my partner and I. This one fits us both very well- perfect for snow shoeing, snowboarding, honestly anything active or if you're caught in a bad wind chill.

Fits great, able to switch which side you bring up to your face (one end is thicker than the other). Great versatility for an unbeatable price.